My dad hates to watch old movies, especially Westerns, it's become sort of a Friday night tradition that mom and I watch them together. I call out to my mother, "it's starting, hurry!" My fresh faced mom comes into the living room wearing her white night shirt and her socks. She sits close to me and runs her hand through my hair, her hands are freezing cold. I grab the blanket on the back of the sofa and wrap it around us. "You're freezing, c'mere and I'll warm you up," I rub her thigh, back and forth until her skin warms. I see her legs part, it was so subtle the way she uncrossed her legs, is she turned on, or am I reading into this? I try to brush off the shameful thought about my mother and we continue to watch the old movie.
I'm watching the movie, trying to keep my dirty thoughts off my mom's thigh, and she hooks her leg around me and puts her head on my shoulder. I wonder what my mom saw in my dad, she loves to go to parties, watch movies, read fantasy books about science fiction, romance, and adventure, and Dad's into his hobby of making wooden bowls in the garage, he's sort of a recluse when it comes to parties, or going to movies, and on Friday he's been going to bed early, because he won't stand to watch those "stupid old shows," leaving me and mom alone to entertain ourselves. I think about how similar I am to my mother, and if I wasn't her son how good we would be together. The thought is interrupted by my sweet mother gasping, "oh gosh, that scared me a little bit." She holds me close and I take the opportunity to rub her thigh, I go higher, "mm.. my thighs are so sore from running," she moans. I glance over and see her breathing, her breasts rising and falling with her inhale and exhale. My finger hits the edge of her panty, wetness trickling down from the site, my mom is feeling turned on now, there is no question about it. I am turning my mother on.
I muster the courage to kiss her cheek, she looks at me. There is a tension between us, but an excitement, it's electric, and I feel scared, but still I am leaning in, looking into her beautiful eyes, closer and closer to her lips. My hand slips under her panties as my lips meet hers, she exhales into my mouth. She gives in to me, and I give in to her, we're no longer mother and son, but we're lovers. She moans when I put my fingers inside of her and reality kicks in, my father is just down the hall sleeping. We can't get caught, but we can't stop until we both have cum, we will have each other.
Category: TABOO
Related Categories: MOMMAS BOY, BIG TITS, BLOW JOBS, MILF, CUM IN MOUTH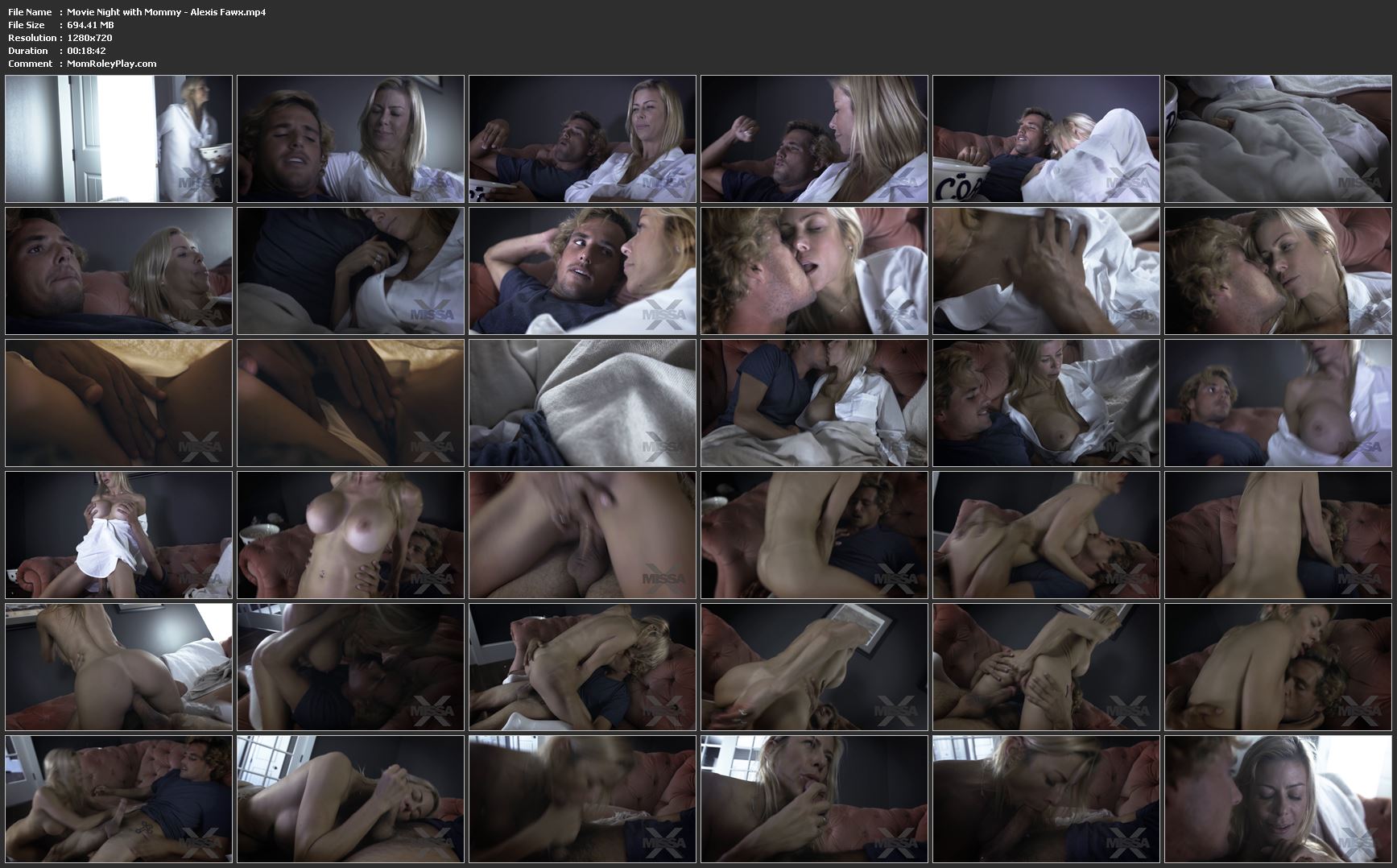 Download Files :
Movie_Night_with_Mommy_-_Alexis_Fawx.mp4