I didn't always think this way about my mom, even though she is easily the most beautiful woman I have ever seen. Last semester my coach recommended I start jogging to get in better shape for the varsity team. I took up running, usually early in the morning after my mom went to work, and I'm getting pretty good at it. I can jog a mile and a half in seven and a half minutes, but just two weeks ago I could barely jog a half a mile without stopping. One morning, I saw a woman in front of me. Her ass was perfect in heather gray spandex leggings, she was wearing a thong underneath, her blonde hair was pulled up in a pony tail, her shirt was loose and would sway left to right giving me glimpses of her toned and tiny waist. The glimpses of her waist, her ass moving up and down. the swaying of her ponytail felt .
My cock twitched at the thought of holding her from behind, pulling down her see-through pants, and fucking her. I ran behind her for a moment until I mustered up the courage to say "hello," I picked up speed. Maybe if we fucked I would grab her ponytail? I laughed to myself at the thought of fucking a total stranger, I tried to think of something to say when I caught up to her. "Hey," for starters would be alright, "nice weather?" The distance between us was getting shorter and shorter, and I started to recognize her, maybe she was from my school? She's older, I'm close enough to see the fine lines and wrinkles from her hands, no ring, she's single. Maybe she is a teacher? Oh fuck, that is so hot, a blonde teacher with that body! I was just steps away from her, and then I recognized her.. oh.. she was my own mother! I fell back, allowed the distance between us to grow, and I stopped in my tracks. I bent at the waist and my hands propped my torso upright. I was breathing heavy, confused, excited, and horny, and a little disturbed. The woman didn't look like mom, she usually wears baggy sweat pants to jog in, and an old, oversized t-shirt, but yes– it was her. What in the hell was she wearing?
It was that night I fantasized about fucking her, first we fucked against a tree, then I moved my fantasy to Bear Mountain. I used to camp there when I was a boy and I always wanted to bring a hottie there. The fantasies with my mom, at Bear Mountain, fucking in the lake, in front of the campfire, in the tent, it became an obsession.
I hate to be so vulgar, especially about my own mother, but honestly fucking her is what I wanted most. Not making love, but seriously fucking her in the woods, as if we were wild animals that weren't concerned with what society thought of us. I wanted to smell her, feel her nipples on my tongue, taste her, and enter her from behind. I dreamt of our bodies nude by the campfire, she would look up at me and beg me to make her cum. The fantasy would come in my mind so often that it would wake me in the middle of the night, it was hard to concentrate at school, and when she was in the house, all my senses were heightened, it was as if I was always looking for her, conscious of where she was, what she was doing in the house. I knew I was going to make a move, but I didn't know how.
The last day of school is tomorrow, finals, and I can't sleep again. I've started to devise a plan. More and more details about how I could tell her she's beautiful. She doesn't think she is, but I will make her believe it. I will brush her hair behind her ear, maybe I'll do something corny like find a flower to place there. The threads of seduction start to come together. I'll try my best, I'll confess, and I'd do it by the campfire, but how do I get her to camp with me? She's such a girly girl, she has never camped before! I thought for hours until it hit me. She needs a day off as bad as I do. I'll convince her to come with me, I NEED to do it. It's as if I am sick with obsession and I've got to try to find relief. She will either accept me and let me have her, or reject me and ruin the idea altogether.
Category: TABOO
Related Categories: MOMMAS BOY, BLOW JOBS, CREAMPIE, MILF, BIG TITS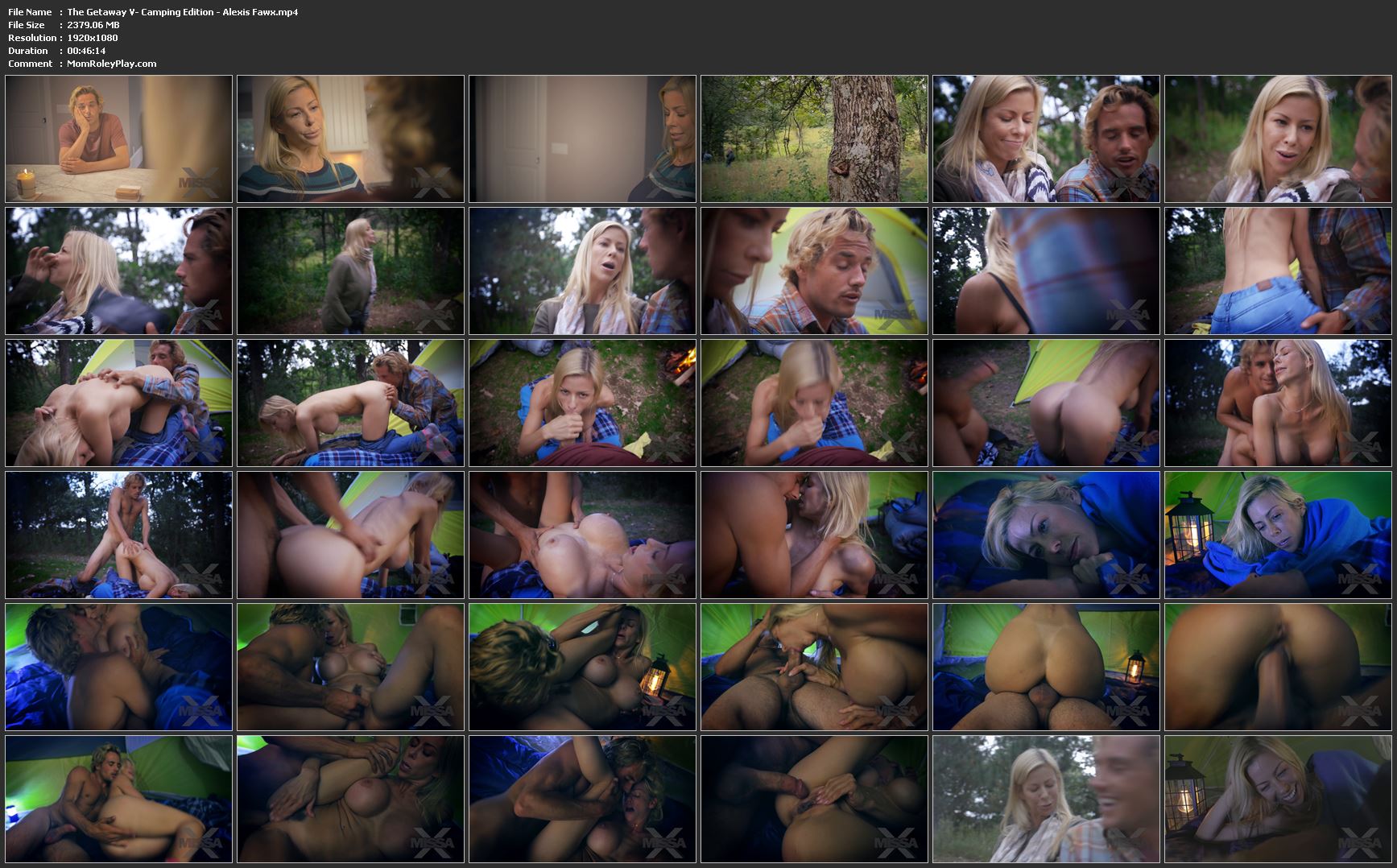 Download Files :
The_Getaway_V-_Camping_Edition_-_Alexis_Fawx.mp4