A very highly recommended clip. A full family experience! One of my favorites.
"Really? Failing? It's anatomy – it's your body!" Mom ranted. "I mean, you can stand in front of the mirror naked. Come on…I don't want to hear excuses."
You had been struggling all semester with this class, and it was obvious that Mom didn't believe you had been studying. She threatened to take away your summer trip and the car if you didn't pass. "I am going to stay here with you when you study…" she said strictly, "yeah, I know it sucks, but it's going to ensure that get a good grade and pass."
But embarrassingly enough, that wasn't the problem. It wasn't that you didn't understand your own body, it was that you didn't understand how girls worked. "Really? At your age?" Mom asked sarcastically. "I'm joking, quit being so sensitive. Hold on…" She called out for your sister, Anastasia.
"Your brother is failing anatomy…" Mom turned towards her, "he's failing the female portion." She had an idea. She'd use your sister to show and explain the different parts on a female body and how they worked. "I'm gonna have you strip," Mom said to Anastasia, which your sister didn't like. "You're a part of this family, sweetheart, and you're going to devote a little bit of your time and energy to us."
So, Mom made her strip down until she was completely bare and exposed. "Pay attention," Mom said strictly as she explained, in great detail, each of your sister's female parts. She even taught you how to stimulate a woman by showing you how to play with her nipples. Anastasia blushed as Mom's tongue twirled against her tits, and she denied enjoying it even though her nipples were hard.
Mom's fingers ran down your sister's pussy, explaining where the clitoris, inner and outer labia, and vaginal hole were, then how the female reproductive system worked. Mom looked down to see you had a throbbing erection, which she had never intended to cause, and thought of a solution. It was obvious you were curious how the inside of a woman felt, and Mom thought it'd make for an even better lesson.
"I said I'd give first hand experience," she said, "and what better way…go ahead and fuck your sister." Anastasia's mouth dropped in shock, but Mom wasn't having it. "Just let him fuck you, let him get the feeling, let him know what's going on with his body, that's how he'll understand the changes," she told your sister.
Anastasia laid back, and Mom told you how to penetrate her, and how to make her feel good. But first, she made sure the both of you were wet. Mom slid your cock inside her mouth for a few seconds, then flicked her tongue against your sister's pussy. Once you were ready, you slid your cock inside your sister under your mom's orders, then followed her instructions.
You really began to enjoy yourself, so much in fact, that you had accidentally came inside of her. "Oh my god, no, don't cum in her," Mom panicked, but realized there was nothing she could do to stop it. "Well, just finish it off." Your sister's pussy dripped with your cum, and Mom casually told the both of you to clean up. "And you – I want your books out!" she said to you.
"Anastasia, sweetheart, don't get that on the sheets," Mom said sternly, so your sister held your cum inside of her as she rushed to the bathroom.
TABOO, SISTERS, MOMMAS BOY, OLDER WOMAN / YOUNGER MAN, SEX ED, VIRTUAL SEX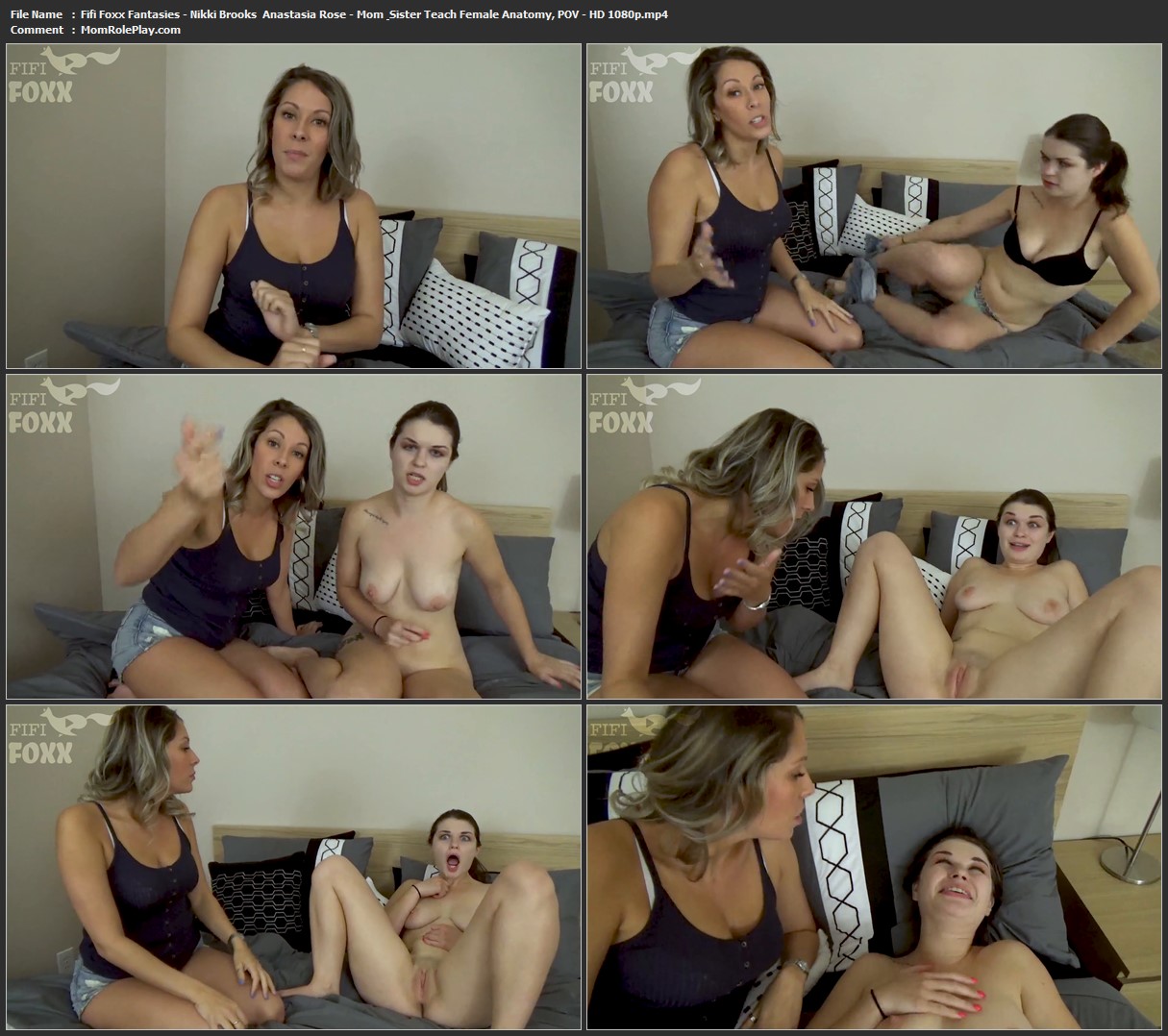 Download Files :
Fifi Foxx Fantasies – Nikki Brooks & Anastasia Rose – Mom & Sister Teach Female Anatomy, POV – HD 1080p.mp4