You were ecstatic about your new device. You had ran into Mom's room waving it into the air and couldn't wait to test it out. "What do you have there?" she asked. "Is that a new toy? Did it come in the mail? What does it do?"
You couldn't wait any longer, so you pressed a button on the remote. Mom's hands, without her control, started to grope her big, soft tits. "Oh! Uh…honey, Mom doesn't feel good," she quickly said when she realized what she was doing. "Don't look!"
Once she regained control over her hands, she looked you at uncomfortably, apologizing for such a bizarre act. You pressed another button on the remote and suddenly her voice become seductive and sultry. "Oh my goodness, I bet you have a nice, hard cock in those pants, don't you?" she purred. "Don't you want to rub Mommy's titties? Don't you want me to suck your dick?"
She coughed to clear out her voice, "Mommy did not mean that! Oh my god, what's wrong?" Another button had her slowly and sensually stripping down in front of you, and once she was fully naked, she was horrified. "Maybe-maybe you should go do your homework, sweetie!" she grabbed the pillow beside her to cover up. "Mommy obviously doesn't feel good."
You pressed another button on the remote and she started dancing mindlessly. Her body moved beautifully with her hips shifting from side to side and her juicy butt bouncing up and down. "You need to stop this!" she suddenly snapped out of the trance. "This is not funny! You shouldn't see your mom like you, you shouldn't want to see your mom like this!"
Your cock was throbbing – you wanted more. Another button had her masturbating until she orgasmed right in front of you, then another forced her hand on your cock. "Oh, this is so terrible," her face was disgusted as she stroked your cock. "Why?! What did I do to you? Please…make it stop."
It felt so good. Another button made her suck your cock, and she was mortified when she was able to finally pull away. "I don't know if I can look at you the same way," she cried. You pressed the remote and she lied back helplessly. You penetrated her pretty, pink pussy and she moaned.
There was no fighting it – she couldn't make it stop. "Oh my god, you came in me," she said out of breath. "Why did you do this…" Before she could get up or do anything else, you froze her in place. That'd give you just enough time to hide the remote. You'd control Mommy over and over again….
MAGIC CONTROL, TABOO, WOMAN FOLLOWING ORDERS, FEMALE TRAINING, EMBARRASSED NAKED FEMALE, FORCED STRIPPING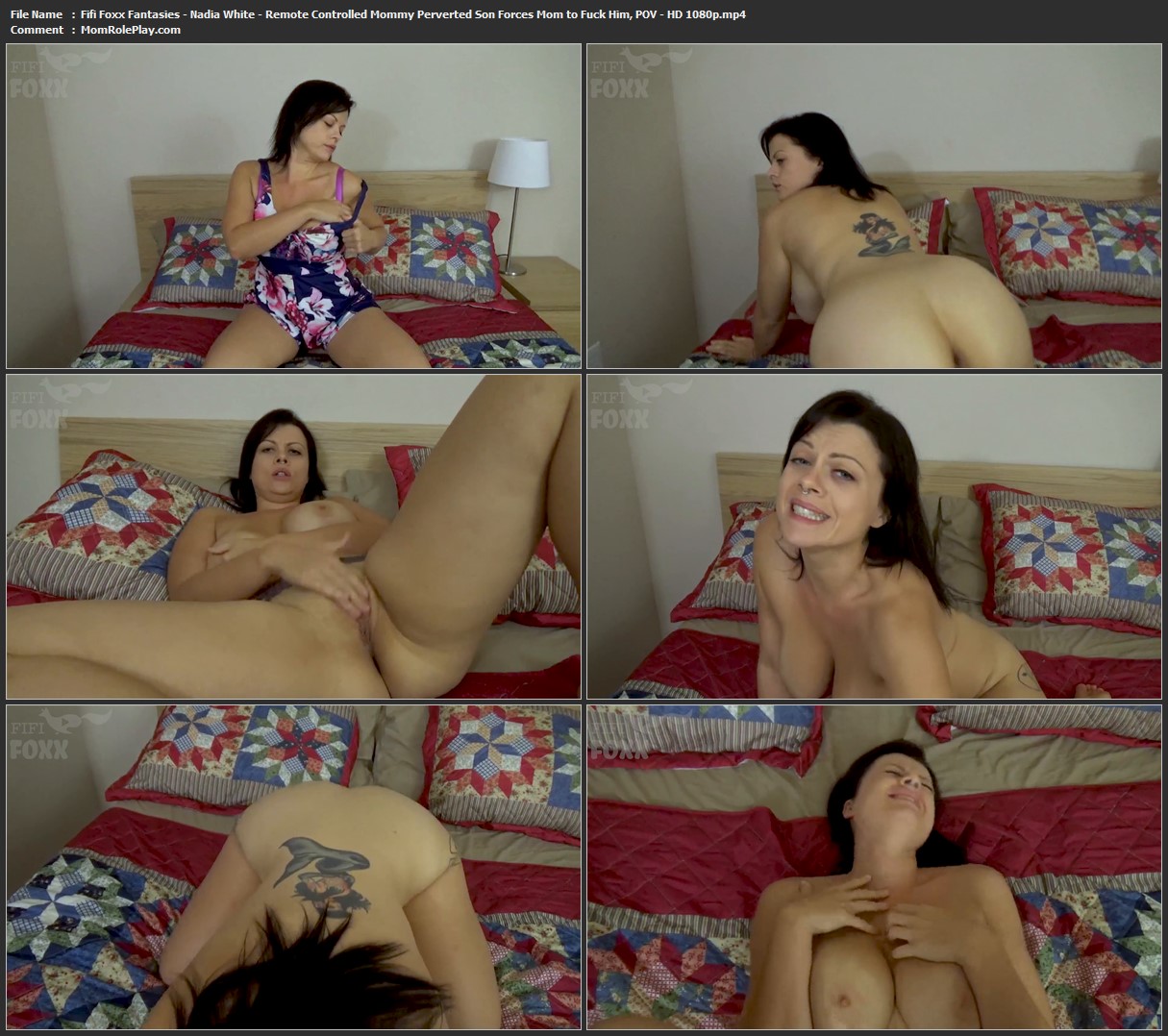 Download Files :
Fifi Foxx Fantasies – Nadia White – Remote Controlled Mommy Perverted Son Forces Mom to Fuck Him, POV – HD 1080p.mp4