Warning: this is an intense taboo clip. This video has been created for those interested in a far more perverted & disturbing family experience.
You weren't thrilled about Mom dating again – not in the slightest. When you came into her room, she was adjusting her feet into some black high heel shoes. "Yeah, I'm just finishing up getting ready," she smiled. "I'm really excited."
You could tell she was genuinely happy. This was her third date since her and Dad's divorce, and you could tell by her cheerful tone that she really liked the man she was seeing.
"No, sweetie, it's fine, I promise you," she responded to your concerns. "We're probably just going out to dinner and to get a few drinks. Honey, this dress is fine. Calm down, he's a gentleman." No, the dress was a problem. It was way too tight and it showed off her breasts – it was slutty. You demanded that she change into something else.
"Honey, I'm not changing," Mom told you, "I just got this. Don't you like it? That doesn't mean I'm showing off for him, calm down. I'm not going to fuck him, but that's none of your business." She was starting to get flustered. You couldn't tell her what to do, she was an adult. She could date if she wanted to. Blah, blah, blah.
She shoved her back – she wasn't going to talk to you like that. "You don't tell me to do!" she said strictly, her finger pointed at you. "I'm your mother. I'm going to date if I want to. I'm not dressed like a whore! Don't speak to me like that. What? I'm not yours – do you think you own me?"
"I know we've been close and it's hard to see me dating…" she went on to say, but now you were furious and you were screaming. "I don't belong to you!" You demanded, once again, that she take off the dress and change into something else, but she refused. You could hear the shakiness in her voice as she tried to remain stern, but you could see the fear in her eyes – you'd make her listen to you.
"Honey, just stop…" she pleaded. "Fine, I'll take it off. Slowly? What do you mean? You want me to take it off slowly?" She was scared. She stood up, her body trembling, and began stripping out of her golden dress. "You want me to turn around? Okay," she said uncomfortably, "just don't get mad."
She attempted to cover up her exposed, bare body, but it only made you want to see more. "I'm not going to touch myself in front of you," she said nervously, but you made her give in. As she touched herself, you pulled down your pants, and she begged for you to pull them back up.
You wanted to hear her say that your cock was big. "No, I'm not going to tell you…no, this is not your pussy," she cried. "Don't-don't say things like that, sweetie, it's just wrong. I'm your mother!" It didn't matter how much she resisted, how much she begged or pleaded for this to stop, you were going to get what you wanted.
"Okay, I'll say it," she was desperate. "I belong to you. Mommy's pussy is your pussy. Sweetie, I'm not going to touch your cock, that's just wrong, please don't make me." Not only would she touch it, she would suck it, then she'd fuck it.
"Yes, I love it," she cried, your cock thrusting in and out of her pretty pussy, "I love your cock in me. I need your cock, you own Mommy's pussy." Your forced yourself inside of her, fucking her until you came inside of her tight hole. She whimpered and whined as your cum dripped from her pussy.
She'd never go on another date again. After all, she said it herself – Mommy belonged to you, and her pussy was all yours.
TABOO, MOMMAS BOY, OLDER WOMAN / YOUNGER MAN, VIRTUAL SEX, MILF, FORCED STRIPPING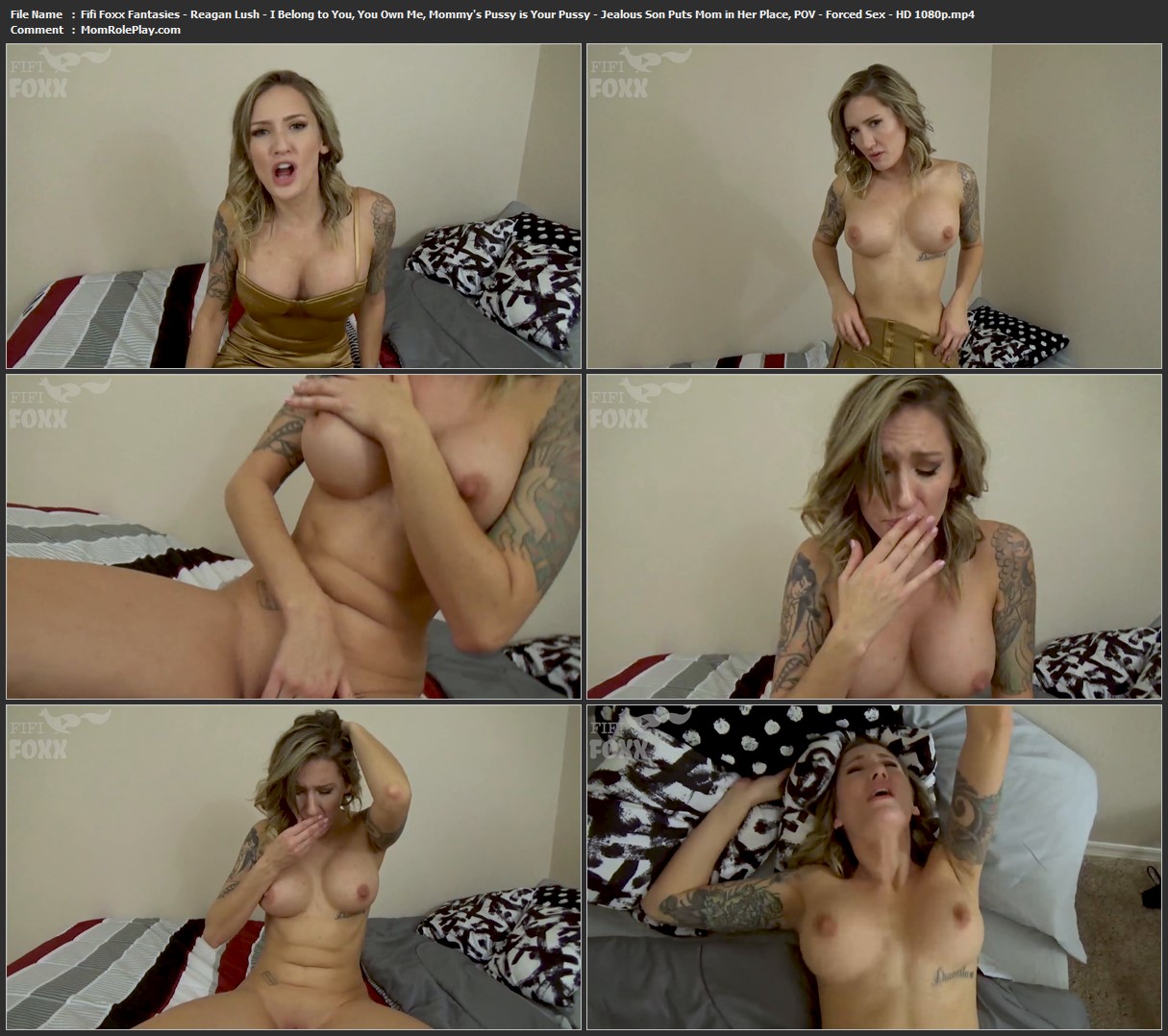 Download Files :
Fifi Foxx Fantasies – Reagan Lush – I Belong to You, You Own Me, Mommy's Pussy is Your Pussy – Jealous Son Puts Mom in Her Place, POV – Forced Sex – HD 1080p.mp4