Tonight was the big slumber party with your best friends. "I didn't know what your friends wanted to eat," Mom said. "Did they want chicken, sandwiches, pizza? I think pizza would be the easiest – everyone loves pizza, right?"
Mom was the best. She was always trying to make sure everything was organized and well taken care of. "I need to know what sodas your friends like-like-like-like-like," she went on to say, then froze in place repeating the same word, "…switching to stripper mode."
"How are you doing today, you sexy, little fella?" Mom purred seductively, her hands running up and down her curvy body. "I bet you want to see me get all naked, don't you? You like these titties, don't you? You know I'll dance on top of that cock."
Her hips and body moved beautifully as she gave you a slow and sensual striptease. In the middle of the striptease, however, she froze in place and, in a robotic tone, said, "Mom mode." She went back to her normal mom self, asking what sodas your friends wanted as if nothing had happened. "Would they prefer Capri Sun, fruit juices? You just let me know so I can go pick it up," she went on to say, "before your friends get-get-get-get-get-get-get-get, switching to sexbot."
Her head shifted from side to side as she repeated the same word over and over. Once she switched over to sexbot, though, she became an entirely different person. "I'm a horny, little slut," she smiled. "Why don't you come fuck me, Daddy? You know you like a good, little slut. I didn't wear any panties today."
Mom spread her legs and began masturbating in front of you, telling you what a dirty whore she was and how badly she wanted to fuck you. She wrapped her soft hand and wet, warm mouth around your throbbing cock, stroking it and sucking it as if it was perfectly normal.
You had no idea, but Mom was a robot. You had only ever seen her "Mom-mode," but because that part of her was malfunctioning, she was switching to the other modes that were working normal. After sucking your cock, she switched back to "Mom-mode" and continued to talk about your slumber party, but it was only a matter of seconds before she was glitching again.
Mom switched back over to her stripper-mode and continued her sexy and sultry dance. "The more money you throw at me, the faster I get naked," she purred. "Don't you want this pussy to grind on that dick? I want to dance on that pole of yours." She proceeded to get fully naked, then jiggled and twerked her big butt in front of you.
"You still have to shower, we need to clean the house a little bit," she said sternly, switching back to her Mom-mode, "call for pizza. Come on, we only have so much time-time-time-time-time, switching into sexbot." Now she wanted your cock inside of her, so you penetrated her tight hole and fucked her.
"Fuck me, I love being your little slut-slut-slut-slut" she moaned, then started glitching in that mode as well. Her eyes were wide and blank, her arms stiffened and her head twitched to the side. "Mal-func-tion-ing…slut, sex-bot, fuck me," she said slowly, as if struggling to get the words out, "fuck, fuck, fuck, fuck, sex, sex, sex…"
She thrusted her hips up and down as if she was humping the air. "Mal-mal-mal-mal-mal-mal-mal-func-tion-ing," she said sitting up. Sparks and smoke began to shoot out from her stiff body. She attempted to masturbate, but because of her severe glitching, her hand slapped her pussy over and over.
"Strip-per mode, strip-per mode," she said with wide, blank eyes, "dance, dance, dance, dance…" Her movement was jagged as she got on all fours and began twerking. "D-d-d-d-d-d-d-d-d-d, mal-func-tion-ing," she stuttered and stammered. She sat back up, her body and head moving in every which way until her system could no longer handle it.
"Shut-ting down," she finally said after experiencing severe glitching. Her head fell down, her eyes closed, and she was powered down. A huge blast of sparks shot out from her back followed by a huge puff of smoke.
Mom? Who's going to order pizza now?
ROBOTS, FEMBOT, REAL DOLL, TABOO, FEMALE TRAINING, SCI FI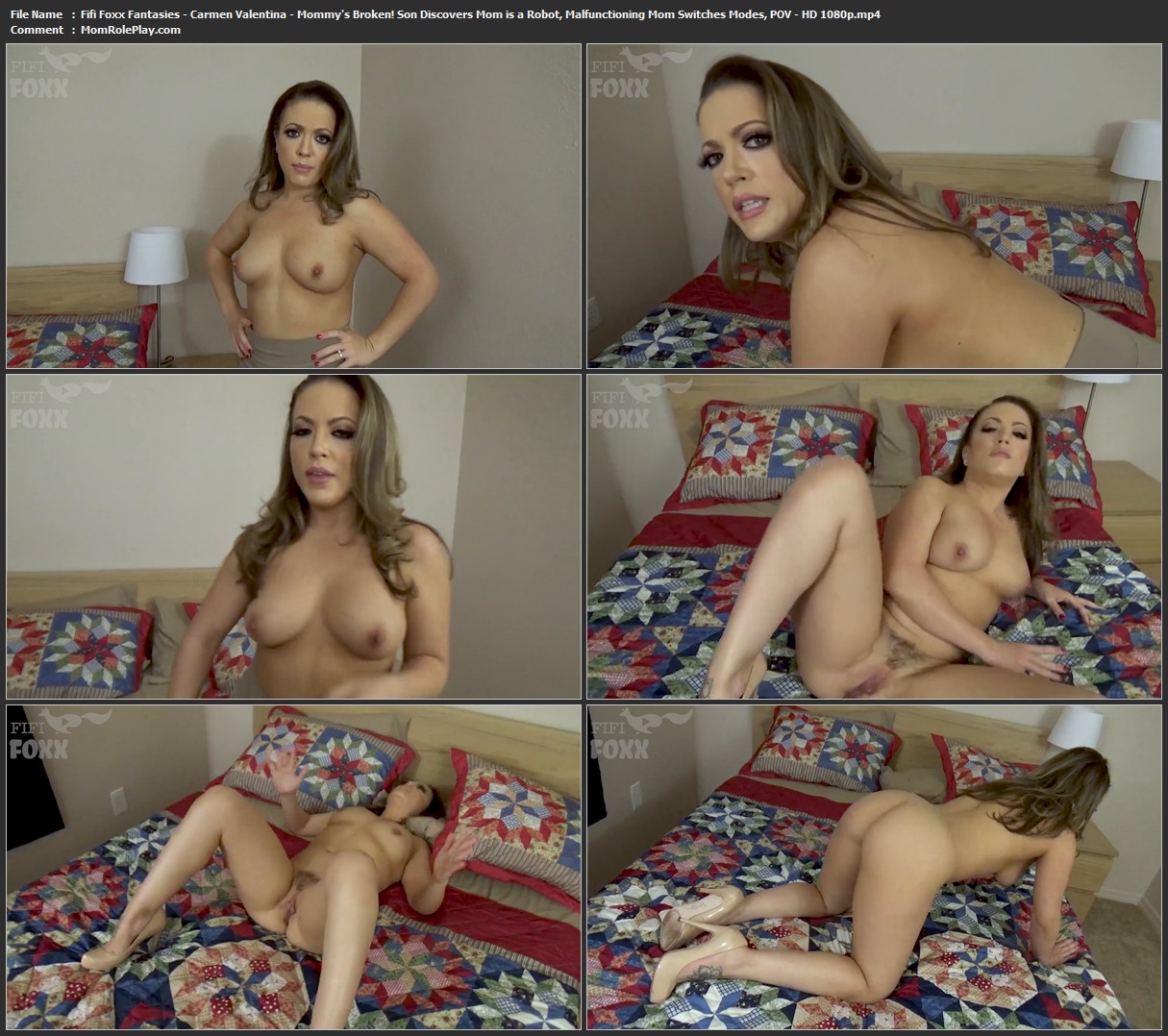 Download Files :
Fifi Foxx Fantasies – Carmen Valentina – Mommy's Broken! Son Discovers Mom is a Robot, Malfunctioning Mom Switches Modes, POV – HD 1080p.mp4