Mom comes home from work, totally exhausted from her /stressful day. All she wants is to relax. Some hard anal sex would be a perfect way to release all of the tension, but there is no boyfriend/husband in her life. There is only her lazy Son.. she loves him, but he could at least be more helpful around the house. All he does is eat, play video games, lets his stuff lay around, puts the dirty dishes in the sink instead of the dishwasher… he doesn't even bring the garbage outside. And because mom does all the house work after her job, she is too exhausted and has no time go out and meet some guys. Mom decides to use her son to release the tension, get the only cock she has around her. It is her special right as mother, there's nothing wrong with it.
Mom has two sides. A loving/caring side & a dominant/demanding side if she doesn't get what she wants (but no verbal harassment). Mom switches back and forth between both.
So mom comes home from her long day at work to find her son laying around, as usual. Mom tells her son what she will do with him (he has no real choice) and why it is her right to demand this (all the house work and stuff she does). First she tries to convince him into anal sex in the charming way (loving caring side). Mom says things like "I'm your mommy, don't you love me?" "There's nothing wrong with this" "Anal is the best and I won't get pregnant"
But then when son resists mom gets dominant saying things like, "You're rock hard, don't tell me you don't want it too." "You fucking owe this to me!" "Smell my stinky fingers! Smell it! Good boy."
But when son resists, mom's dominant/mad side comes out. She orders son to lay down and forces herself on him. When he hesitates she holds him down. Mom fingers her raunchy asshole & forces son to smell/suck her finger. Mom's asshole is so sweaty, smelly and $hitty. Mom strokes his cock and grinds her hairy pussy on son's cock.
Mom forces son's cock inside her asshole. She needs this release badly. Her asspussy craves cock right now. Mom rides him against his will. After a while son actually starts enjoying it. He grabs mom's hips and thrusts his hips with hers. Mom says things like "Fuck harder for fucks sake!" "This feels so good, it can't be wrong!"
As mom gets close to cumming, she begs son to shoot his cum inside her ass. She wants son to fill her asspussy up with his seed/cum. Mom and son cum together. Mom grinds her asshole down hard against son's cock so that he cums deep inside her ass.
Category: VIRTUAL SEX
Related Categories: MILF, TABOO, FEMALE DOMINATION, ANAL, FORCED ORGASMS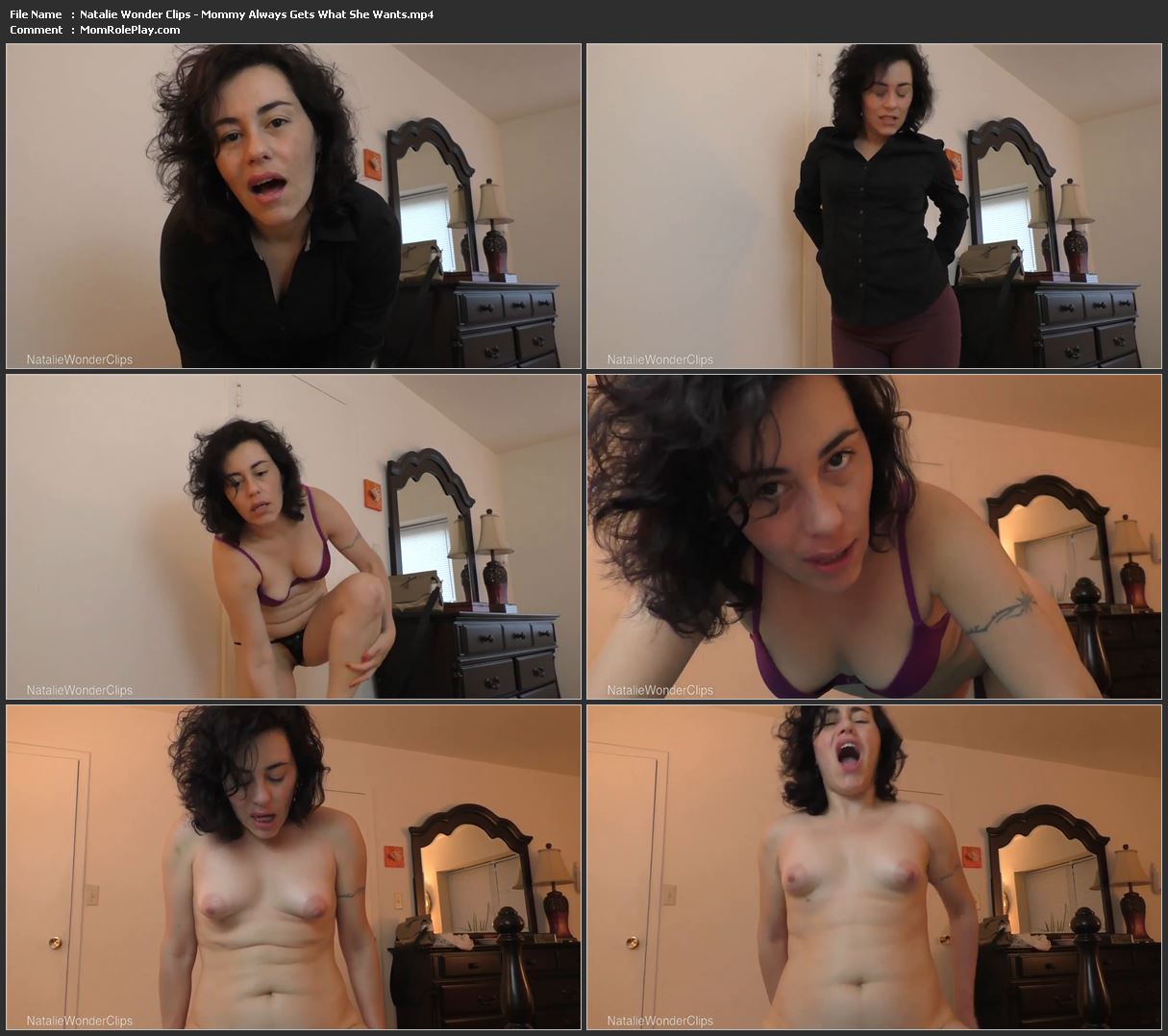 Download Files :
Natalie Wonder Clips – Mommy Always Gets What She Wants.mp4