Mom could tell something was wrong. "Hey honey," she said when she saw you walk past her, "why are you so mopey? Come here." She gave you a warm, comforting smile and patted the spot beside her. "What's got you down? You're not even supposed to be home tonight, right? Why aren't you out? Didn't I give you money?"
She was right – you were supposed to be out with your new, big crush tonight, but she had cancelled last minute. "Why are you home? Why didn't she want to go out with you? Honey, that's ridiculous," she laughed at your response. "No, there's no rumor saying that." But it was true. Even though it was embarrassing to admit, word around school was that you had a massive cock, and for whatever reason, that scared a lot of girls away.
"I saw it when you were younger," Mom continued. "Yes, I'm your mother, I've seen it. I'm sure there's another reason – did she tell you why? That's the reason she gave you? Are you sure she's not lying?" Mom was having a terribly difficult time believing that was the real reason, but you told her over and over that's what the girl had said.
"I mean, who would've started a rumor like that anyway? Is it a bad rumor?" she asked confused. "So, the other boys started this…well, do you have a problem? Do we need to have you checked out? Just let me see it." She didn't believe you, so she had you stand up and pull your cock out despite your hesitation and discomfort.
"Well, alright…you didn't get that from your father," Mom said fascinated, her eyes examining your cock. "Is it even hard? I kinda wanna see it hard." She knew it was awkward to ask you to do something like that, especially because she was your mom, but she was honestly infatuated and couldn't help but want to see more of it.
"It doesn't look like you have a problem at all," she said after seeing it erect. "Can I touch it? It's crazy, I can't take my eyes off of it." She wrapped her hand around your erection and her eyes widened, "Oh my god, sweetheart, it's massive. And this is why she didn't want to go out with you? You know, older women aren't like that – it's not going to be this way through college."
As Mom stroked your cock, she become more obsessed with its massive size, and it was almost as if she couldn't control herself anymore. She soon had to have it inside her mouth, then inside her warm, wet pussy. She told you there was no reason to worry about that silly, young girl who was afraid of your cock…especially when Mommy loved how big it was.
TABOO, MOMMAS BOY, OLDER WOMAN / YOUNGER MAN, VIRTUAL SEX, MILF, LINGERIE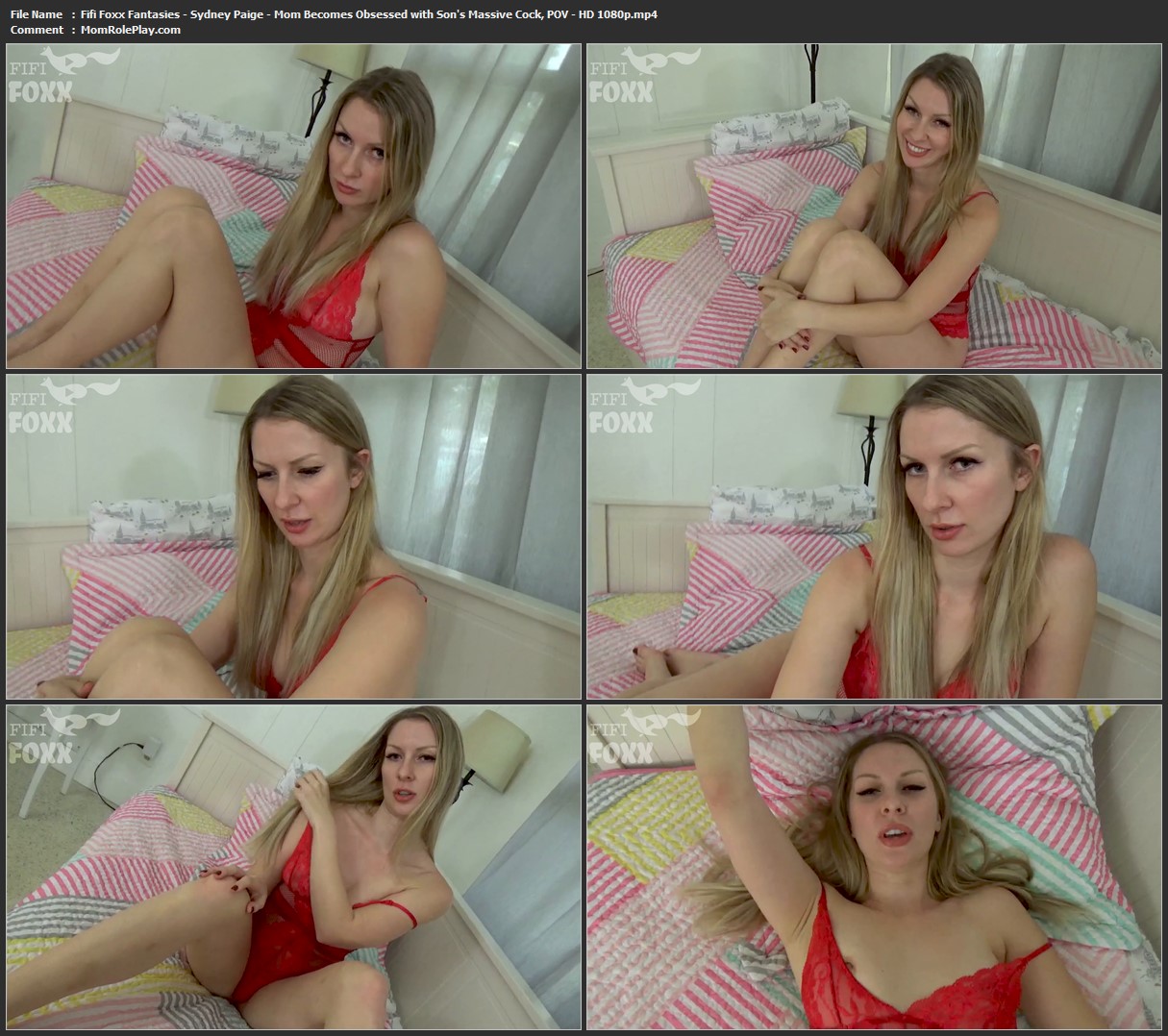 Download Files :
Fifi Foxx Fantasies – Sydney Paige – Mom Becomes Obsessed with Son's Massive Cock, POV – HD 1080p.mp4