"I told you to stop staying out late every single night partying," Mom's voice was raised and stern, "you have a curfew!" The two were always fighting. Anastasia was a spoiled troublemaker who preferred to hang out with her friends rather than do her homework and study. She'd constantly ignore her mother's concerned phone calls to flirt with the neighborhood boys.
"I'm just having fun, I'm young!" Anastasia argued back, but Mom wasn't having it. She didn't want her daughter to get pregnant from sleeping around or to get bad grades and ruin her chances of getting into a good college. "Yeah, I am calling you old…and boring!" she told her mom after being lectured.
"As long I pay your rent, you're going to follow my rules!" Mom snapped. The two continued to bicker, but were stopped by the lights randomly flickering on and off. "What was that?" Mom asked, her eyes narrowed and confused. "Di-did you see that? That was weird," Anastasia was just as bewildered.
"My…head feels funny," Mom mumbled, her fingers pressed against her temple. There was a strange energy in the air, something mysterious and unexplainable, and once it vanished, Mom and Anastasia had swapped bodies. "Mom?" Anastasia said from inside her mother's body. "What am I doing? Why am I wearing your clothes? Mom, why do you look like me? What's going on?"
They couldn't comprehend what happened for a few seconds. Mom looked ridiculous lecturing her daughter from inside her young body, but Anastasia was having a field day. "Weren't you going to go on a date tonight?" she teased her mom. "Or did you have a business meeting with your sexy boss?"
"Yeah, I have things to do," Mom said irritated, "so give me back my dress." So, Anastasia did. She pulled down the dress to reveal Mom's perky tits and Mom's jaw dropped in shock. "You slut!" she screamed at her daughter. "You're a little harlot! Put that away, put that away!"
In an attempt to control her daughter, Mom reminded her that she was grounded, but Anastasia knew she held all the cards in the situation. "You can't ground me if I call the police. They're gonna see you're the daughter and I'm the mommy," Anastasia laughed. "I'm going to have so much fun, Mom!"
She teased Mom about using all of her credit cards, about hitting on and making moves on her cute boss, about being a mom who didn't have to do homework. "You're going to get a promotion and you're going to thank me," she smiled devilishly. She stripped down to explore Mom's older, more mature body, taunting her about the terrible things she was going to do with it.
Anastasia groped Mom's perky tits, then slid her fingers across her pretty pussy, and all Mom could do was tell her to stop – she was helpless from inside her daughter's body. To make the situation even more crazy, Anastasia stripped down her own body so that Mom could see all the small tattoos that she had been hiding.
"You're going to have to go fuck my boyfriend tonight…" Anastasia told Mom, "you can't wear this dress with my boyfriend. You need to not look like an old hag." All this was news to Mom – the tattoos…a boyfriend? It was too much. And on top of that, now she had to act like a young girl while her daughter corrupted her body.
Anastasia left the room in search of some more provocative clothing for Mom's boss, which left Mom speechless on what to do next. For now, her daughter was in charge and there was nothing she could do. No one would believe that they had swapped bodies – that she was inside Anastasia's body. And what if they never swapped back again?!
TRANSFER FETISH, TRANSFORMATION FANTASIES, TRANSFORMATION FETISH, GENDER TRANSFORMATION, TABOO, MAGIC CONTROL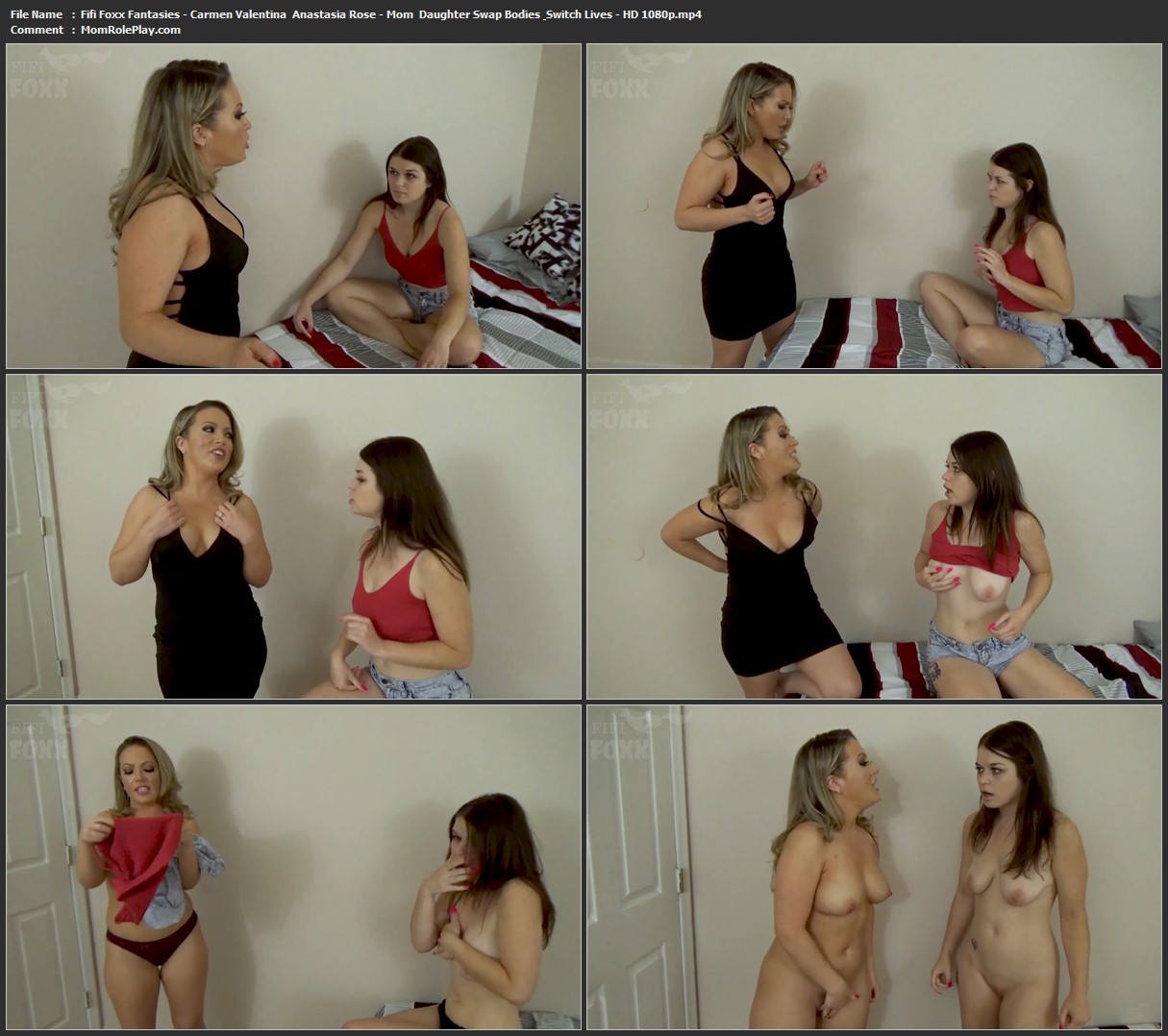 Download Files :
Fifi Foxx Fantasies – Carmen Valentina & Anastasia Rose – Mom & Daughter Swap Bodies & Switch Lives – HD 1080p.mp4