Aunt Ivy was always busy with work, so it was a surprise whenever she'd come down to visit. She needed to talk to her sister, your mom, about something important – she wanted a baby.
"Have you tried sperm banks – anything like that?" Mom asked, knowing Aunt Ivy was single and more interested in her career than a relationship. "I mean, I don't know about some random stranger's seed…" Ivy replied, "what if they came back for the baby? It just feels so wrong."
Plus, it was expensive, and there were so many extra steps with those alternative methods. "Remember when we were growing up and we always talked about how fun it would be to get pregnant at the same time?" Ivy went on to say. As much as Mom loved and bragged about how handsome, smart, and grown-up you were becoming, she wanted another baby. The only problem was that, if she waited any longer, it might be awkward to give you a brother and sister. And with no man in her life anymore, since Dad left you guys, she wasn't sure she'd ever get the chance.
"I know this is kind of weird," Ivy began to say, "but do you think that we could convince your son to impregnate us? Just give us his cum? I mean, we wouldn't have to tell anyone." To have the best probability of getting pregnant, it would be best to have you cum directly inside of them.
"Well, I mean, he would be excited about that, given his age," Mom smiled at her sister. "It is a little weird, I will say that, but I guess we could talk to him. He would be really excited, but we really would have to keep this quiet." They were enthusiastic about the idea – about being pregnant together, of having the same genes, of having a baby that would grow up to be as wonderful as you.
So, they called you in and explained everything. They poured their hearts out to you, asking for your help and your seed. You loved your mom and Aunt Ivy, they were family, and there wasn't anything you wouldn't do for them.
TABOO, IMPREGNATION FANTASY, OLDER WOMAN / YOUNGER MAN, MILF, VIRTUAL SEX, MOMMAS BOY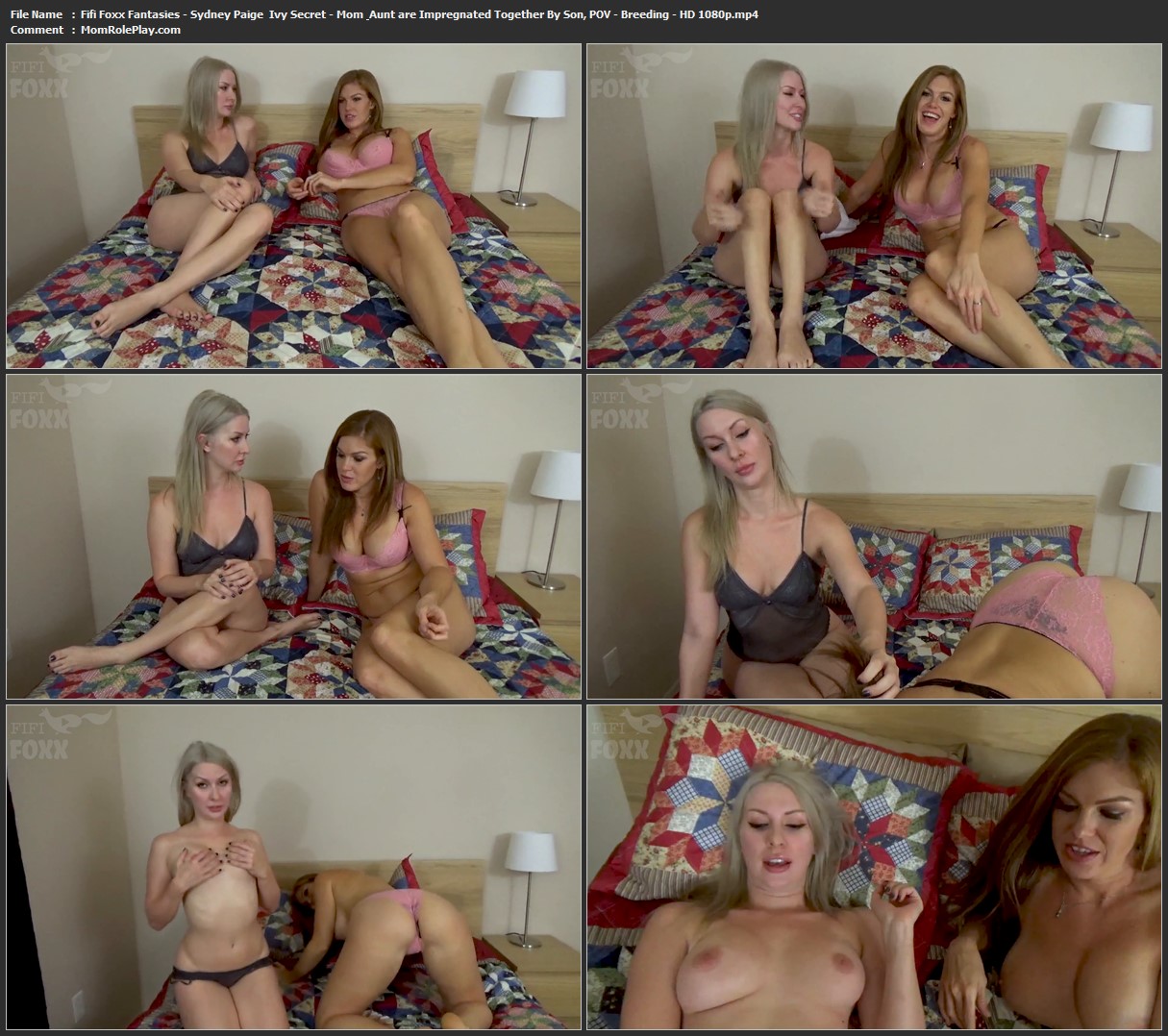 Download Files :
Fifi Foxx Fantasies – Sydney Paige & Ivy Secret – Mom & Aunt are Impregnated Together By Son, POV – Breeding – HD 1080p.mp4