Your mother has always been so open about what she does, using flowery terms that do nothing to hide the truth: adult performer, erotic artist, adult entertainment producer.
She's a porn star. A good one, too. She doesn't do hardcore stuff, though, just POV virtual videos. Here's the kicker, though: her main role is that of a horny, son-hungry mother. The first time you came across her stuff, you were sort of relieved to know she wasn't getting it on with a bunch of different dudes, and then you realized that she was talking to the camera as though the viewer were…well…you! Like everyone watching your mother finger herself and fuck a toy was her son. And you admit, you couldn't help but pull down your boxers and go to town on yourself. It was hot! And the look in her eye…well, it was hard to believe it was all an act.
That's what started it. Soon enough, you were going to her site all the time, buying everything she put out. You even picked up extra shifts at the pizza place in order to pay for it. One day, while browsing her site, you saw a link titled "Custom Vid." Hmm…a little out of your immediate price range, but the perfect thing to save up for over the summer. Should you feel bad, leading your mother into doing something like this? I mean, maybe, but when opportunity knocks, you don't shut the door. You answer.
Of course, she knocked it out of the park. She wore that outfit you love, and she used the pet names you told her to (all the names she uses for you and your brothers). You made your mother look right into the camera and say everything you always dreamed she'd say. It's perfect! And, you paid extra to make it exclusive. Within 24 hours of her delivering the custom, you've cum countless times. Its insane how much cum your mother can coax from your balls! But, you were careless. You left your laptop at home, open, with the video paused at the mid-point. And she saw it.
How did you get a copy? She has to know. Why did you want it? Of course, you can only pretend for so long. You were never very good at lying to her. Besides, you've long believed that there is a seed within your mother, something deep and maybe even denied by her, a tiny seed of intense longing…for her son. The way she reacted to your idea for a custom, the picture you sent of your cock so she'd know which toy to use…she loved it. And as you confess to her, her indignation falls away, replaced by tentative arousal. Her hand brushes across her breasts, wanders to the zipper of her jeans as you take the plunge and show your porn star mommy your rock hard cock.
It works just as you hope, just as you always dreamed it might. She can't deny what she wants, what she's always wanted – what's made her such a starlet in the world of taboo porn. She wants it, really wants it, and today, she's finally going to get it: her son's hard, horny cock, pumping and cumming deep inside her hungry pussy.
TABOO, MILF, POV, POV SEX, VIRTUAL SEX, REALITY PORN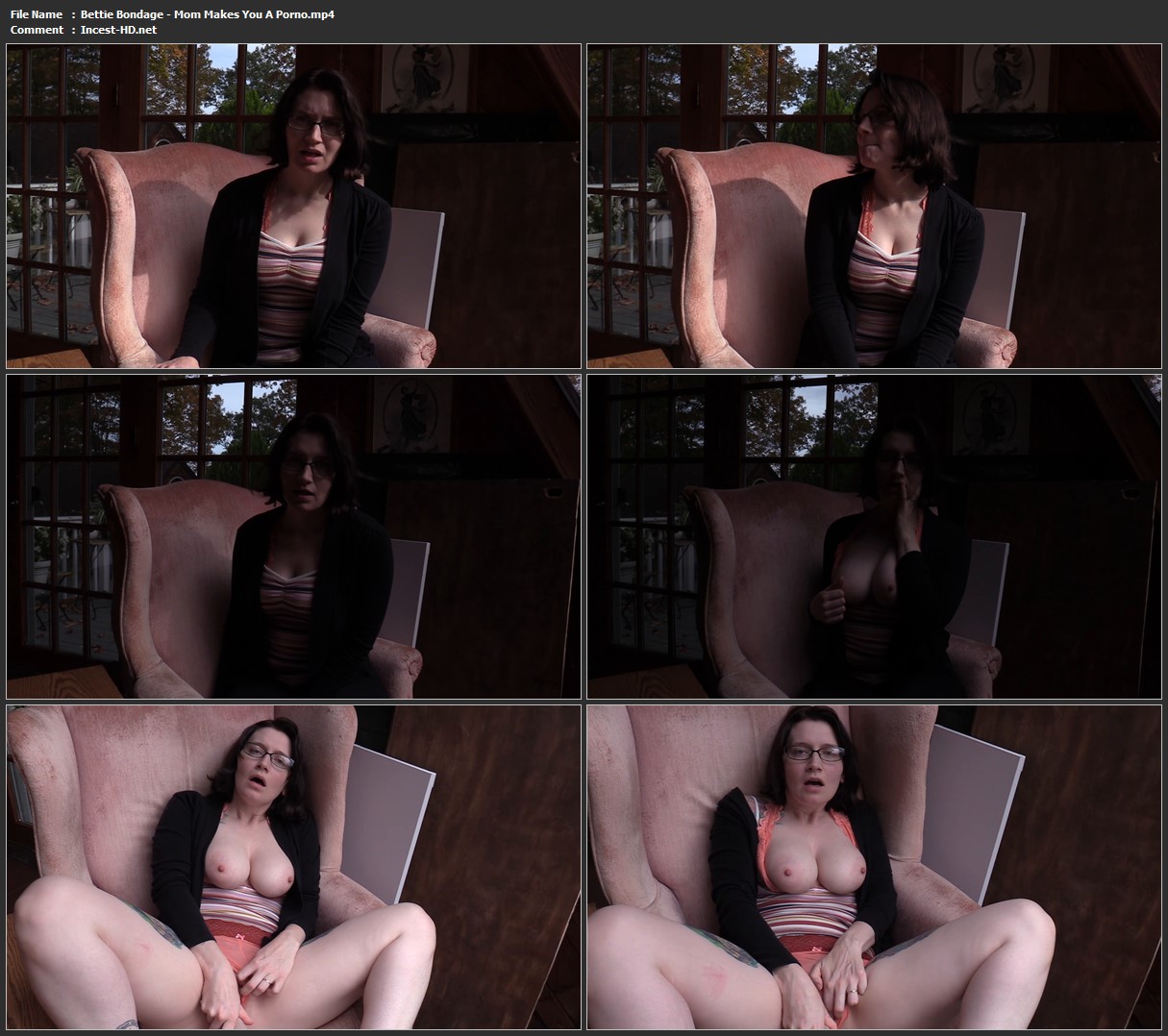 Download Files :
Bettie Bondage – Mom Makes You A Porno.mp4