Your mother has dismissed you from school early. At first you think maybe it's a treat; when you were younger, she'd sometimes let you stay home and you'd spend the day together. But you're grown now, and this doesn't seem like a good thing. She seems angry. And when you get home, you find out why: she found your sister's panties in your bed. You knew you should have hid them better, but you just needed to cum in them one more time before school and then you were almost late, so you threw them on your bed and ran out the door. And then, your mom found them, your cum still wet on the crotch. You're mortified, especially when your mother takes a finger, dipping it into the pool of cum and tasting it!!
She tells you that in order to rid you of these desires, she's going to do something extreme. She's going to put on your sister's panties, and then you're going to…fuck her. You heard right! You're going to get between your own mother's legs, while she is wearing your sister's panties, and you're going to fuck her, until you cum, all over that silky, lacey black thong! Surely, she must be joking! No, she insists, reaching forward and grabbing at your cock, which is hard despite your trepidation. Your eyes drop to your mother's hand, then to her cleavage in her tight dress, then to her eyes…she looks…hungry?
She gets on her knees, pulling your cock out and wrapping your sister's panties around the head of your cock, placing the cum soaked fabric into her mouth. She teases you about your obsession, standing and rubbing your throbbing dick against her wetness before she puts on your sister's panties. Lying back, she pulls the panties to the side and spreads herself for you, demanding that you fuck her, that you think about your sister while you drill her pussy. She pulls you out of her right before you cum, stroking you off onto her pussy and the panties, rubbing it across her hole before pushing the panties inside herself, stuffing her well-fucked quim with the cum-drench thong!
Category: TABOO
Related Categories: PANTY FETISH, PANTY STUFFING, MILF, VIRTUAL SEX, POV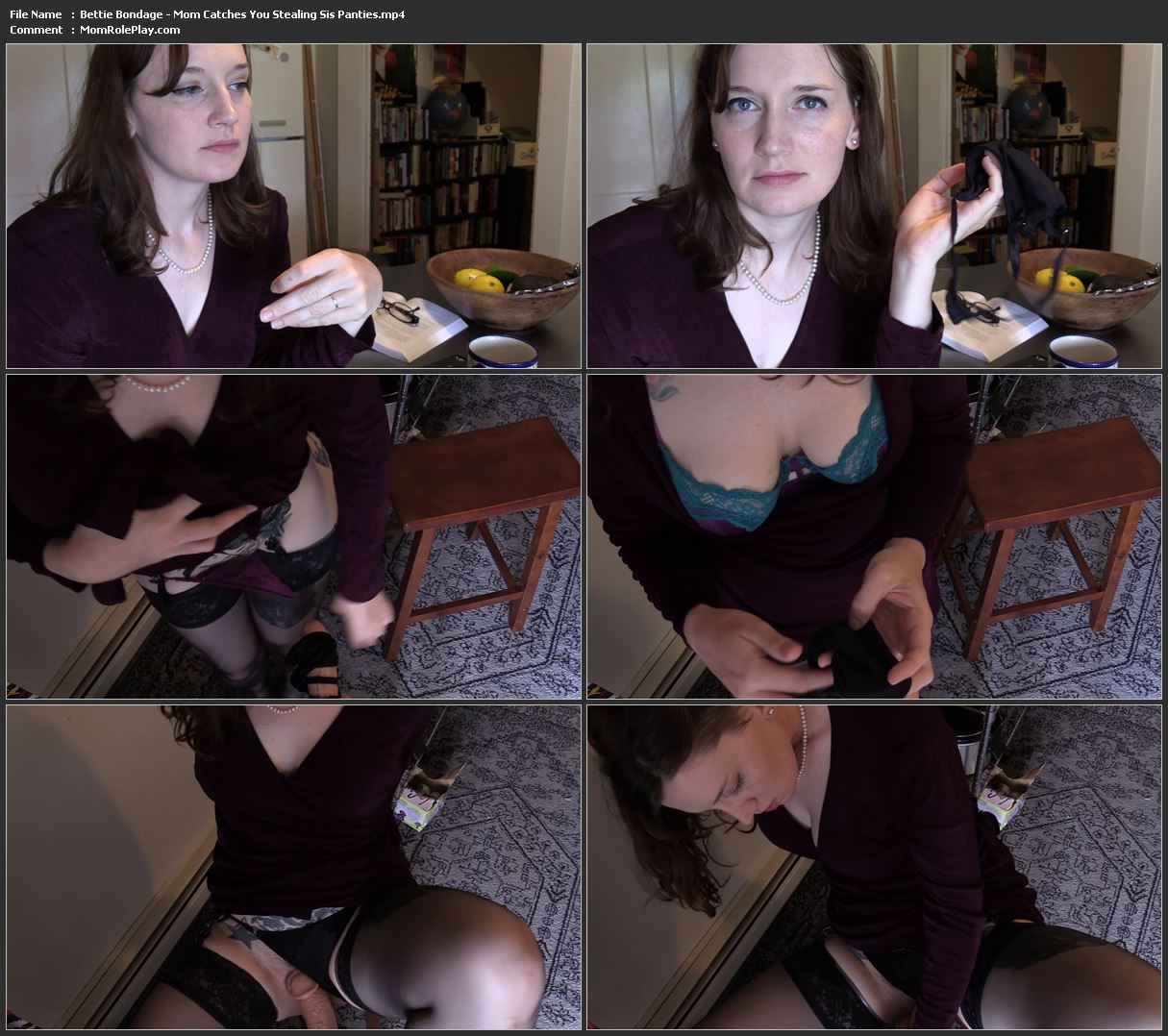 Download Files :
Bettie Bondage – Mom Catches You Stealing Sis Panties.mp4