An intense taboo fantasy – not for the faint of heart. VERY EXTREME! Created for those interested in something far more than your typical family video.
Mom let out a big, tired yawn when you and your two buddies entered her bedroom. "Hey boys," she smiled, "how are you? I'm not an old lady! What time is it? Okay, maybe just a little. What's up, babe?"
She had ordered you boys three pizzas and a movie to watch, but now you guys were finished and bored. "I don't know, what do you guys want to do?" she asked. "Stop! Stop jumping on the bed, I'm tired guys."
Your buddies brought up watching an R-rated movie and Mom immediately shut down the idea. "I'm sorry if that makes you look uncool, sweetheart…" she whispered, "I'm going to respect what their parents say."
However, after some coaxing, Mom reconsidered and went to reach for the remote to rent the movie. "Hey, don't do that," she said strictly with wide, surprised eyes. "Your friends are here, stop it." You tried to show off by grabbing your mom's big tits in front of them. Mom tried to pretend it didn't happen, but they noticed, and she awkwardly had to explain that that wasn't okay to do.
"Whoa, hey, you should keep your hands to yourself," Mom said frightened when your friend joined in and shoved her. "Don't you think, sweetie, that your friend should keep his hands to himself?" she turned towards you desperately. "Right?"
She could tell things were going in a bad direction, so she threatened to contact everyone's parents about their behavior. That was a bad move on her part. "Excuse me, what did you just say?" she narrowed her eyes at your other friend, then turned towards you. "You're going to allow your friend to say I'm dressed like I'm some slut? Really? These are the people you choose to be friends with and bring into your home?"
Mom wanted the party broken up – everyone needed to go home. On top of that, she made it clear that you were never going to hang out with these guys again. "Watch your tone," she snapped at you. "You're grounded: 1) for not standing up for your mother, and 2) for letting your friends disrespect you in your home."
"What's gotten into you?" Mom pulled back from your violent grab. "No, I'm not going to show you my fucking tits. I should slap you across the face for the way you're behaving. Who are you right now?" You were beyond embarrassed for the way she talked to you in front of your friends and for the way she was treating them.
The three of you were going to teach her a lesson. She was practically begging for it with her little, slutty nightgown. You and your buddies would grab her, touch her, shove her, and force her to stroke and suck your cocks. You'd each have your turn penetrating her tight, pink pussy and fucking her as she begged for you to stop.
"Sweetie, tell your friends to stop, please," she cried and screamed. "Do something!" She tried to fight it, smacking your hands, but it was helpless. "Baby, please listen to me, these are not your friends. Let go of me!"
The three of you would break her. Traumatize her. Take advantage of her. She'd never be the same again. She'd never disrespect you again.
TABOO, MOMMAS BOY, OLDER WOMAN / YOUNGER MAN, VIRTUAL SEX, MILF, FORCED STRIPPING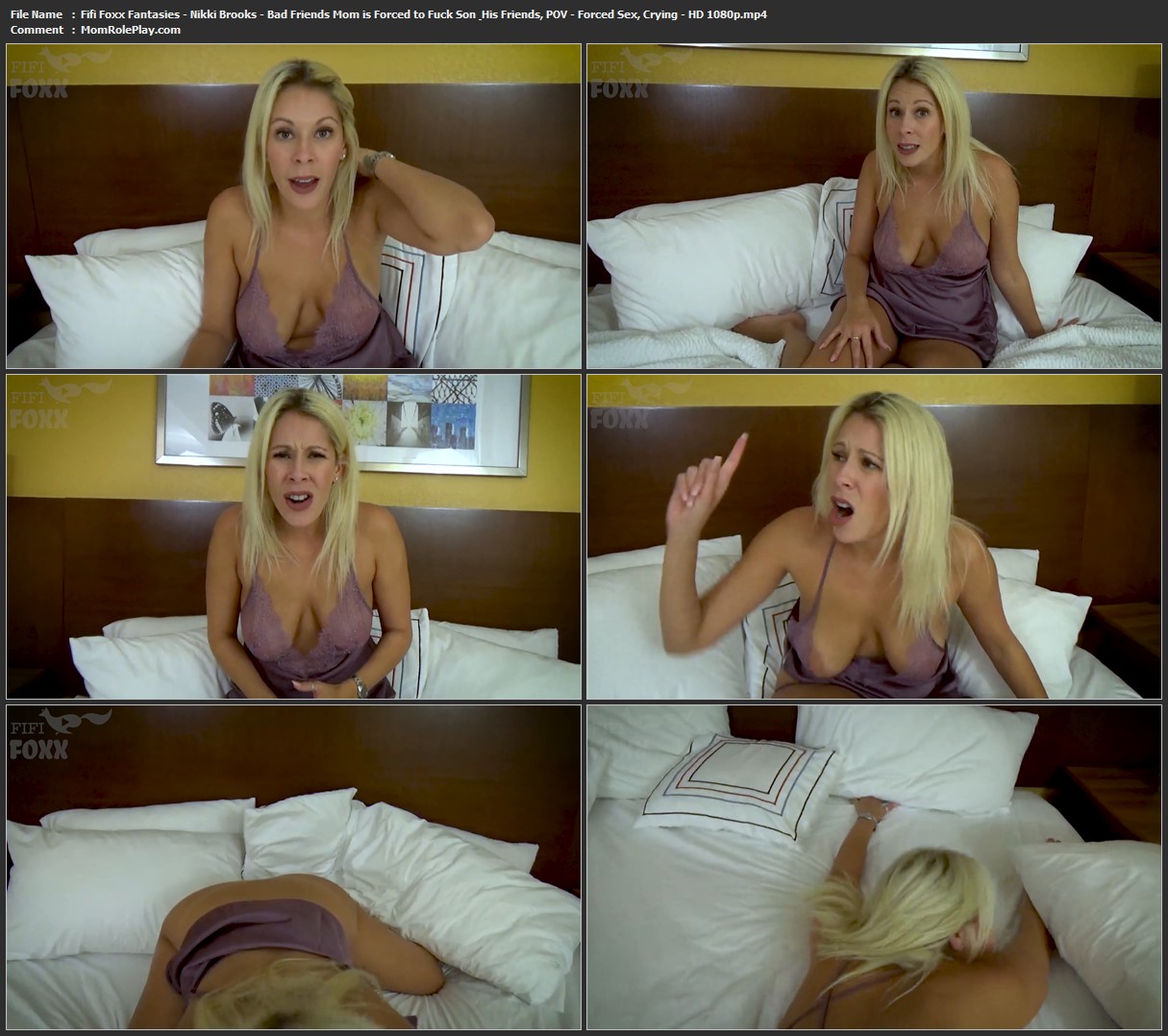 Download Files :
Fifi Foxx Fantasies – Nikki Brooks – Bad Friends Mom is Forced to Fuck Son & His Friends, POV – Forced Sex, Crying – HD 1080p.mp4