It's early in the morning and Chad is pacing the floors of his father and step-mother's house. Krissy comes out of their bedroom in her pajamas and is surprised to see Chad dressed, "want some pancakes?" Chad turns down his favorite breakfast and Krissy knows something is amiss. "Tell me what's bothering you, maybe we can sort it out?" Chad smiles warmly at his mother's adorable notion that every problem can be solved by talk, still he confesses the predicament he's in. "The company is handing out the year end bonus at the Holiday party and I have to win that money. The problem is that Mrs. bates can't know I'm getting a divorce. She doesn't believe in divorce, she calls it "failure," and "the downfall of the traditional family and society's Christian values."
Krissy looks puzzled, "this is the 21st century, surely she doesn't think that."
Chad nods and explains how she laid off a long-time employee conveniently after his divorce finalized.
"Did you tell anyone that you're divorced?"
"Of course not, I even wear my wedding ring to work, but one of the other candidates, Jay Sniegal, is spreading a rumor that we're divorced. He lives in the same neighborhood and he's been asking me why he hasn't seen my jeep around."
"Honey, just how important is this bonus anyway? You could just stay with us until you save enough money for that lake house."
Chad shakes his head no, "A house like this doesn't come on the market every year. It's right off of West Pier, it's white with [Krissy interrupts]
Krissy, "with Navy shutters?"
Chad nods, "You remember it."
Krissy, "Of course I do. It's right by our favorite beach. You know the one I used to take you? OH my darling, that IS a dream home. It certainly would be my dream home. Imagine coming home to that little piece of paradise? You're right.. you have to win the bonus."
Chad looks down, "I just asked Sheila and she hung up on me"
Krissy, "she would"
Chad, "I thought about inviting my old college friend, Bethany, and I could call her Sheila. No one has met Sheila yet, not even Jay.. but I don't think Beth could act romantic with me. We have to convince them that I'm truly married."
Krissy nods and looks down. Chad looks at his mother, desperate that she'll come up with some plan as she always seems to do. He'll take any idea at all. Chad zones out, the burgundy red of Krissy's hair reminds him of her sexy little burgundy dress she used to wear in local dancing competitions. Krissy always wanted to go on one of those competitive dance shows, tangoing with celebrities, and twirling around in expensive dresses, and traveling the world. She probably would have made it too, if Dad would have allowed her the opportunity to audition.. but no, he thought she should stay at home and raise the family.
Krissy looks at him, "what? Do you have an idea?"
Chad explaims, "Of course, YOU!"
Krissy, "Oh darling.. I'm your stepmother, and everyone would clearly see that I am older than you." Chad, "Are you kidding me?! You are a stunning woman, just as stunning as any woman in her 20's."
Krissy smiles modestly
"And you are a phenomenal dancer, and that's definitely going to impress Mrs. Bates, she loves all the classical dances."
Krissy smiles, "I am a good dancer, aren't I?"
"Oh please. please say you'll come with me?" Krissy bites her lip nervously.
"What? What's holding you back? Krissy remembers the words of her husband, "you're getting too close to him. Remember he is a man now. Krissy rolls her eyes, she resents the idea that she can't be just as close to her little boy now that he is man. She looks at Chad's hopeful face, "I'll do it!" Chad kisses Krissy.
Watch the story unfold..
Category: TABOO
Related Categories: MILF, OLDER WOMAN / YOUNGER MAN, REDHEADS, BLOW JOBS, CUMSHOTS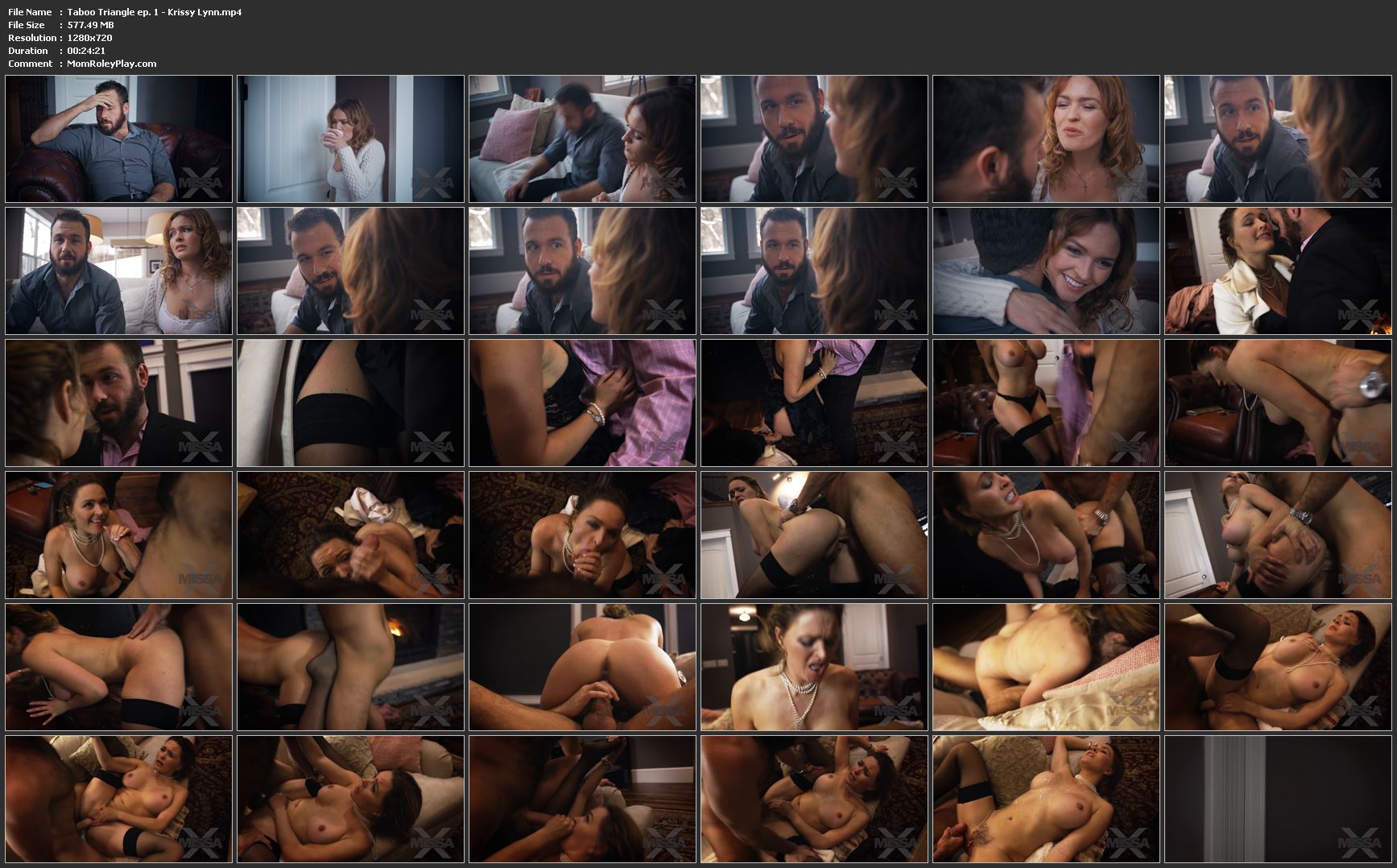 Download Files :
Taboo_Triangle_ep._1_-_Krissy_Lynn.mp4