My girlfriend, Jill, doesn't really understand my mother. I tried to explain to her a little about our relationship, but of course, I kept my new feelings about my mother a secret. She doesn't know that I have recently started to fantasize about my mother. I can't tell a soul about it. It's a filthy obsession that I try my hardest to repress, and I hope that the thoughts I have about mother will soon be distant memories, old dreams that I'll soon struggle to recall until they're eventually forgotten.
My mom fell asleep at work again, working overtime at the bank. She's transferring the old paper files to the bank's computer database. She will tell me how she is grateful for the job, the long hours, and how no one in our town makes as much as she does with zero college education. I know that my mom's boss takes advantage of her kindness, and her position as a single mother. She forgot to check her phone, I texted her, called her, I was worried about her.
She comes in, and bee-lines it for the bottle of cherry merlot in the fridge. "I'll be working less hours at the bank soon, darling, and then we can spend more time together before you start school," she tells me. I smile at the idea of it. You see, my mom is like a friend to me, and also a little like my . She's always needed me to take care of her, and I needed her in return.
I like feeling needed but I want to help out now that I've graduated High School. "I'm old enough to get a job to help with the bills," I tell her. She shuts the idea down, "you'll have your whole life to be an adult, enjoy your youth." I roll my eyes. Mom is stubborn, she doesn't want me to get a job until I graduate college.
"Your little 'friend' came by at the bank, she had a birthday and now she can get an account on her own," Mom tells me with a judgmental tone. "She's very.. tan."
"Yeah, Mom. Jill's a lifeguard."
Mom lectures me on the dangers of melanoma while oh-so subtly questioning her reason and intelligence. I breathe in, trying to keep my nerves under control. Mom dismissively says, "I just want to make sure you're hanging around with the right crowd, darling. I need my sensible boy to make sensible friends, what's so wrong with that?" I think it's cute how my mom is jealous of Jill. I know she sees another woman as competition for my time, she loves me, that's all.. nothing unusual.
We ordered a pizza and waited for the delivery boy. Mom could see that she annoyed me and she tried to lighten the mood. She put on her sweet sing-songy voice, "who needs the tickle monster?" She teases me with her fingers, wanting me to run like I did when I was a boy, instead I just roll my eyes, again, at her. "Stop it," I tell her flatly. I wait for her to attack me with her fingers, and she does, tickling my stomach, my neck, it makes me smile, but not laugh. I decide to turn the tables and tickle her. She laughs as I bury my fingers into her soft fleshy stomach.
My mom's body is fit, tanned, and just as toned as Jill's, but she has a softness to her. My fingers sink in an inch into her skin and I wiggle them around her stomach. She laughs uncontrollably, and then she makes a sensual moan, then she laughs, and moans. She looks embarrassed, but she's smiling still. I feel confused, should I stop? I can't stop.. I have to hear my mother moan again, my dick grows in my pants. I hope she doesn't notice, and she doesn't. I tickle her ribs, her thighs, and she laughs, she moans, and then I smell an unusual scent. I stop tickling her.
"Did you get a new perfume?" I fill with jealously thinking that she is dating again. She hasn't dated in years, and my mother had horrible taste in men. She assured me she was not, she started to look embarrassed. I took her embarrassed look as a sure sign of guilt. "You ARE dating again!" She denies the accusations but I know she is not wearing her signature "Elle Lavender" perfume.
Mom calms me and puts on her teaching voice, calm, reasonable, and I quiet my accusations and listen. "Sometimes when a woman gets excited, she has a scent." I feel confused. "It doesn't mean that I'm aroused (she mutters) in a sexual way, it's just a reaction." I feel my heart beat faster. Oh, God.. I turned my mother on. She excuses herself, "please put my pizza in the fridge, I think I will go to bed early. I am so exhausted." My cock was hard before, but now it's raging. It's screaming at me to do something.
Category: TABOO
Related Categories: MOMMAS BOY, CREAMPIE, BLOW JOBS, TICKLING, MILF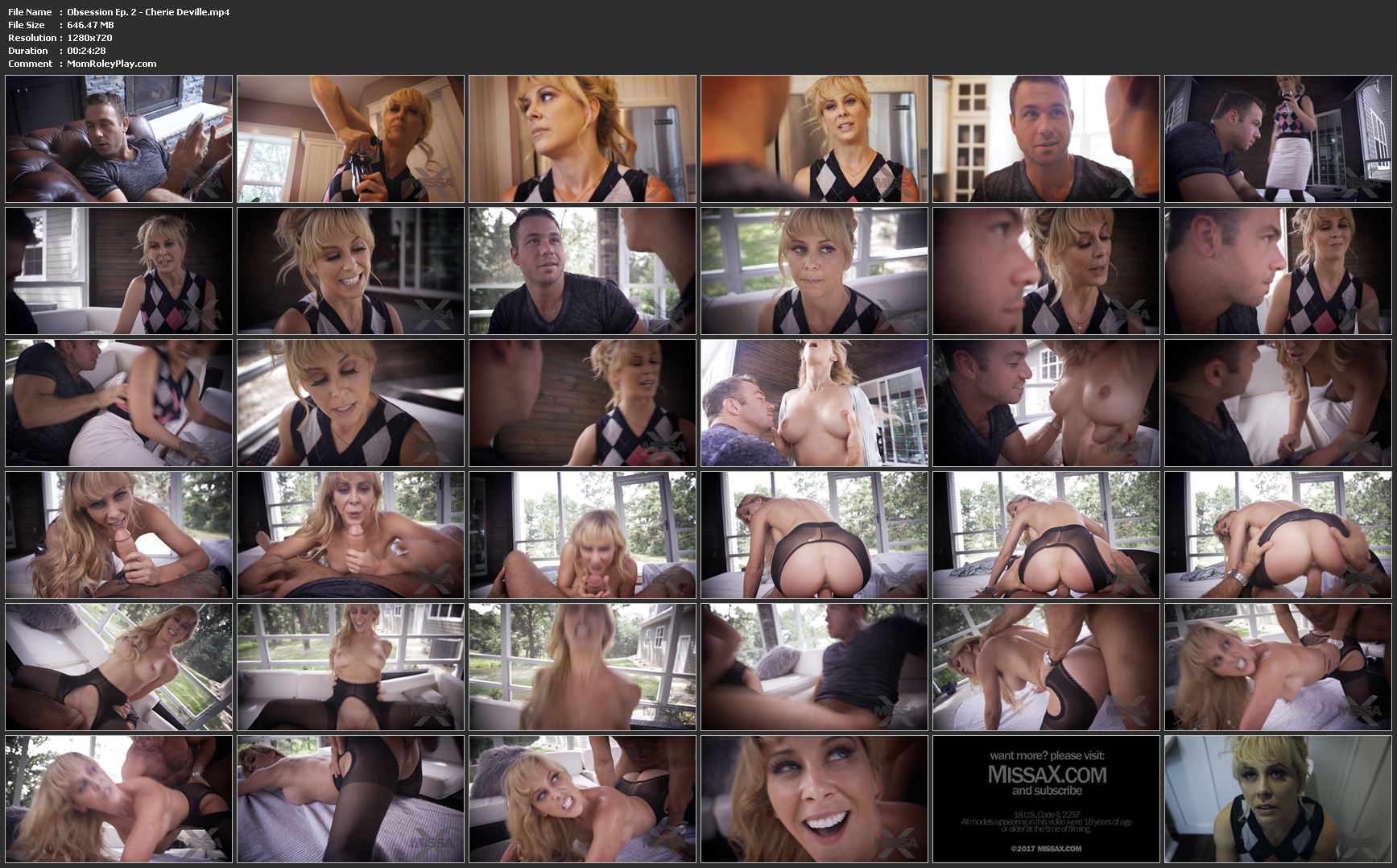 Download Files :
Obsession_Ep._2_-_Cherie_Deville.mp4