Your mother has been acting so strange lately. Last week, she said something about needing to get pregnant…and seemed to be suggested you should be the father! You've been trying to avoid her but she says she desperately needs help around the house so you agree to stop by and lend a hand. After working in the yard for a few hours you come inside, and to warm you up, she makes you some hot cocoa. You accept, of course – it's your mother. But after you're finished, you feel a little woozy. And a little tight in the pants…you tell your mother you're going to go lay down, and that's the last thing you remember…
…before waking up, with your mother on top of you! You try to shake yourself from what must be a dream, but no. It's real! Your mother is on top of you, and you're tied down! And what's worst of all is that you have a giant, rock-hard erection! She tells you that it's no use struggling. She's given you two Viagra and she's got a serious plan in mind. She's going to fuck you and get herself pregnant with your sperm!! Your mother has gone crazy…but she's right, there's nothing you can do. Your cock is harder than you've ever felt it, and your mother's skin is so soft and warm. Her tits, warm and inviting, are making resistance impossible.
You try not to let her know how much you like it as she slides you into her mouth, and then into her wet, fertile pussy. You watch as your dear mother pumps her hips up and down on your turgid dick, squeezing load after load into herself while you beg her to stop, while you moan and spurt ounces of sperm into her happily waiting womb. Every time, you beg her to stop, telling her how sensitive you're getting but she just laughs and keeps fucking, sucking, and draining your cock and balls into her pussy! She even licks up errant drops and spits them onto her finger, pushing them inside herself while she lectures you on how important it is to get every drop inside her. She fucks every little drip of your semen deep, deep, deep inside herself, making you groan in complete over-stimulation as she ensures that she will get pregnant by her very own son!
Category: TABOO
Related Categories: IMPREGNATION FANTASY, FEMDOM, FEMDOM POV, CREAMPIE, REALITY PORN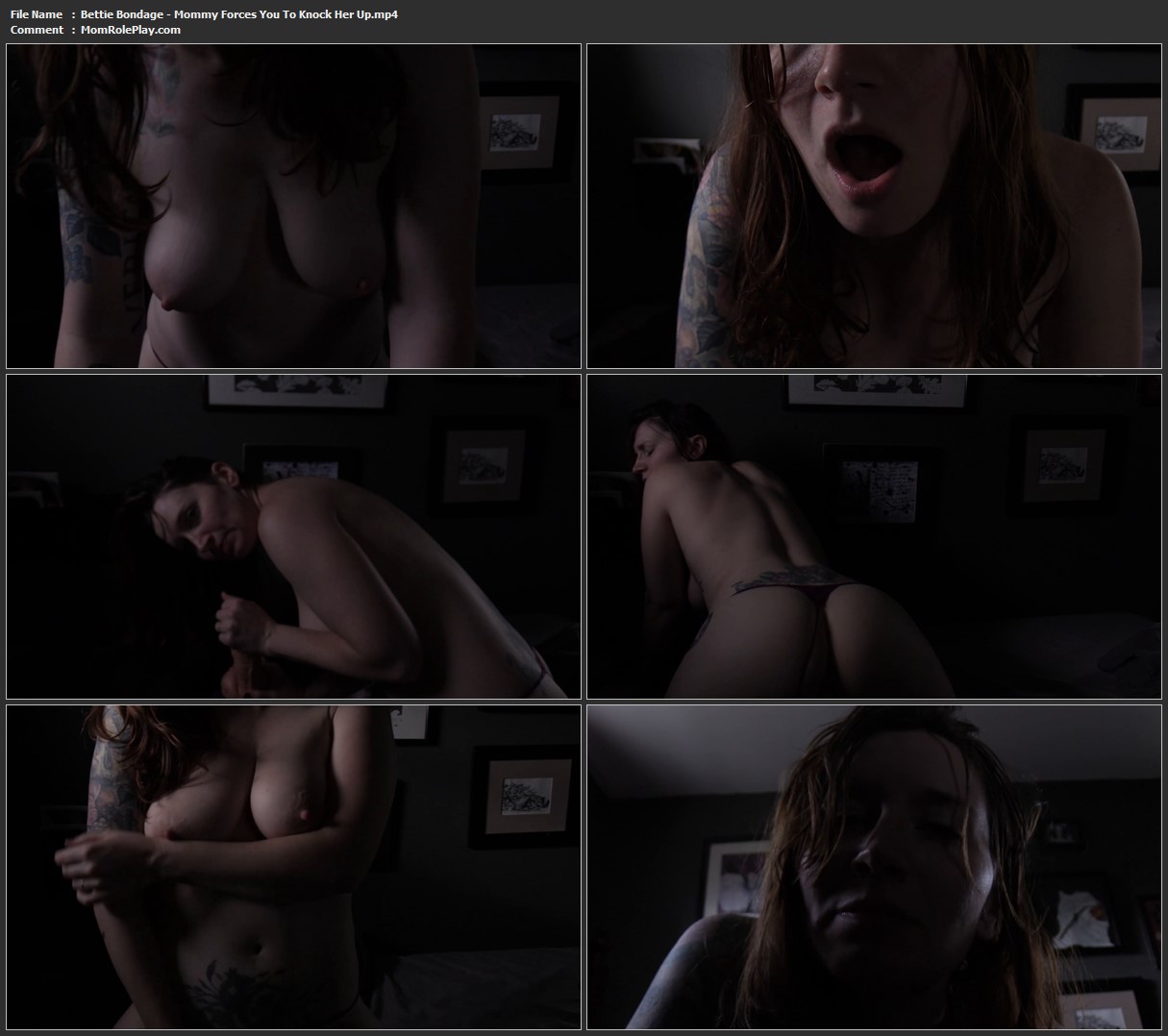 Download Files :
Bettie Bondage – Mommy Forces You To Knock Her Up.mp4