I can't pinpoint when it all started to happen. I know my boy has always been helpful and attentive to my needs. Whenever I need something done, he's the first to volunteer his help, whenever I am feeling blue, he is around to cheer me up, and when I'm sick, he's the one bringing me soup and tea in bed. I don't know how the flirtations started, but they did, and they were subtle at first. I remember our hands softly touching in a way that is not common between a mother and a son, my glance at his newly masculine body when he has a towel around his waist, a hug that lasts a little too long, and these dirty interactions started to escalate. It was just last Summer I noticed his affinity for smelling me, he loved to wrap his arms around me and breathe me in, he oftentimes held be right under my breast, as if he was allowing his forearm to feel my supple breasts. His face nuzzled into my neck, and I saw the look of intoxication on his face, and it wasn't my little boy's face anymore, it was my man's.
It was a night in late August, we were playing board games and it was storming out. I playfully shoved him, and he shoved me back, hooking one arm around my waist so I couldn't fall down. HIs face was close to mine, and we began to lean in towards each other, an uncontrollable magnetic force pushing us closer, and closer, until our lips touched. I don't normally kiss my son on the lips, but I did last night, and it was soft and sensual. He melted into me and I wanted to taste his lips, his tongue, I was French kissing him with the passion that I thought was well in my past, but now it's here, and I feel truly alive. I felt young and awake, and scared, and then– he laid me down on the floor and my conscious got the better of me. I stopped it. "Wait…please." I asked him to go to his room while I collected myself. I came in about an hour later.
"This has to stop," I told him. He tried to convince me how it felt so right, and he practically begged me to reconsider. "If you love me, you will respect my wishes," I can't believe I told him that! It was so definite, my decision was made, and my decision was final. I laid in bed and cried that night, the rain beat down on my windows out the sound of my thoughts screaming at me to change my mind, to go upstairs into my son's warm arms, to enjoy the comfort of him, to make love to him, shamelessly. I fell asleep and when I woke in the morning, the sun was out, the birds were chirping, and it felt like a fresh start.
I started to paint my toes when my son came down the stairs. He smiled warmly as he always does when we say good morning. "Let me help," he set my foot in his lap. My boy has always painted my toes, he's better at staying inside the lines, but this time my foot was rested right on his hard cock. I wanted to dig my sole in, to try to feel the girth and length, but instead, I moved my foot. I stood up and went to the window. My son followed me. "I think we should mow the grass," I told him as he wrapped his arms around me. "Sure," he responded as I felt his cock digging into my ass from behind. I felt myself get wet, and I turned around, I rubbed the hair on his chest, my hand went down the bumps of his abdomen muscles, and I forced myself to walk away.
Tyler grabbed me and sat me down. "I have to tell you something," he told me, "I have to move out." I started to panic. He can't move out! I only have him for 2 more weeks before he has to leave for college. "Mom, I can't do this with you. I know you don't want me to touch you, but it's almost as if I can't control myself around you." I wanted to kiss him, to confess that I feel the same way, and to "give in," but instead I listened. "I have to move out, and time will cool things down between us. I want to respect you, and what you want." No, no, NO! What will I do to make it right?
"Darling," I swallow not knowing what I'm going to say next terrifies me, "we can give in to each other, as long as we follow the rules." My son looks at me with curiosity. "I used to have a boyfriend that was religious, back when I was your age, and he couldn't have sex with me unless we were married. Instead there were other ways we could enjoy each other, get each other off."
"You want to get me off?"
I looked away with shame. You see, he's a man now, but sometimes he still looks like my little boy. It's so sick, I'm so fucking sick. "Yes," I tell him with certainty.
Category: TABOO
Related Categories: MOMMAS BOY, CUMSHOTS, TITJOBS, MILF, COCK TEASE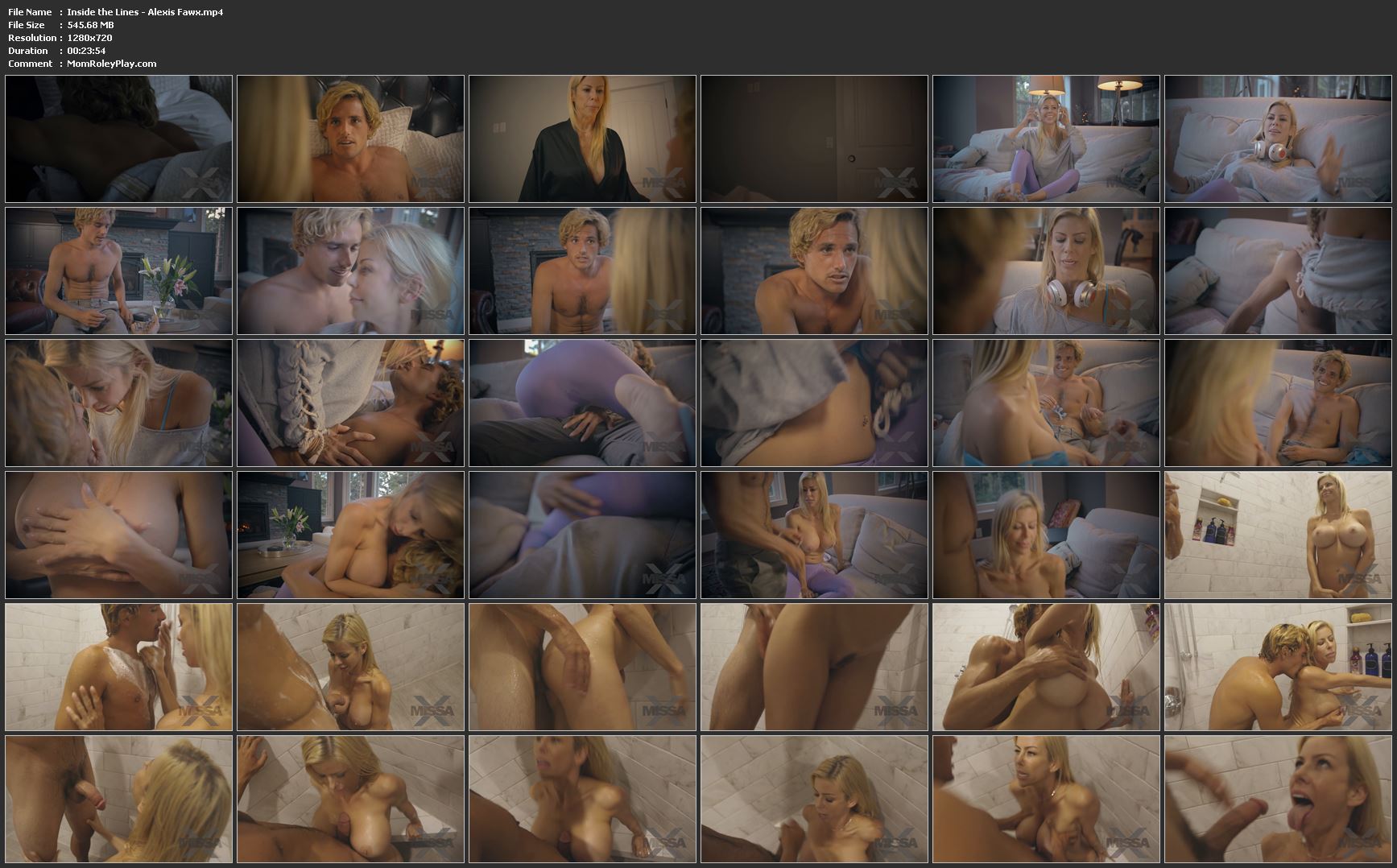 Download Files :
Inside_the_Lines_-_Alexis_Fawx.mp4