Scene One: Is mommy still tight?
"Can you make sure I look good in this?" Sydney asks me as I play with my toys. "I don't know" I respond half halfheartedly. As she shows off her body in her tiny bikini she asks if her hard body makes me hard. I freeze in shock as tries on another bikini, stripping in front of me. "Put your clothes on" I whisper in fear.
She tells me it will be alright, getting close to me. I can feel the heat radiating off her body as I touch her. Something inside me burns and I feel my body go stiff with anticipation. "Look how hard you are" She whispers, slipping off her bottoms and pulling out her perky tits. "Look what I can do to you" She smiles touching my penis with her warm hands. "This is what mommy wanted, to taste you" Her tongue runs up and down my cock as her hands stroke me. "Oh baby, fill me up" She moans as she gets on top of me and fucks me. Her body and pussy are so fucking tight. I can only fuck her for so long before I feel my body shake and cum inside her.
Scene Two: Mom needs stress relief
The next day and my world has been turned upside down. "Mommy had such a long day, I'm so stressed" Mommy tells me as she walks into the living room. My eyes pop out of my head at her tight red dress. "Can you help mommy release some tension?" she asks and unzips the back of her dress. This is what I've been thinking about every second. My body starts to quiver.
Her lacy red underwear makes me want to cum right there in my shorts. She's so fucking hot. "Do you like when mommy teases you?" She smiles. Spreading her legs she guides me into her warm wet pussy. My lips tasting her and driving me wild. I can't stop myself from getting on top of her and fucking her. "Just like that" She moans. I fuck her endlessly on the couch, making her cum again and again. I cum deep inside of her, making her orgasm from the feeling of my hot ooze. "Let me taste it!" She yells in passion and I let her clean up my wet cock with her hungry mouth.
Scene Three: Mommy Swallows
"Dad's in the garage working on the car" Mommy says to me, sneaking into my room. She's wearing lingerie that makes me obey her every command. I don't think it's a good idea to do this with dad around but she starts masturbating and touching that tight fit body of hers and I melt with lust.
Sliding onto the bed she pulls my hard cock out of my shorts and slides me into her sucking mouth. I could burst right there as she looks up at me with her loving hungry eyes. Mommy begs me to fuck her, to make her cum. "Yes baby!" She screams, her perky tits bouncing to my thrusts. Her pussy is so tight, her body so perfect. "Please let me taste you, fill my filthy mouth, give me that cum!" She can barely talk between my hard fucks. Her pussy clamps down on me as she cums and I pull out, exploding all over her face. She swallows me down, so happy to have a strong young man to use.
Scene Four: Blackmailed Aunt Cory
Sisters Cory and Sydney have always had a special relationship. But when Sydney's son gets a hold of compromising pictures of the two of them, it's big trouble. He's blackmailing his sexy aunt Cory. Furious Cory confronts Sydney and pleads with her to help. Sydney suggests they go with the blackmail and give him exactly what he wants.
Terrified and humiliated, Cory watches as Sydney puts her son's cock into her mouth. Cory has no choice but to be guided and used, her mouth being filled by big cock. The girls strip each other, part of Cory screaming no while part of her screams yes. Cory's legs are split and he gets what he always wanted. He fucks them both, making them moan and cum. Their hot and fit bodies riding him, being wrecked by him, cumming with him deep inside. When they let themselves go they find that it's the hottest fuck they've ever experienced. Hot liquid lust squirts onto their faces in endless waves as they swallow it down, starving for the delicious taste. They kiss, in love with him and desperate to be blackmailed again and again for the rest of their lives.
Scene Five: Principal Blackmail
Sydney has been called into her son's principals office. She has know idea why as her son is a perfect student. "See your son dropped his phone" He says showing her the phone. On the screen, are nude photos of her and her sister. Having these pictures at the school are going to expel her son and have protective services called on her to remove him from the home.
Her body shaking Sydney looks at him and pleads if there's anything she can do. His strong hand rests on her thigh and a shiver of disgust runs through her. She swallows it down and smiles at him, "I think we can work something out" She says. Getting on the counter she spreads her legs and feels his hot breath and wet tongue on her pussy. She strips naked, exposing herself to the cold dry air of the office. He's fully dressed and in control as he fucks her naked powerless body around the office. Sydney moans in delight at being used like this by the powerful principal, his hard cock destroying her and fucking her harder than she's ever been fucked before. She gets to her knees and takes his cum into her open mouth, humiliating herself for her son's education.
Category: MILF
Related Categories: BLONDES, MUSCULAR WOMEN, HAIRY BUSH, FUCKING, BLOW JOBS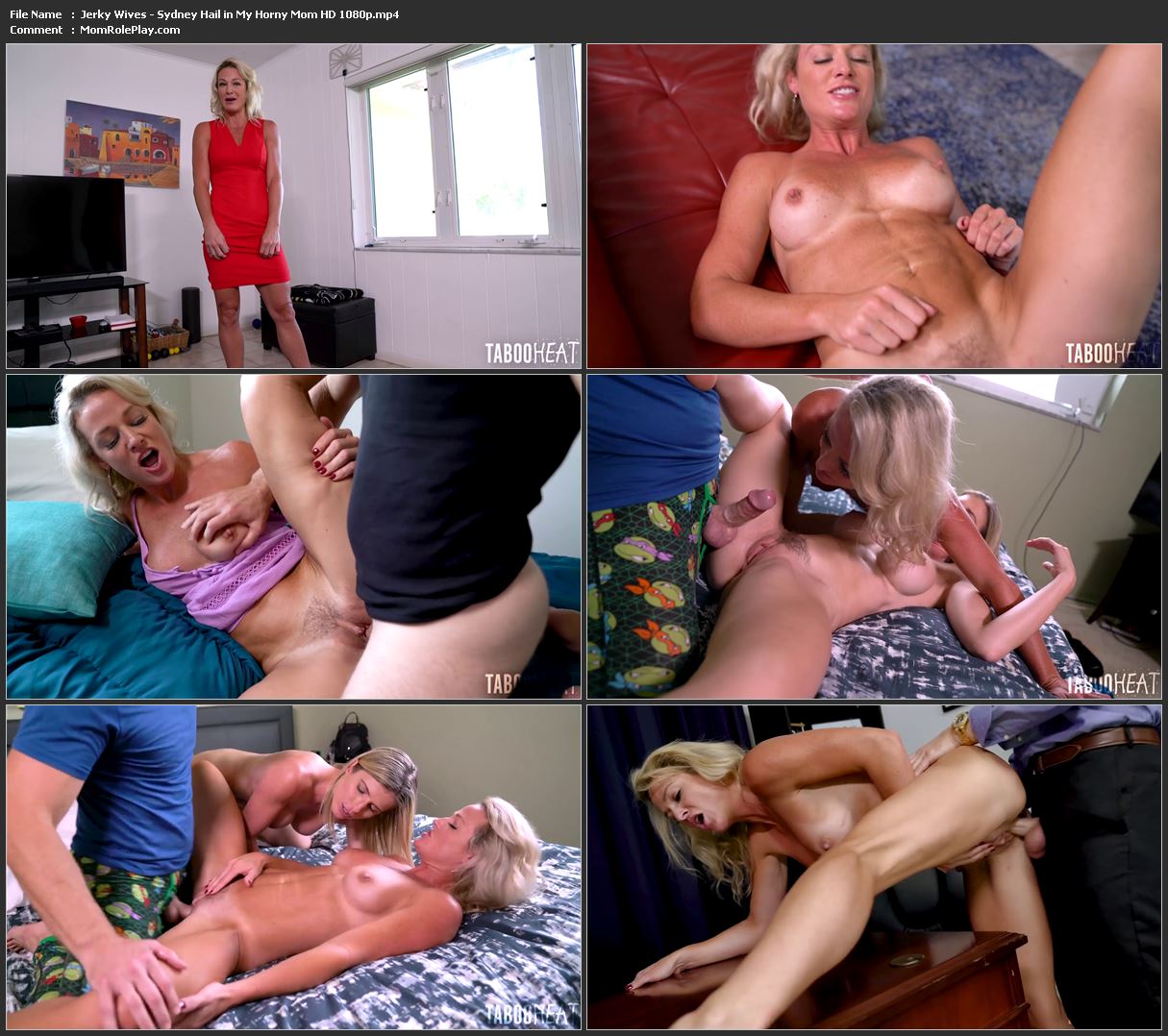 Download Files :
Jerky Wives – Sydney Hail in My Horny Mom HD 1080p.mp4