Ever since your mother helped you "feel better" when you were home sick from school, you two have been a little awkward around each other. You can tell she wants it again, but it was so wrong…she can't just come out and say she wants her son's cock, after all. So you've been staying home from school sick every so often, hoping she'll get the hint that this is your chance, this is the excuse she's been waiting for. Today, you pull the same routine, and decide to get into her bed before she gets home from work. She walks in and starts undressing before she notices you in her bed. She seems shy, but a little flirty as she tells you to relax while she finishes getting undressed. Her work outfit is tight and sexy and you can just imagine what a hard time all her male coworkers had focusing on their work with your mothers round ass stretching the shiny material of her skirt…
You sneak to the bathroom door, hiding just out of sight as you watch your mother slide off her pantyhose. She's taking her time. Like she knows you're there. She pees and you nearly groan watching it, her legs spread wide and inviting. She slides a finger inside herself as she smirks, looking towards the bedroom. You can tell she wants it. You rush back to the bed and get settled, taking off your boxers and waiting for her. She comes back in just a thong and bra, crawling across you in bed as she tells you how concerned she is about you…she rests her hand on your throbbing cock through the comforter for a moment, before mentioning the "last time." This is it. She's just as desperate as you are. She pulls back the covers and begins stroking and sucking you, telling you how wrong it is while she worships you orally. "You can't cum in mommy's mouth, though, ok? And only my mouth this time…last time was…too wrong…I can't…" she trails off as she sucks you, before mounting you and rubbing your cock across her soft, shaved pussy lips. She tells you she knows its wrong but she needs it, as your cock-head slips inside. She moans, leaning back and riding you, giving you a perfect view of her spread pussy and your cock buried inside, her tits bouncing.
She pulls off, tasting herself from your cock, sucking you long and deep, telling you that you mustn't come in her mouth. "That would be so wrong…mm, I can taste your precum…it tastes so good…don't you want to cum in mommy's mouth?" she looks up at you with wanting eyes, and you know her mind is changing. She begs for your load in her mouth and you happily oblige her, coating your mother's tongue and lips with a thick load which she greedily swallows.
Category: TABOO
Related Categories: ROLE PLAY, COCK WORSHIP, VIRTUAL SEX, POV, DIRTY TALK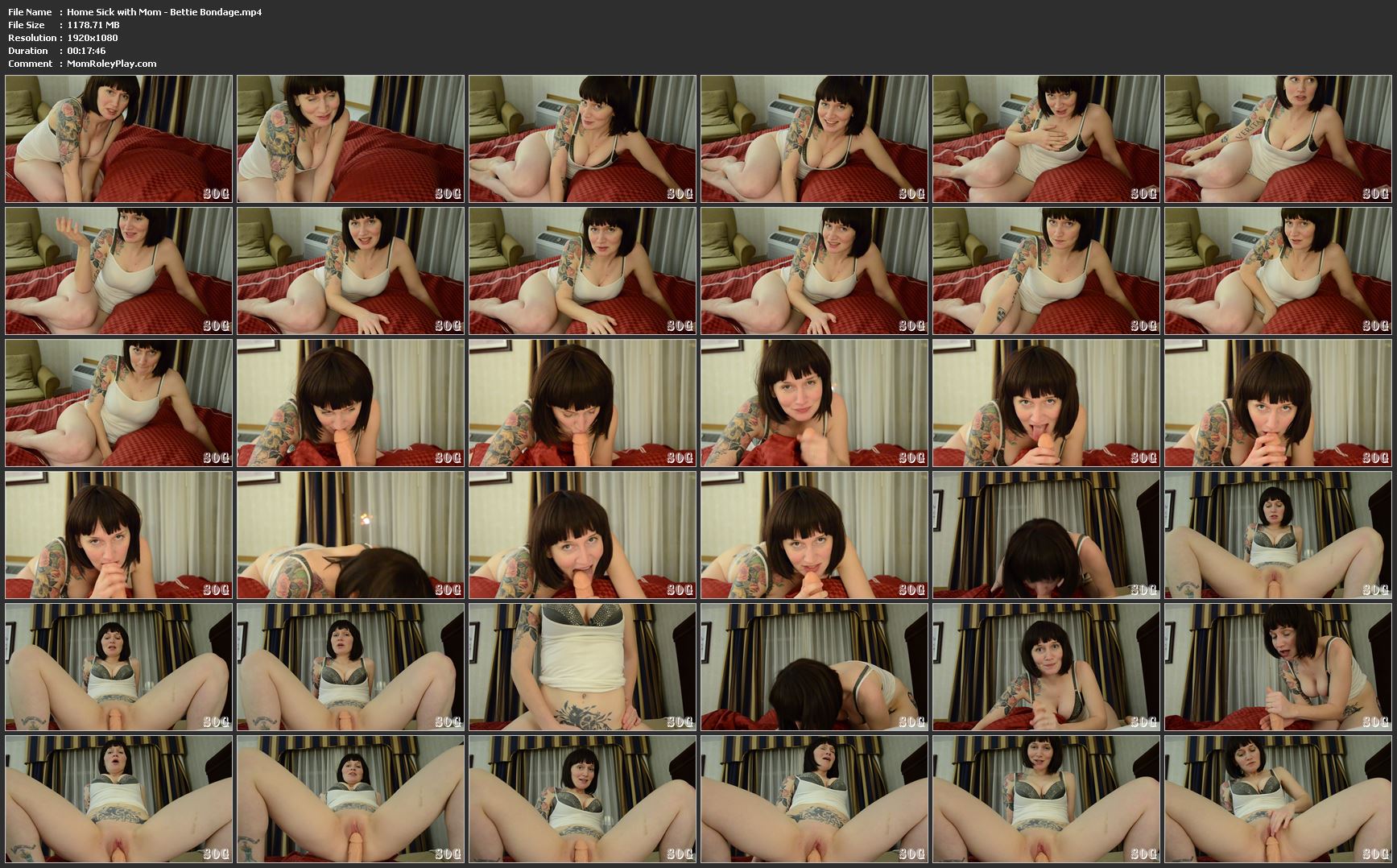 Download Files :
Home_Sick_with_Mom_-_Bettie_Bondage.mp4