One of my favorite transformation clips ever! Son gets himself in a very awkward, uncomfortable, and hilarious situation. Highly recommended!
"Did we ever get allowance for cutting the yard?" Mom argued with Dad. "No! It was our duty as household members to do what we were told." Mom was frustrated. Her son was greedy, ungrateful, and unappreciative. She felt like her husband was only enabling him, and that her son expected rewards for doing even the simplest of chores.
"We're not going to be on this planet forever to take care of him and baby him," Mom sighed, "he's going to be on his own, and he's not going to have any life skills, and I'm going to blame that on you." In fact, one of these days, he was going to know what it was like to walk in her shoes, and he'd learn to appreciate everything she did for him.
Mom and Dad went to sleep angry at one another. The next morning, Mom let out a big yawn, put her hand down panties, then jolted her eyes open. "What the…" she jumped up after noticing her girlie hands and hearing her new feminine voice. "Hello?"
Her son was inside her body and he was freaking out. Where did his dick go? "Ah!" he screamed. "I know I shouldn't have gotten high last night. I'm tripping out, I'm tripping out. Wake up, wake up!" He slapped himself in the face, but sure enough, he was still inside Mom's body, and he realized she was in his.
Although he was weirded out, he couldn't contain his curiosity. He pulled her nightgown open with a devilish smile, then started groping her big tits. "Is it wrong?" he asked himself. "I mean, they're technically my tits." There was denying that it felt good – really good.
Being Mom meant he wouldn't have to go to school or do any more chores, and he could drive Mom's car. "Somehow this is going to be my fault," he rolled his eyes, then looked around to make sure no one was nearby. He lifted up her panties and laughed. "Ugh, what is this? Mom, you've got like a soul patch on your pussy."
He was surprised to admit that his mom was actually pretty hot. "Oh yeah, you like my titties, boys?" he giggled as he bounced her tits. "I should totally wreck her." Since he was in control of her body, he could barge into his bedroom and demand that she buy him a car. If she refused, he'd threaten to strip her down in front of the whole neighborhood and finger-bang himself.
"This is so much easier than holding my dick in my hand," he said, now masturbating inside her body. Mom's pussy was so sensitive to her fingers, and he found himself completely engaged in getting himself off. So much, in fact, that he didn't notice Dad watching him in the doorway.
"Oh…Jesus!" he panicked, quickly covering himself up with his robe. "Dad…um….dadd-y…honey." He tried to recover by pretending he was role-playing. "Hey sweetheart," he tried to lean against the wall to look casual, "what are you…uh…doing here?"
"Oh, I was just testing um…testing this new m-m-method out," he said awkwardly when Dad mentioned how much he enjoyed watching her masturbate. "You know, I've never done it with two fingers." He immediately cringed at what he had just said – dear god, could he be any more obvious.
"I'm just going to get dressed," he said after noticing his father's erection. "You know, your son is probably hungry. I said that about him? Well, that wasn't very nice, I was upset earlier. I take it all back! He is a wonderful and very handsome boy. Now that my mind is clear, he needs a car."
But Dad wasn't interested in talking about that, he had a throbbing erection that he wanted his wife to take care of. "Oh, why don't we figure that out later," the son said, pretending to yawn. "You know, I'm really exhausted." Unfortunately, he knew he wasn't going to be able to get away with rejecting his dad.
"Take it off? Why?" he asked with an uneasy smile. He unfastened the robe for just a second, then quickly tied it back together. "We schedule these things? Of course, we're parents, we have to schedule sex…" And unfortunately for him, today was one of their days.
Dad commented about his wife's odd behavior and asked if there was anything she needed to tell him. "Why would I have something to tell you?" he asked nervously. "Did someone say something to you? Mom's still sleeping. Oh hi, I'm Mom." He couldn't afford to keep making these stupid mistakes.
"Oh…" he giggled timidly when his dad removed his silk robe, "my robe…you can keep it, it's a nice robe. Suck your cock? It's my favorite thing, you say? Can we skip my favorite thing? I promised in therapy? You're in therapy?! We're in therapy!"
He knew there was no getting out of this. It wasn't like Dad knew he was inside Mom's body, so if he could play along just this once, everything could go back to normal. Sucking another man's cock was bad enough, but his dad's?
"Darling, Dad…I mean, oh Daddy," he tried to pull away from his father's hands. "That feels…so…different." His eyes widened in horror as Dad penetrated him missionary style, then flipped him over so he could fuck him doggystyle. He'd soon come to realize that he'd be filled with Dad's cum.
And after it was all finally done, he could talk to Mom about their bodies being swapped. He might just be a little traumatized.
GENDER TRANSFORMATION, TRANSFER FETISH, TRANSFORMATION FANTASIES, TRANSFORMATION FETISH, TABOO, MAGIC CONTROL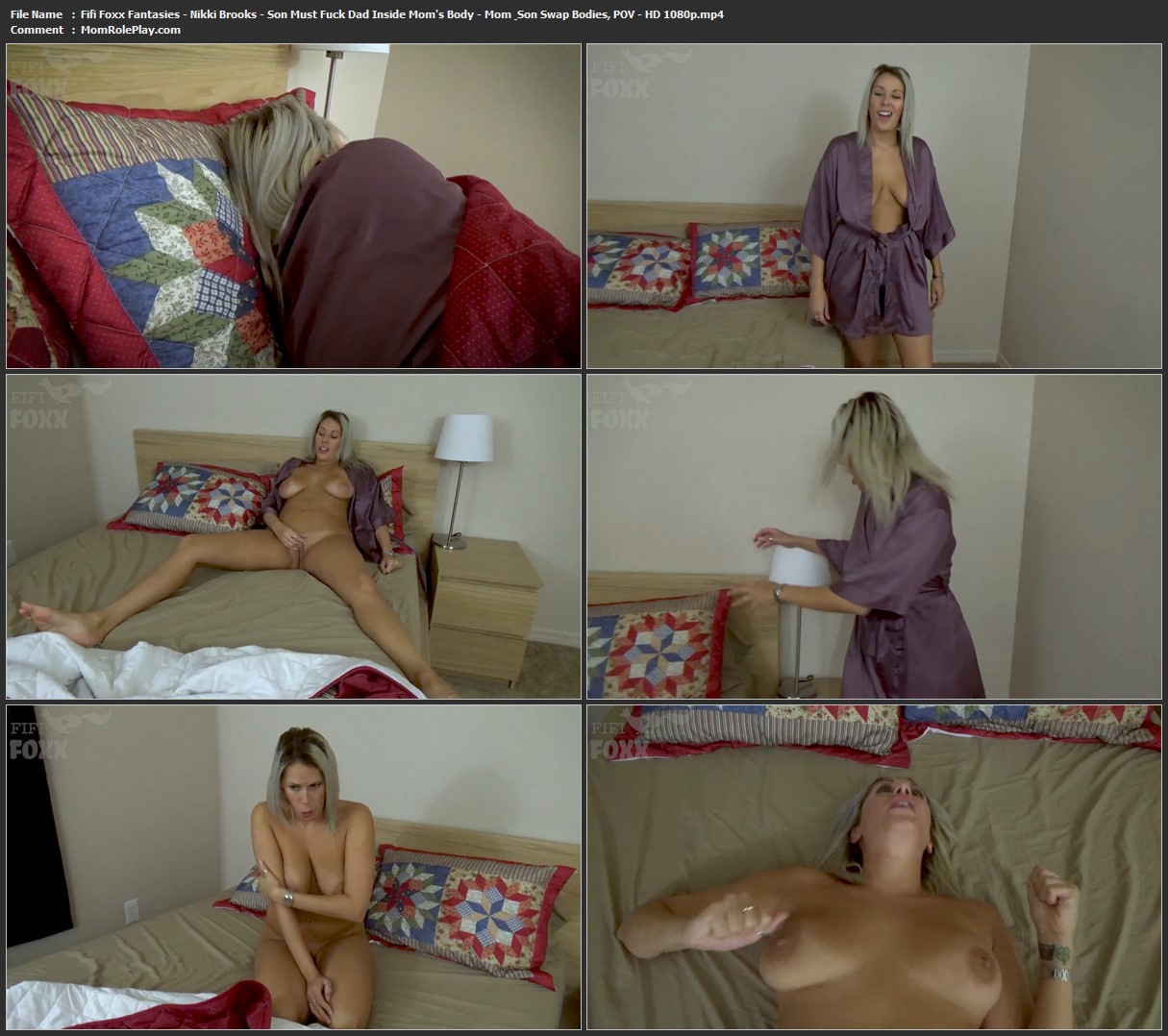 Download Files :
Fifi Foxx Fantasies – Nikki Brooks – Son Must Fuck Dad Inside Mom's Body – Mom & Son Swap Bodies, POV – HD 1080p.mp4