"Do me a favor and be home by midnight," Mom was stern with your sister. "Can you do that for me?" You stood in front of them, waiting patiently and watching as the two of them bickered on what time was appropriate to come home.
"What do you need?" Mom finally turned towards you. "Do you have something else to add to the list?" Without a word, you placed your hand in front of your face. "What's that?" they asked with narrowed eyes. But rather than respond, you blew the magic dust towards them, and they started to cough as it filled the air.
Their eyes fluttered and rolled, and once it had taken control of their minds, they looked at you in complete admiration and devotion. "Oh, I love you so much, sweetie," Mom sighed. "Do you know how much I love you, bro?" Anastasia smiled sweetly.
In their minds, there was no one that could love you more than they did. They fought and competed for your attention…for your love, and they were willing to do anything for it. They stripped down, begged for your mouth around their beautiful nipples, then wrapped their hands around your throbbing cock.
They shoved and grabbed at one another to keep your full attention. They wanted to impress you, they wanted to pleasure you – they needed you more than anything or anybody. "Mommy loves you so much," Mom continued, "that she wants to give you her pussy." She stuck her big butt in the air and allowed you to penetrate her warm, wet hole.
When Mom was afraid you'd give into your sister, she offered Anastasia's pussy to you. "I'll even let you fuck your sister…" she said dragging Anastasia towards you, "that's how much I love you." But your sister fought back, "I'm letting you fuck me, bro," and that soon became another argument for the two of them.
You went back and forth between your mom and sister, enjoying their flawless bodies while the magic dust still had them under its control. Your sister became so overwhelmed with jealousy as she grew aware that it would be impossible to compete with all the sexual favors that Mom had been offering you.
Once Mom offered her ass to you, Anastasia angrily left the bedroom. A big, happy smile ran across Mom's face once she realized she had won. "My sweet, sweet boy…Mommy loves you so much…" she purred, then laid down for you to thrust her asshole. "Mommy loves you so much more than her…I let you cum in my ass."
"How about I bring you more girls to fuck?" her eyes widened. "That's how much Mommy loves you. You'll keep fucking me, right? If I bring you more girls to play with? Maybe I'll bring you your sister's friends…we'll fuck them all." She let out a devilish giggle, then quickly got up and chased after your sister to get the contacts from her phone.
MAGIC CONTROL, FEMALE TRAINING, TABOO, WOMAN FOLLOWING ORDERS, VIRTUAL SEX, MOMMAS BOY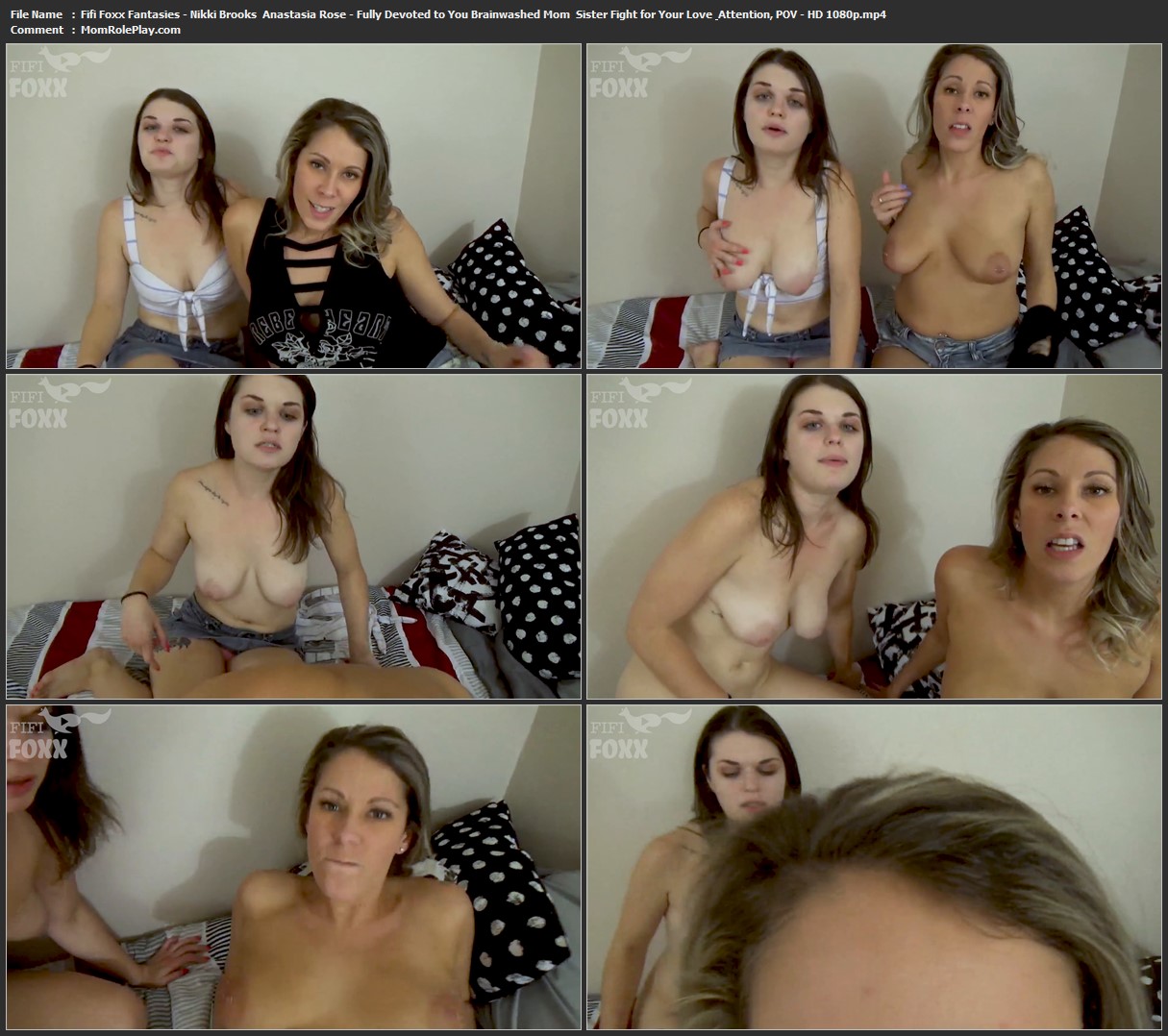 Download Files :
Fifi Foxx Fantasies – Nikki Brooks & Anastasia Rose – Fully Devoted to You Brainwashed Mom & Sister Fight for Your Love & Attention, POV – HD 1080p.mp4