Scene One: Montage – Hidden Camera
a) Mom exercising VERY vigorously; calisthenics, push ups & sit ups. In an exercise outfit.
b) Laying in bed asleep. Just a single sheet over her, nude under the covers. Close up of her shoulders & face while she sleeps.
c) Bent over the bathroom sink supporting herself with one arm; playing with her pussy, breathing VERY loudly and rapidly. Face buried into the crook of her arm.
d) In an exercise outfit, stretching out on the floor yoga style.
e) On bed naked. Legs spread very far apart. Spreading her pussy with one hand and finger-fucking herself with the other. Eyes closed, sweaty face, throwing her head from one side to another.
Scene Two: Do You Want to See Me Naked
Mom is sitting on the couch; wearing a closed bathrobe. The Son enters the room and sits near her. She looks directly at him and says, "I know what you've been doing. I know you've been spying on me. Do you like looking at me? Do you like looking at your Mother?" She opens her robe; pauses to stare briefly and opens her bathrobe. She asks, "Is this what you want to see? My cunt? Your Mother's cunt?" She spreads her legs far apart. Again, coldly almost angrily says, "This is my cunt, do you like looking at your Mother's cunt?" Brief pause. She starts playing with herself while still staring into the Son's eyes. She says, "Your dick is getting hard, I can see it. Take you pants off." Brief pause. She stares and continues to play with herself and says, "God damn you've got a big dick. Come here!" The Son approaches and she sucks his cock with the love only a mother can give.
Scene Three: I Want to Strip For You
Mom is standing in the living room doorway leaning against the doorway, fully dressed. She is staring at me with that same cold look. She says, "Do you want to fuck me ? Do you want to fuck your Mother? Then pull out your dick and play with it!"
She then strips and crawls to him. She gets up on her knees before him and says. "Fuck I want to suck your dick. (slightly louder) I want to suck my Son's dick. I want to suck my Son's cock and fuck him! She then gives me a long luxurious blowjob and I fuck her how only a good son can…
Scene Four: Fuck Me Before Dad Wakes Up
Early the next Morning I am getting ready to watch Cartoons and Mom walks in only wearing a robe. She quickly opens it and tells me she wants something quick. Mommy wants me to fuck her before Dad wakes up. She hops on the table and spreads her legs. As I begin to fuck her she is already begging for me to cum in her mouth.
Before Dad can wake up, I fuck her till I am about to cum. She does not want me to cum inside her so she goes to her knees and opens her mouth. I unload with a massive blast into her mouth. She thanks me and tells me to go get changed before Dad finally wakes…
Category: MILF
Related Categories: LATINA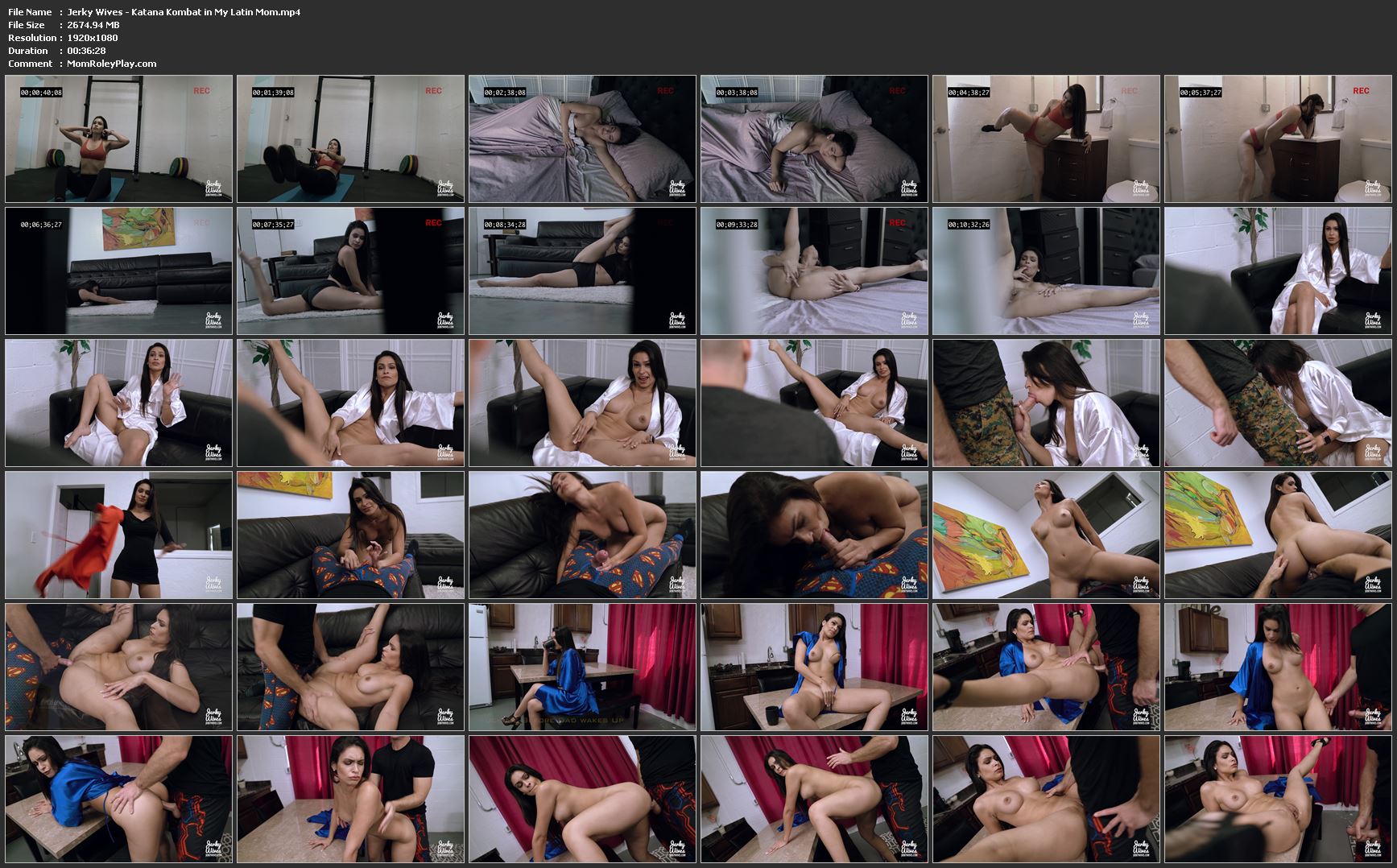 Download Files :
Jerky_Wives_-_Katana_Kombat_in_My_Latin_Mom.mp4