What's a mommy to do?
Innocent little Billy knows the rules. Good little boys don't touch themselves down there. Only Mommy makes the cum come out. So when I find a pair of freshly cum soaked underwear in the laundry, Billy has some explaining to do.
At first he plays dumb but mommy's insistent questioning finally gets to the truth. It seems baby boy had a wet dream and thought he could hide the evidence from Mommy.
Since it was his first slip up since I've started his training, I decide to go easy on him. BUT I explain that this means Mommy will have to be even more diligent in making sure I completely drain him of cum.
I have him undress and inspect his cock. Even though he came only a few hours before, his hard cock tells me there's plenty more jiz for me to drain. He stands obediently as I handle his cock and decide how I'm going to get the next load out. I occasionally suck him as I impress on him the importance of being a good boy and only letting Mommy play with his penis.
Knowing my innocent baby boy believes this is what all mommies and little boys do, believing that mommy only plays with his cock to help him be a good boy…well, my pussy is soaking wet at how eager he is to please his loving but perverted mommy.
I undress and tell him I'm going to use my vagina to get more cum out of him. He obediently climbs on top of mommy and I guide his thick cock inside me. Holding on to his perfect little ass, I moan as he thrusts inside me. Just like mommy taught him. 🙂 Mommy's tight wet pussy grips his cock hard and little Billy can't last long.
Within mere minutes he blows a huge load inside me.
Mommy loves feeling my pussy filled with my little boy's thick, creamy cum and Billy does not disappoint. He delivers an impressive cream pie that runs down my legs and still covers his cock. A close up of mommy's cum filled pussy is proof.
Mmm, wouldn't you like to be Mommy's little boy and feel my hand guiding your cock into my cum hungry pussy? How long do you think you'd last before you filled me with your warm, sticky mess?
Category: TABOO
Related Categories: MOMMAS BOY, CREAMPIE, AGE REGRESSION, MILF, OLDER WOMAN / YOUNGER MAN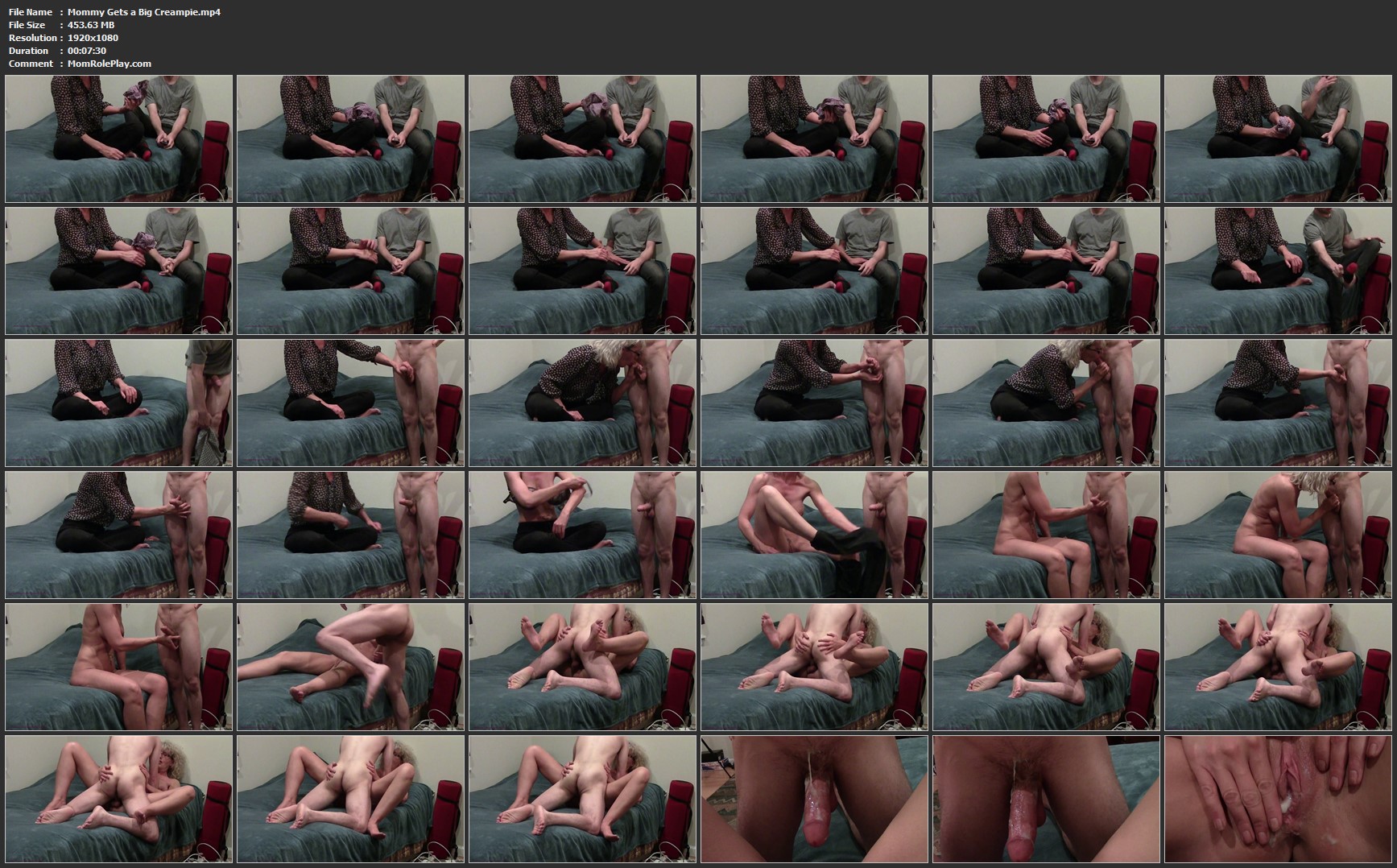 Download Files :
Cum_for_Mommy_-_Mommy_Gets_a_Big_Creampie.mp4