This is it. Summer is winding down, and it's time to pack up and move out to college. Of course, your mother is feeling nostalgic, sad about you going away. Her baby! Off to college! Wow. So when she comes into your nearly empty room, you're expecting more of the same maudlin mom talk, but she surprises you by pulling a spliff from one of your packed up boxes! Your mother doesn't know you smoke…you don't think…but she seems surprisingly unbothered by this reveal.
She smirks, tells you not to freak out. That she knows. Not just that you like to smoke that dank green, but also that you, uh…like it when others do, too. Specifically, you like it when pretty women do. More specifically, you really like when she does. See, she knows you've been spying on her, when she thinks you're not watching, when she takes a little puff herself, hanging poolside. You can't believe how busted you are! But more than that, you can't believe what your mother is starting to do.
You watch as she starts to trace the spliff across her neck, down the perfect, round mound of her breast, across her chest, smirking as you become transfixed, enchanted. She knows just what to do to drive you crazy! You start intently as she hangs the spliff from her pouty lips, watching it dangle as she suggests the two of you play a "game," a game involving the quickly stiffening cock in your pants.
This can't be real, can it? But, yes, it is, you realize, as your mother unbuttons her top, goading you further into taking out your now straining dick. "When I inhale," she says, lighting up the spliff and taking a big toke, "you stroke slow…" she takes the spliff between her fingers, holding it like a cigarette, placing it between her lips and again letting it dangle, "but when I dangle it just like this, you go fast."
Of course, you agree, obeying the rules and stroking just as she says, watching her inhale, exhale, dangle, repeat. You're entranced, your cock is dripping precum, and she is getting turned on. You can tell the spliff has her high, tingling, and she's touching her pussy through her panties. It doesn't take long before she's slipping them off, spreading her legs, presenting her unshaven, pink quim for you to fuck! You can't believe it's happening, but you waste no time pressing your cock into her, stroking yourself to the very edge inside your mother's loving, warm pussy!
TABOO, SMOKING, ROLE PLAY, MILF, DIRTY TALK, JOI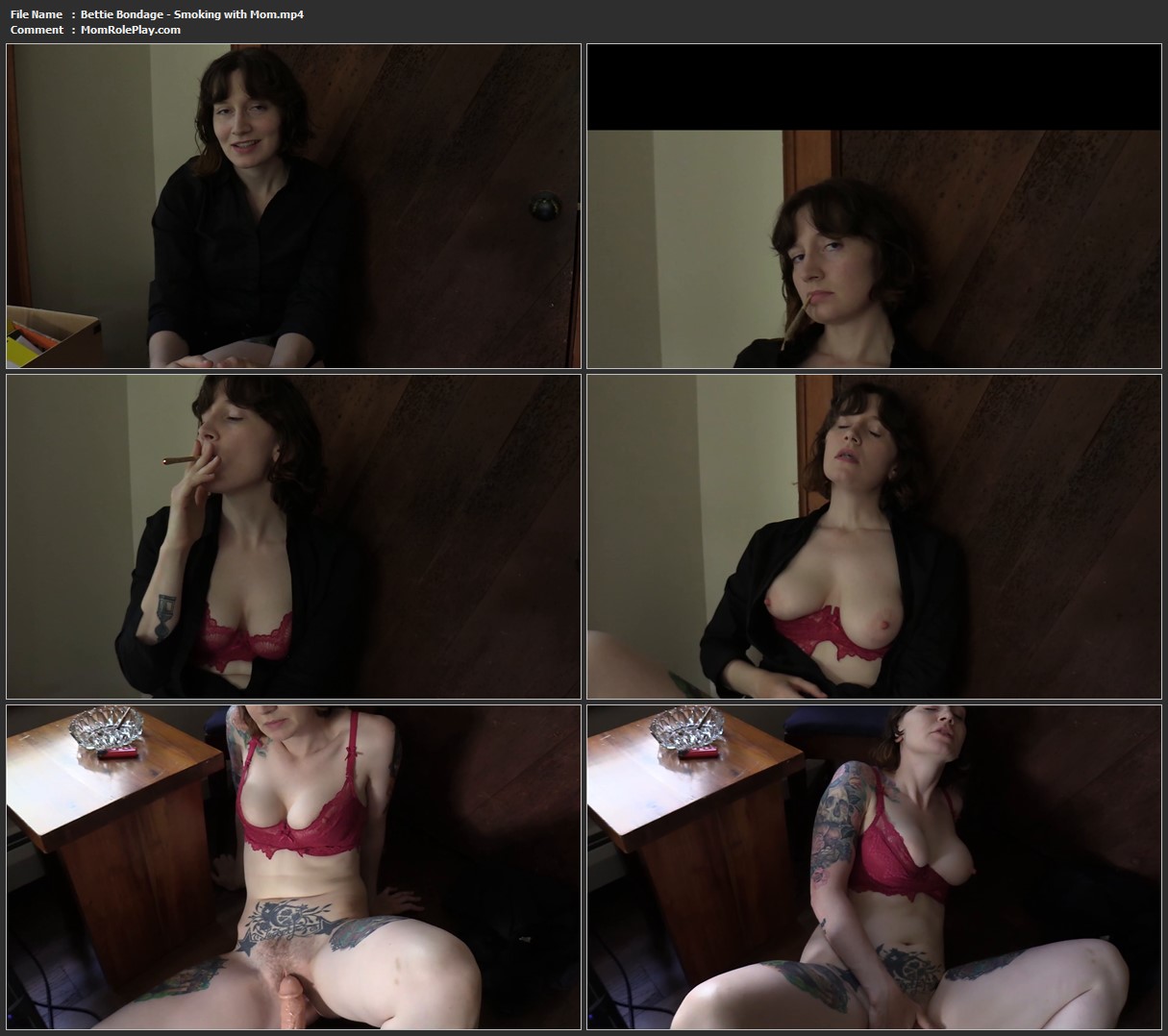 Download Files :
Bettie Bondage – Smoking with Mom.mp4