Your mom has always made such a big deal out of your grades, which hasn't ever been a problem…until this last year. Senior year, the most important time in terms of grades, and your mind is anywhere but the books. In truth, it's mostly her fault: she wears these tight, low-cut outfits that drive you crazy! Even today, at the parent-teach conference, she was wearing such a plunging neckline on her dress you thought you'd never think about anything but seeing her tits, her delicious pink nipples, ever again. Of course, she was stunned to hear that your grades have been slipping but mostly she's just confused. What's changed? Is it depression? Bullying? Boredom?
She's really needling you about it, honestly. You can't tell her though, can you? God, she's relentless. You've never really hidden anything from her before but this is different. You take a deep breath and just say it: it's you. You're distracting. She looks so confused, you start to feel bad. But there's no turning back now. You tell her that it's the clothes she wears but she scoffs. She doesn't believe you! You've been brave and admitted it and now she doesn't even believe you. Of course.
"If you're so distracted by my breasts, then show me! Evidence, mister!" you can't believe what she's saying. Does she? No…but again, she won't relent. Show me, show me, I don't believe you…until you can't handle it! You pull your cock out and wave it at her, fully erect! Her tits have been swaying and bouncing in her tight outfit, you couldn't help it. And now, all that's left is to deal with it. Even mom agrees. This can't go on. You need to refocus. So, lets just sit here, and see what happens. Let's take away the taboo, right? Just sit here…
But of course, your cock stays rigid, because its not just the taboo. Its her. So sexy, mature, those milky breasts and the way her jeans hug her big hips…everything about her just oozes sex. You can't make it go away. But maybe she can? She leans forward and takes your cock into her hand, stroking you so slowly and sensually you think you'll explode. But you're determined to have this last. You want to see where this goes, and soon she's on her knees, her gorgeous tits out, stroking you against her hard nipples. She's turned on, there's no denying that. The only thing left to do, the only thing you two can do to fix your grades, is for you to cum all over your mother's tits!
TABOO, MILF, POV, VIRTUAL SEX, REALITY PORN, BIG TITS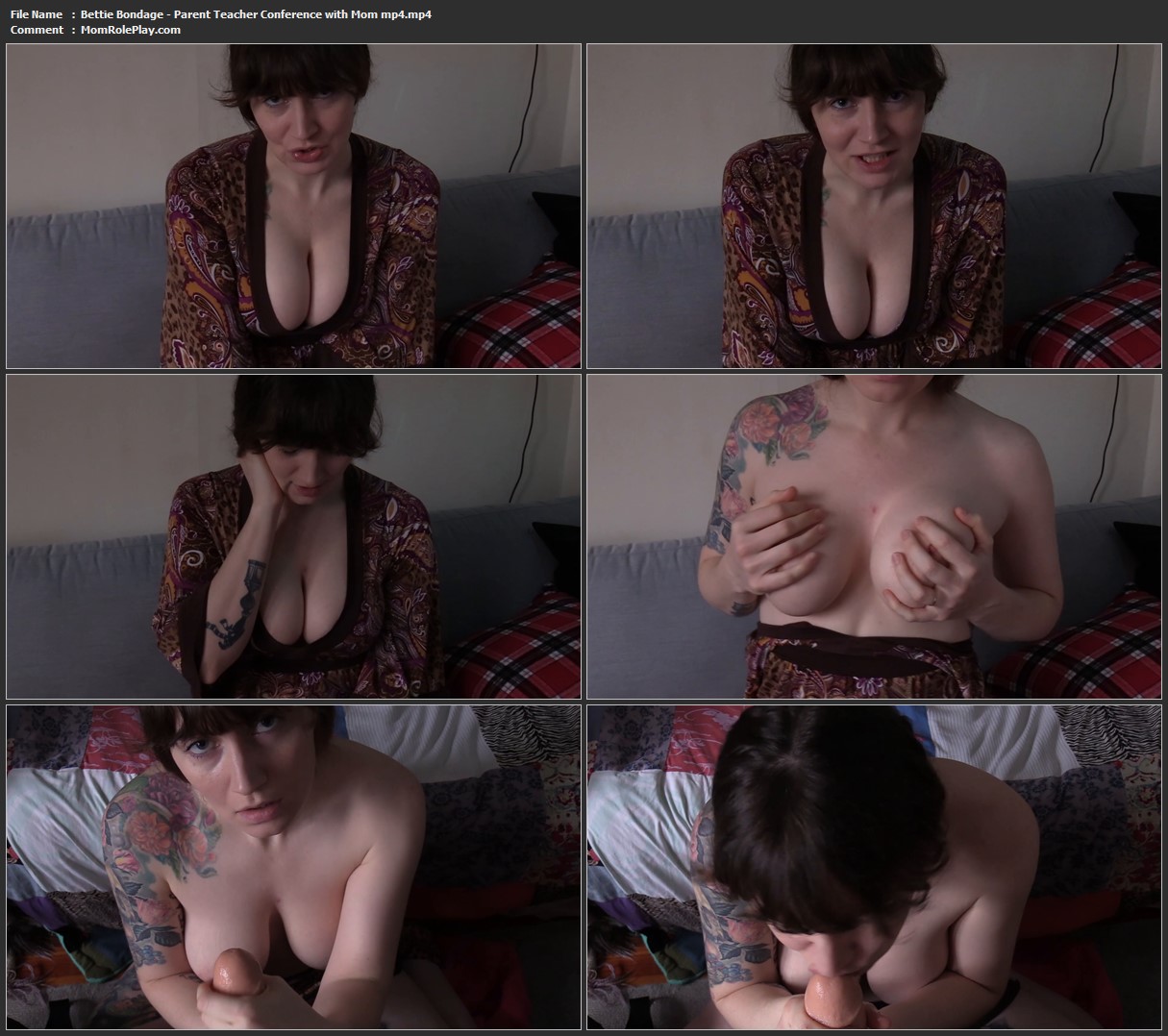 Download Files :
Bettie Bondage – Parent Teacher Conference with Mom mp4.mp4