Your stepmom is…well…a slut. I mean, more power to your dad, but you knew, even when you were little, that this woman was a total cock junky. I mean, he met her at a stripclub! It's not like he can say he's surprised by the way she acts…but what she did the other day? That surprised even you. You were just sitting in the living room, minding your own business when she came in and sat down next to you, wearing this skimpy black silk robe. She was looking at you with this…look…these…eyes…I mean, she's a slut but her own stepson? I mean, c'mon. She's known you since…but here she is, playing with the edge of her robe, smiling at you. Flirting! She tells you that she needs a favor.
"I bought this new lingerie set," she says, "and I just need to hear your opinion. I mean, if you think your dad will like it." She pulls the robe open and exposes an admittedly very sexy outfit: strappy cage bra, lace panties, fishnet stockings, and this leather harness that makes her waist look unbelievable! It's all black. She looks like a…spooky MILF. Like a creepy slut. Like a…big titty goth stepmom! You tell her she looks great but she insists on showing you various views, bending over and bouncing her ass at you, teasing you with little flashes here and there. Then, she asks if she can show you something else.
"I want you to tell me what you think of it, in action!" she says, taking out a big pink dildo and teasing it across her lips. She drools on it before pulling the gusset of her black lace panties to the side and sliding the toy deep into her pussy. You can't believe this!! Of course, it doesn't take long before she's hungrily moved on to your own throbbing thick member, fucking and bouncing on your dick, showing you how her pussy gapes from your thickness. You can't believe what a slut your stepmom is for her own son's cock!! Laying on her back, she begs for a big load of cum and you're all too happy to oblige, filling her with thick ropes of sperm that ooze out of her. She plays with your cum, sucking it off her fingers, fucking it back into her quim as she smirks and smiles, thanking you for all your help.
TABOO, POV, VIRTUAL SEX, FANTASIES, MILF, CUM PLAY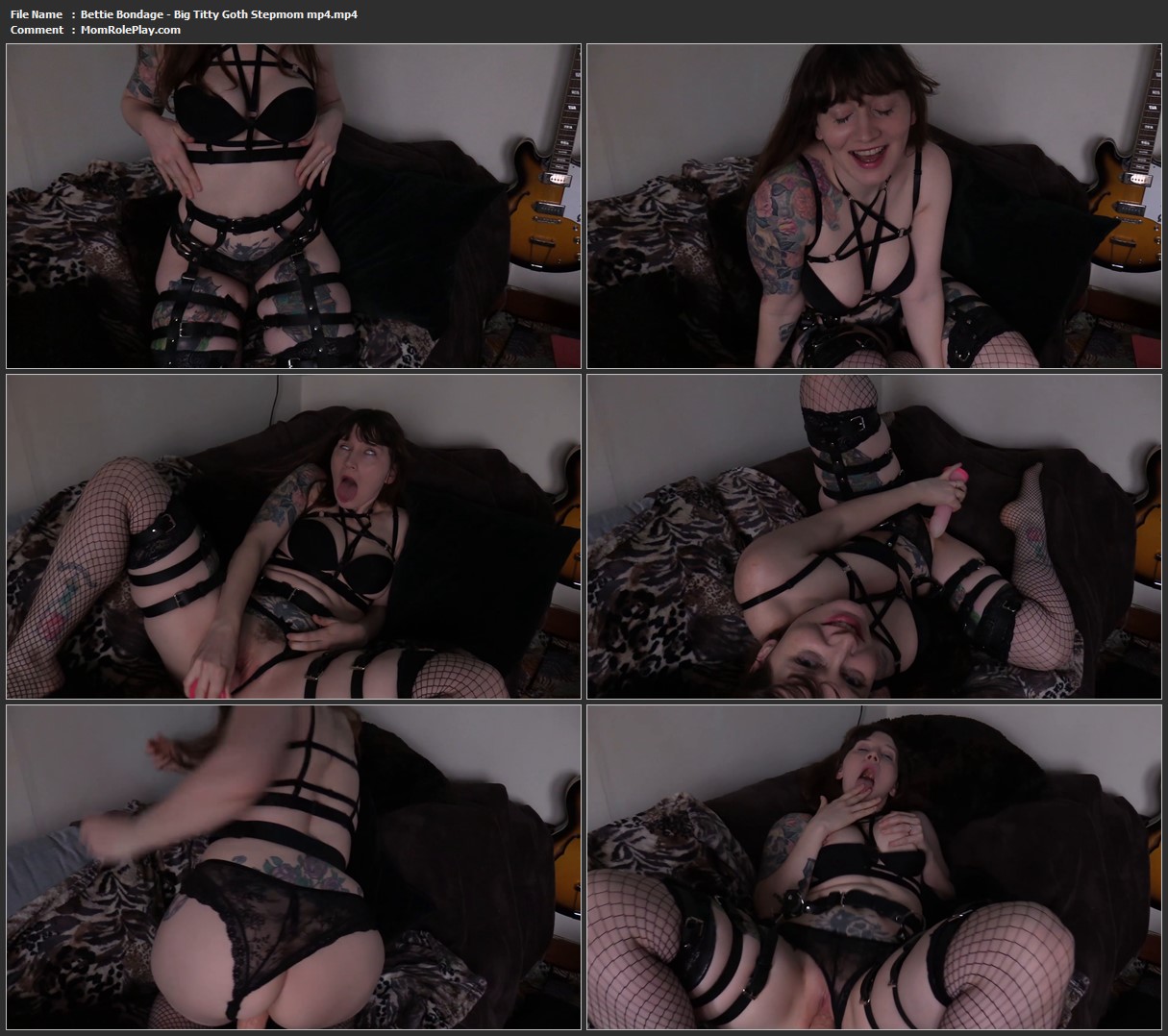 Download Files :
Bettie Bondage – Big Titty Goth Stepmom mp4.mp4