You know money has been tight lately. Your mom would never tell you that–she doesn't like to worry you–but you can tell. No more name brand cereal, heat is set lower than usual. But you're still pretty shocked when your mother comes to you one night, asking for a favor. A huge favor. Something a mother shouldn't ask a son.
There's this site, she tells you. A site where women perform on video–you pay an entrance fee, and the winner gets half the pot. "It's actually enough to pay off the rest of the mortgage, " she tells you, clearly apprehensive.
You can't believe it. You know just which site, it's your favorite. AmateurMommyHandjobs.com. It's sorta niche, but the basic premise results in some really hot POV mommy content. Amateur MILFS jerking cocks until they jizz all over heavy, milky tits, all for the chance to win some serious cash. Any now here is your mother, telling you she wants to make one. At first you don't realize she means, y'know, with you. But she clears that up right away. Wow.
The thought makes your head spin at first, but that actually might be all the fluid draining from your brain to enter your cock at an alarming rate. The videos on the site are all filled with women talking seriously dirty to the cameraman, about how they want their "good boys" to enjoy their hands, their lips, spitting on their cocks to jerk it, calling themselves mommy. You don't think its standard to have the actual mom of the POV camera guy working the talent, though! God, maybe it is??
Of course, you can't say no. Beyond just wanting it, your mother is clearly desperate, and so worried about money. You can't let her down. So you let her do whatever she wants. You let her take your cock out, cooing about how big her boy is, stroking you. You try to control yourself, but before long you're on the edge. Like an expert–she did say she watched all the winning videos to study and increase your chances–she stop, edging you and building upon the already enormous load you have stored just for her.
Then she starts to mention things, things that are true. Adding some color to her performance, you guess…but the mention of her, coming out of the shower, her robe gaped open so you could see her tits? That DID happen. You went straight to your room to jerk off over it, and here she is admitted she went straight to HER room to touch herself! You're not so sure she's making it up anymore, either…and god, her hand feels good. So good. You can't believe this is happening!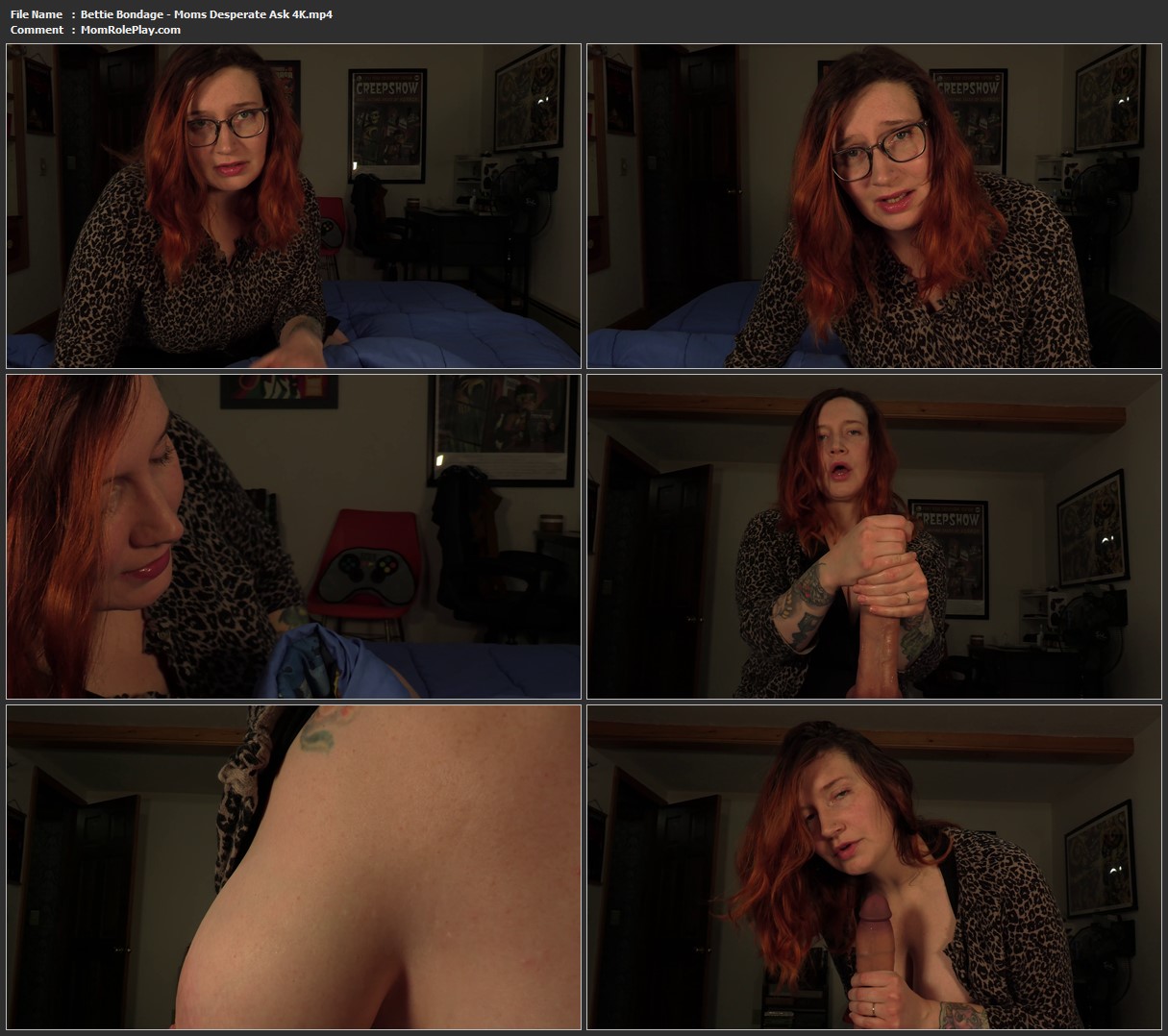 Download Files :
Bettie_Bondage_-_Moms_Desperate_Ask_4K.mp4 – 2.34 GB