Scene One: Rewards
"Is it that time of the year again?" My mother says as I hand her over my report card. This time I got straight A's. My mother is so proud of me, all that hard work, staying up late studying with her paid off.
I can't help but look at her low cut dress as she looks over my report card. It makes me feel so awkward. "Sweety are you getting a hard on?" She asks me. "Your such a good boy" She says, making me promise not to tell anyone about my reward. Pulling open her dress a little, I stare at her cleavage as she gives me my first hand job. What a good boy I've been.
Scene Two: Thank you
Ever since the report card I've done everything my mom asked of me. I'm her complete and loyal servant. I'm in love with her and will do everything for her. She tells me that I'm the big man of the house now that I'm doing so much.
"I was thinking about that reward I gave you, I was thinking about giving you another reward" She smiles at me. "Have you ever had a blowjob before?" She asks, explaining what she's about to do. "I promise mommy will not bite you" She pulls out her breasts and my dick gets so hard. Her soft red lips wrap around me and the most amazing feeling of wet sucking. I can barely stand as she gives me so much pleasure. I shake and cum right into her mouth and it feels crazy. "Keep up the good work" She tells me.
Scene Three: For Mommy
I'm even more in love with my mother. I would do anything for her now and I become obsessed. I spy on her as she gets dressed and she notices. "Hi sweety" She says turning around, robe open naked body on display. She's even more beautiful than I can imagine. She sits on the bed and calls me over to look at her perfect body.
"Do you like the way I look?" She smiles at the attention. "You don't have to be shy" She tells me to touch her. She pulls off my clothes and lays me down on the bed, her wet tongue teasing my dick. She touches herself, softly moaning before sitting on top of me. I'm frozen in fear and uncertainty as she slides me inside of her. My mother takes my virginity with her soft pussy and moaning breaths. Before I can stop myself I cum in her hot warm pussy. "Did you just cum inside me? You can't do that" She says in fear. "Go to your room now!" She screams.
Category: MILF
Related Categories: POV SEX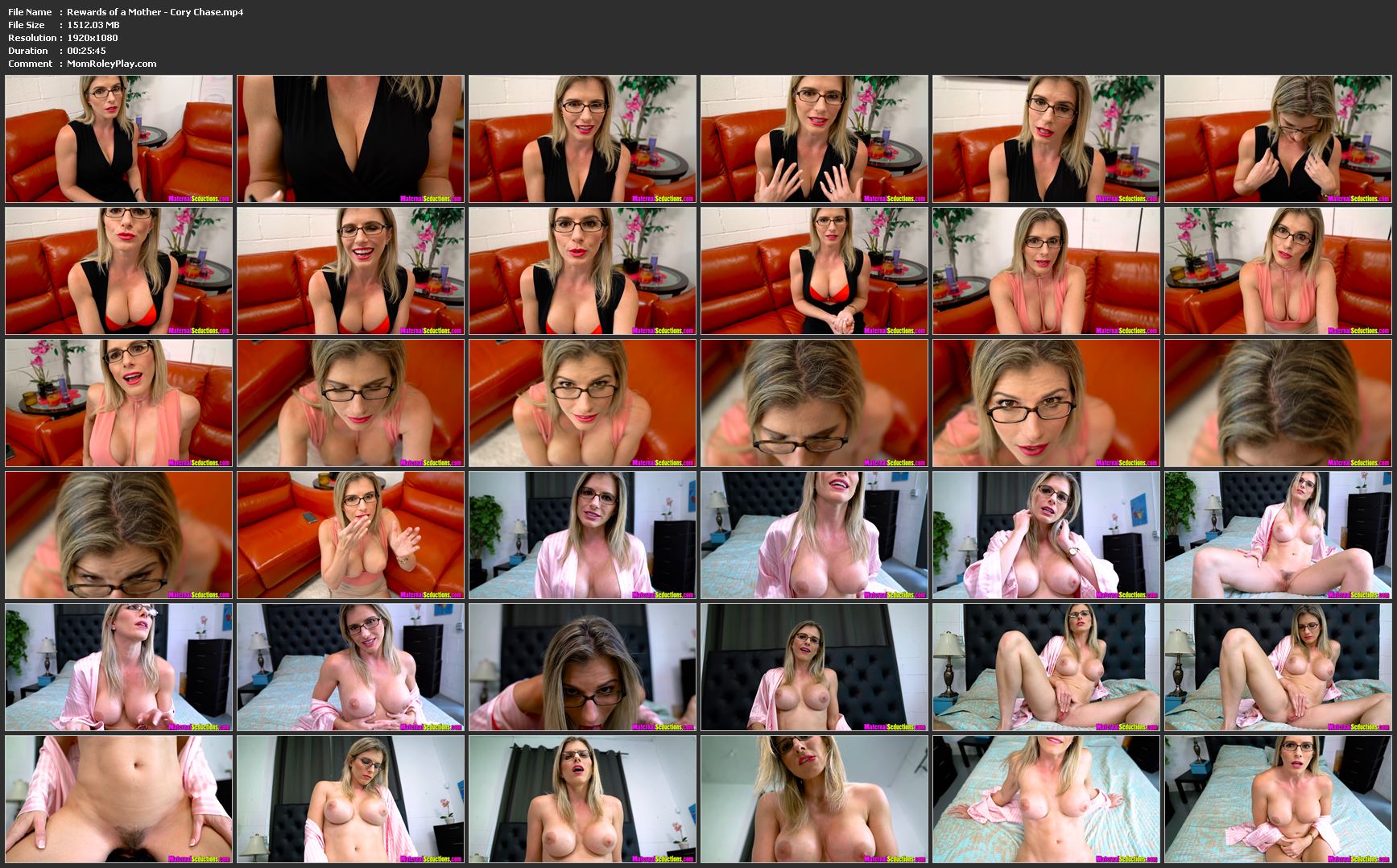 Download Files :
Rewards_of_a_Mother_-_Cory_Chase.mp4