Scene One: Mom is in my bed
Everyone knows that mom has a sleepwalking problem. They've all been told to just let her go back to bed and not to wake her or else she will have night terrors. One early morning Cory's son wakes up to her voice. "I'm so horny" he hears and he feels her hand on him, pulling at his underwear. With her eyes half closed she puts his cock into her mouth.
She must think I'm dad, he says to himself as his mom takes control. Getting on top of him and putting him inside of her he can't believe what's happening. She doesn't seem to understand she's fucking her son. He lets out a mommy accidentally as she fucks him and in her half asleep state it makes her gush. She fucks him every way on the bed until he shoots his dirty hot load all over her stomach.
Scene Two: Brushing my teeth
He can't wrap his mind around what happened. His mom sleepwalking into his room and fucking him for what seems like hours. Milking the cum out of him with her tight warm pussy. He looks in the mirror as he brushes his teeth in a stunned state.
Just then he feels his mom's warm lips around him again. He looks down and there she is, sleepwalking and sucking his cock. "What the fuck!" He gasps as she holds him tight and doesn't let go. Stroking and sucking him into her mouth completely unaware of what she's doing. He can't escape until she swallows his cum like a good wife.
Scene Three: Mom has Sexomnia
That day the son goes to talk to his dad. He doesn't know how to say it but his mom's sleepwalking is out of control. Dad explains that mom's sleepwalking is different than others, she has Sexomnia. "So if you see her masturbating or walking around the house naked just don't wake her" He tells his son. Leave her alone and let her do her thing or she could get stuck like that forever. Cory walks in the kitchen completely unaware of what she's been doing.
That afternoon Cory is napping on the living room couch when her hand slides down her tight shorts. As she masturbates her foot rests on her son's crotch and he can't get away. In a daze she crawls across the couch and sucks on the big cock in front of her. Fucking her son and taking his big load all over her face. She curls back up on the couch and he sits there wondering how long he will have to endure his mother's sleep lust.
Scene Four: Mom loves two cocks
Cory's been so tired lately. She doesn't understand why she needs to sleep all the time. It's almost as if she hasn't really been sleeping at all. She takes another nap while she waits for the laundry to finish up.
Just then her son walks in to check on her. He needs her now as much as she needs him. Stroking his dick to the sight of her. She reaches over and pulls him into her inviting mouth. They fuck, him not caring anymore that it's his mom. Only loving how she makes him feel.
As he plows into her his dad walks into the room. He looks at him with fear and shame until he realizes that dad's not mad at him. He whips out his dick and shoves it into her mouth as she's fucked. "I love when you call me mommy" Cory says half asleep, worshiping two hard dicks taking her from both ends. Moaning and cumming she has the threesome of a lifetime. Jerking two big loads all over her face and swallowing the cum. "Double the cum and double the fun" She giggles. It's the best mother's day present ever.
Category: MILF
Related Categories: BIG TITS, CUMSHOTS, CUM SWALLOWERS, DOUBLE PENETRATION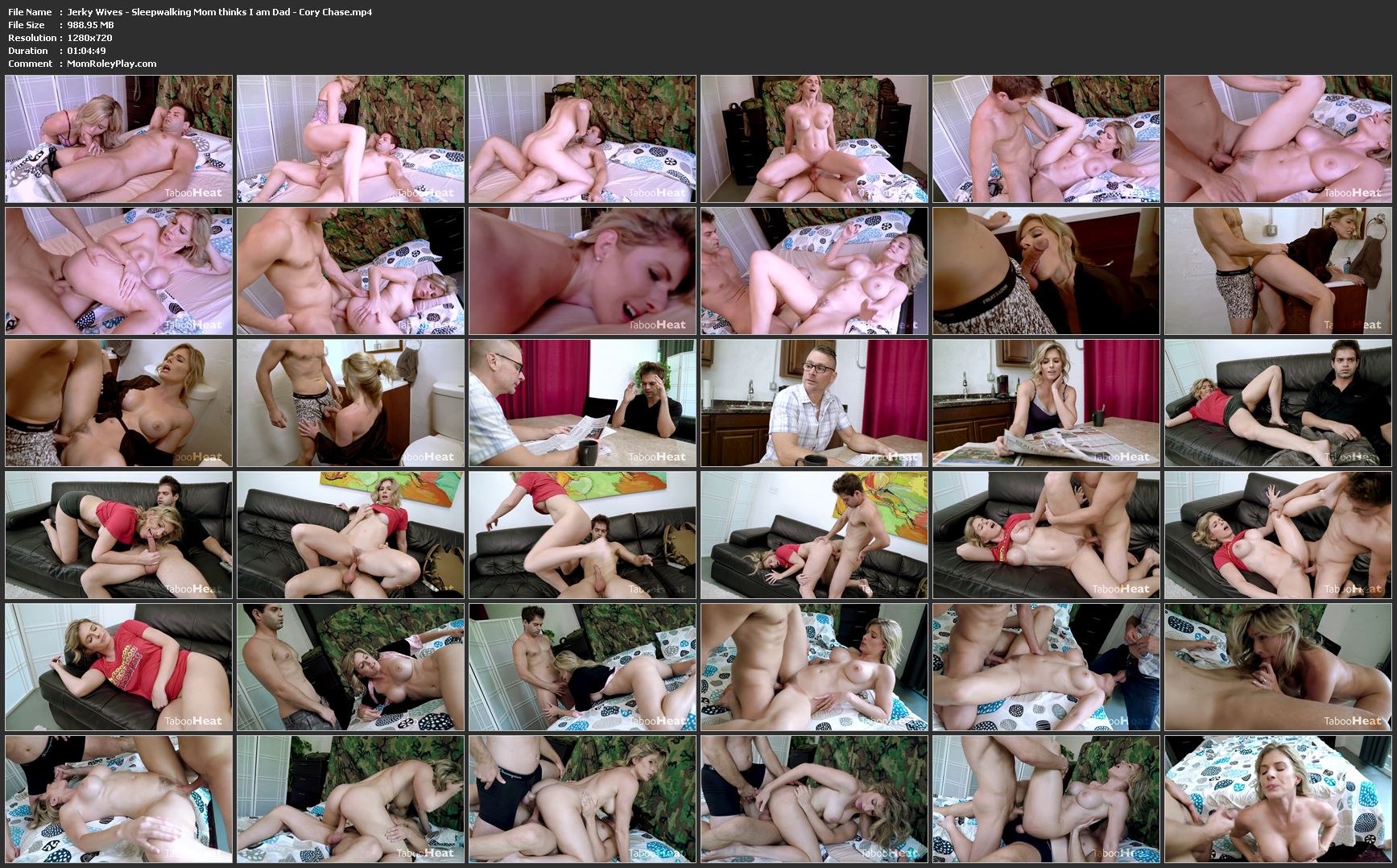 Download Files :
Jerky_Wives_-_Sleepwalking_Mom_thinks_I_am_Dad_-_Cory_Chase.mp4