You couldn't wait to show off your new remote control. "Hey honey, what's up?" Mom smiled at your enthusiasm. "Oh cool, what's that, my little inventor boy?" You proudly help out your device and pressed a button to show off what it could do.
"Oh honey," Mom purred seductively, her hands running across her tits. She quickly snapped out of it, then looked at you with wide, confused eyes. "How did you do that?" Another press of a button and Mom was back to complimenting you and flirting with you.
"Oh my goodness, how did you even make that? I mean, I'm thoroughly impressed, but you're using it on your own mother," she tried to reason with you. Every time you hit a button, it would mind control Mom and put her into an "x-rated" mode. She'd become flirty, seductive, sultry, and sexy, and overly eager to pleasure you.
"I have to show you my breasts right now," she smiled stripping down. "I can't stop myself. Mm…" But then she'd snap out of it again. "Oh honey, why don't you use that on one of your little girlfriends?" she panicked trying to cover herself up. "This is so silly."
She invited you to teach her beautiful, perky breasts as she gave you a striptease. Once the mind control wore off, she embarrassingly tried to hide her exposed body, but another press of the remote and she was back at it. "Isn't my body beautiful? Don't you love looking at it?" her hands caressed her petite figure. "I bet you do – is that why you made that invention for me?"
Things progressed the more you used the control. "What do you want me to do, baby?" Mom purred, now completely exposed. "Do you want me to touch you, or do you want to touch me?" She got onto the bed and wrapped her soft hand and wet mouth around your hard cock. She was disgusted once she snapped back into reality to discover that not only had she touched your cock, but she had also put it inside her mouth, too.
"Oh, I love the way your cock tastes in…my mouth…oh my god, in my mouth!" she said horrified and shocked. "Oh, I can taste your cock in my mouth! Honey, just stop for a minute." You couldn't – it felt too good. With this device, Mom became your little, obedient slut that wanted nothing more than to get you off.
"How would you like to put that big, fat cock inside of Mommy?" she winked, then lied back. You penetrated her tight, wet pussy, and she moaned, "Oh, you feel so good, baby." But after a few seconds, her eyes lit up, "Oh my god, what are you doing? What's going on?" You hit the control again and she back to her sultry, seductive mode.
You filled her pussy with your cum. "Oh my god, oh my god," she sat up, her pussy dripping with your seed. "Honey, what the hell? Where are you going? No, no, no!" You waved good-bye and ran off.
MAGIC CONTROL, TABOO, FEMALE TRAINING, WOMAN FOLLOWING ORDERS, MOMMAS BOY, EMBARRASSED NAKED FEMALE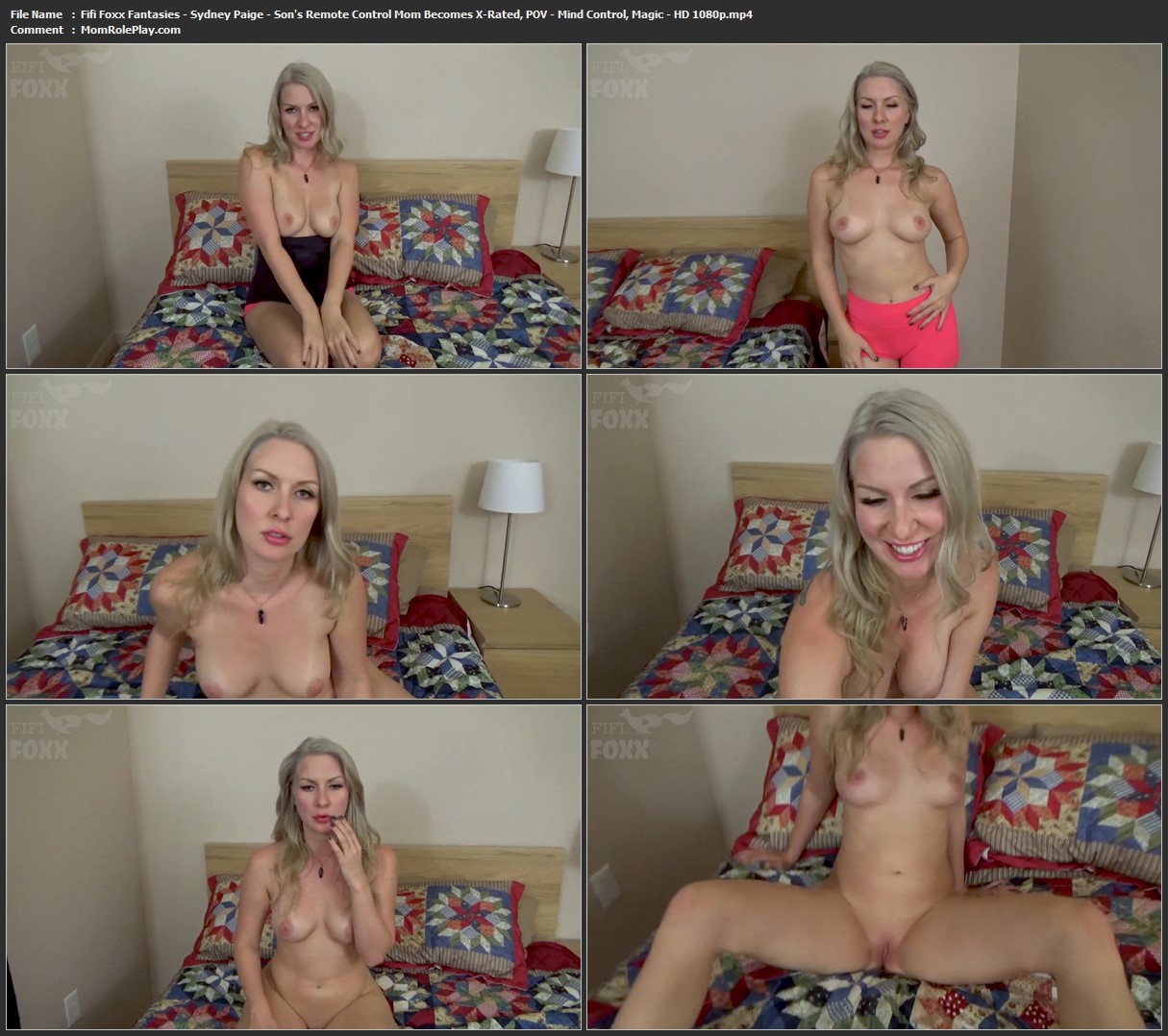 Download Files :
Fifi Foxx Fantasies – Sydney Paige – Son's Remote Control Mom Becomes X-Rated, POV – Mind Control, Magic – HD 1080p.mp4