"Oh, what's that, honey?" Mom smiled sweetly. "Do you have a new toy?" First off, it wasn't a toy. You loved your new magic wand. It was a long wooden stick that had been smoothed out, and at the end of it was a pink quartz crystal wrapped in silver.
"A magical wand…oooohhh," she pretended to be impressed. "I bet it really does work. You wanna try it? You gonna put a spell on your mom?" You held onto the wand, flicked your wrist, and Mom barked. Her eyes narrowed in confusion, "I don't know what that was…maybe something was in my throat." It was apparent that she was a little embarrassed by the sudden, uncontrollable act, so you went ahead and tried again.
Mom sat up on the couch, and her arms and hips started moving in a silly manner. "This is starting to get a little weird," she mumbled to herself, but you were determined to give yourself a show. Another flick of the wand, and she was bobbing her head like a rockstar, her hair flying all over the place. "What is…" she started to say, but then it stopped, and she hurriedly fixed her messy red hair.
Some more flicks and she was groping her boobs, then swaying her hips from side to side as if she was dancing. Mom panicked as her body did things that she couldn't control, but there was nothing she could do to stop it. She really had no idea it had been the wand the whole time.
Her hands started to undress her, "No, no…honey, don't look, I don't know why I'm undressing! Don't look, this is so wrong." She embarrassingly covered herself up as her eyes shifted towards the floor. Another flick of the wand and she was pulling her panties down, begging you not to look. "This is so inappropriate, I am so sorry. I really…I don't know what's going on," she said nervously. "Where…where did you get that wand?"
She was starting to piece things together. The wand made her masturbate, then get down onto her knees and suck your cock. She pulled back after it wore off, ashamed of what she had done, but you didn't stop there. She started spreading her ass for you, crying about how truly embarrassed she was to be doing it. She whined, "This is just awful…stop looking at me! I can't stop doing this…"
Mom jumped in the air, her big, perky boobs bouncing along with her, and now she was furious. "Give me that wand," she demanded, but you made her fall onto the bed instead, and she couldn't move. She saw you pull down your pants to expose your big, hard cock, and a look of concern ran across her face. "Give me the wand…please," she tried to reason with you. "Put your cock away. No, no…don't, put it away." But you roughly penetrated her, and she let out a soft, helpless moan.
"This is not okay!" her voice trembled. "Oh my god, I can't move. Mommy is going to be sore on so many levels. You are going to be in trouble when I get out of this position!" She knew what you were planning next. "Don't you dare," she snapped at you. "You are definitely not cumming inside of your own mother. This is already so wrong on so many levels – there's no way!" But you both knew that you would, even if she was begging you not to.
"Oh no, you did anyways," she cried. The spell had worn off of her, and she was so mortified, ashamed, and disgusted that she couldn't even look at you, let alone punish you. Perfect – an easy escape. After all, you were the one with the wand, and you could make her do anything you wanted.
MAGIC CONTROL, TABOO, FEMALE TRAINING, EMBARRASSED NAKED FEMALE, FORCED STRIPPING, WOMAN FOLLOWING ORDERS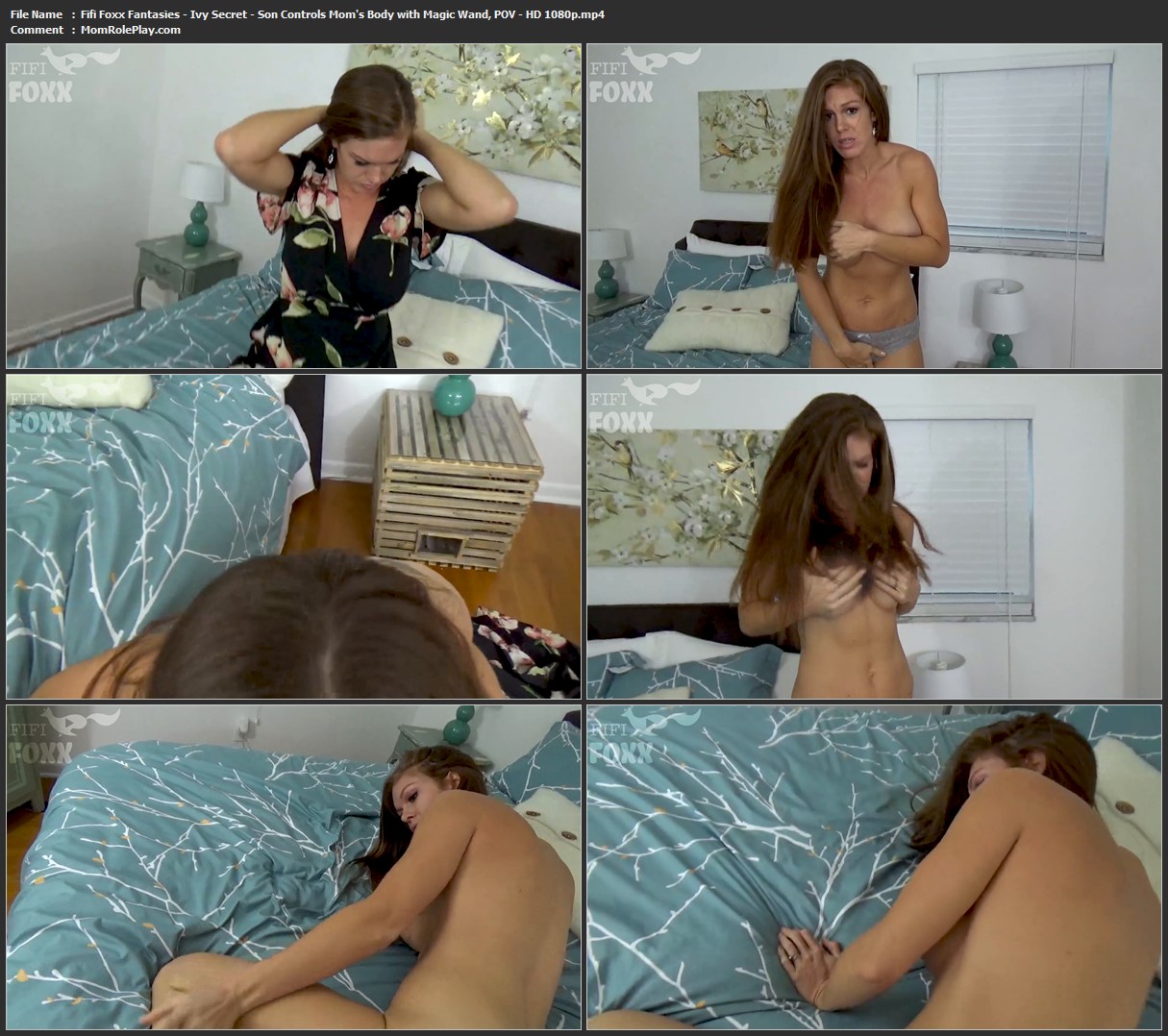 Download Files :
Fifi Foxx Fantasies – Ivy Secret – Son Controls Mom's Body with Magic Wand, POV – HD 1080p.mp4