SCENE A
Young Conor returns home from work and grabs some water as he talks to his sexy Mom Raven in the kitchen. She tells him that she has to run to the store, so Conor takes this time to run to his Dad's laptop to check and see if there are any new sex videos of his Mom to jerk off to. He finds a new folder, and then takes to the computer back to his room so that he can commence the taboo fapping. Once he opens the file, he realizes that it's not his Mom, but some young girl his own age! "Oh my fucking God! … That fucking asshole" … Later on, Mom returns home, and Conor seems upset. He shows his Mom the video and she can't believe her eyes and leaves the room…
Later on, Raven (Mom) is sitting in her bed in a revealing silk robe, drinking a glass of wine, and talking to her girlfriend about her horrible relationship news. She notices Conor at the door, and calls him in. He comments on how he's never seen his mom drink so much, but then she quickly insists on him removing his shirt. Conor is hesitant at first, but quickly obeys his mother. Mom starts to slowly rub her nailed fingers across her son's shoulder and chest, complimenting him on how good he looks. Conor can't help but notice his Mom's huge tits popping out, so Mom decides to bring back the good old times and has her son suck on her tits while he fingers her still tight pussy. Mom then blows her son, and Conor then tit fucks his Mom, as well as eating her pussy and fingering her asshole…
SCENE B
…With a long shuddering moan, Raven slides her pussy from her son's face, swinging her leg over him, and quickly reverses herself so that she is facing him. And before Conor can move, Mom reaches back, and guides her son's cock into her pussy and drives herself down on top of him. "Oh fuck yes!" She cries out as his long hard cock plunges deep inside her. Conor cries out as well as she starts bouncing up and down, slamming her pussy up and down on his cock. Mom cries out: "And that's your pussy, baby! It's not his anymore.. I have a real cock now! A nice young hard cock! My son's cock!" The mother-son duo amorously fuck as they continue into doggstyle.
After a few minutes of hard fucking, Mom screams: "Put your finger in my ass again!" Her son obediently agrees, and it's not long before Conor has his long hard cock shoved up his mom's oh so tight ass. "Oh, look at you! You want to fuck that ass? Be my guest baby! Fuck Mommy's ass as hard as you want!" Mom and Son continue to fuck in doggystyle, missionary, and sideways anal for quite some time. The intense physical sensation of his Mom's super tight asshole has caused Conor to not be able to hold back anymore more. Conor then facials his sexy Mom, and she gladly licks the remaining white goodness off her face.
After the passionate fuck, Mom and Son exchange big smiles and soft kisses. Sliding down so she can lay next to her sweet son, Raven wraps her arms around and kisses Conor again, saying quietly: "I love you, Conor, really do." .. "Love you too, Mom." Mom then reveals to her son that she recorded the whole sexcapade, and then the loving family pair leave for more kinky taboo fun in the shower..
MILF, TABOO, ANAL, MOMMAS BOY, OLDER WOMAN / YOUNGER MAN, BOY-GIRL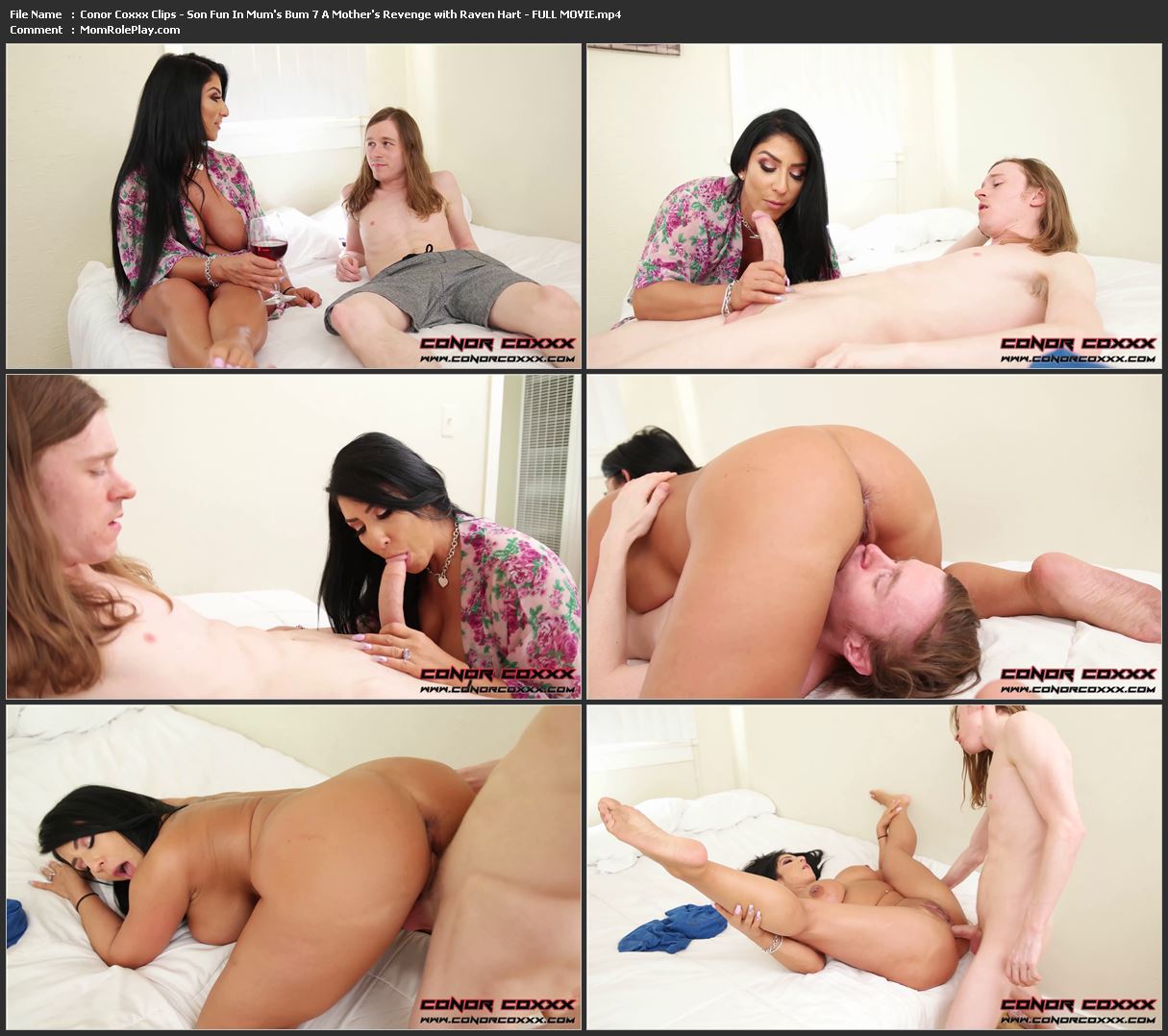 Download Files :
Conor Coxxx Clips – Son Fun In Mum's Bum 7 A Mother's Revenge with Raven Hart – FULL MOVIE.mp4