Your mother hasn't dated in a long, long time. Of course, its not for a lack of interest: you've always noticed the way men check her out. She's hot. Even you know that. You probably know it better than anyone, the two of you being so close and all. She's sexy. Demure in dress but only to a point. You've thought about it more than once. All that taboo porn out there – how could you not?
Tonight marks her first date in a long time. She's so nervous. It's cute, really. The outfit she picks out is right on the mark for a MILF like her: tight pants, high heels, a low cut blouse that's mostly transparent…although you suspect she doesn't realize that part. She asks how she looks and you have to be honest. "Great," you say, "but that blouse is see-through." Shocked, she starts talking about changing but you tell her not to. She's got it, why not flaunt it? Of course, she doesn't see it that way. She's out of practice in terms of dating and flirting. "If only there was some way to practice," she muses.
It hits you. You can help her practice. The idea of watching your mother smile, toss her hair, touch your hand has you stiffening before the words come out of your mouth. She's hesitant, but after some reassurance, she relents, and the flirting begins. It's hard to hide your growing boner as your mother flirts right at you! She's touching her neck, down the hem of her blouse to her displayed breasts. You'd love to reach out and trace that line, too – watch her face flush as you touch the skin you've lusted over for years. It doesn't take long for things to escalate, and even though its exactly what you want, it still shocks you when your mother leans forward, planting a kiss on your lips! She keeps asking if this is ok, if its still pretend, which you assure her it is, but you're starting to think this was her plan all along!
She leads you to the couch, still role playing like she's on a date…as she gets on her knees. In front of her own son! There's no pretending you aren't rock hard for her, and you nearly smack her in the face with your throbbing dick when she reaches out and pulls your pants down! You can't believe this is happening. Best night ever, hands down…and it only gets better, as your mother envelopes your cock in her talented mouth, sucking you to the edge before leaning back, admitting that she knows all about the taboo porn, the mommy fantasies, pulling her pants off and revealing her soaking wet pussy to you.
Thrusting into her for the first time is a nearly religious experience, watching your own sweet mother's face as you slide your thick member deeply into her pussy, making her cum with your cock, just like you always imagined. As you slide in and out, your mother dirty talks and confesses how she used to sit outside your bedroom and listen for the sounds of you stroking your dick! Your mother is a slut for your cock, and your combined desire fuels the both of you as you rut and fuck on the couch, bringing each other to powerful orgasm!
TABOO, REALITY PORN, POV, VIRTUAL SEX, DIRTY TALK, MILF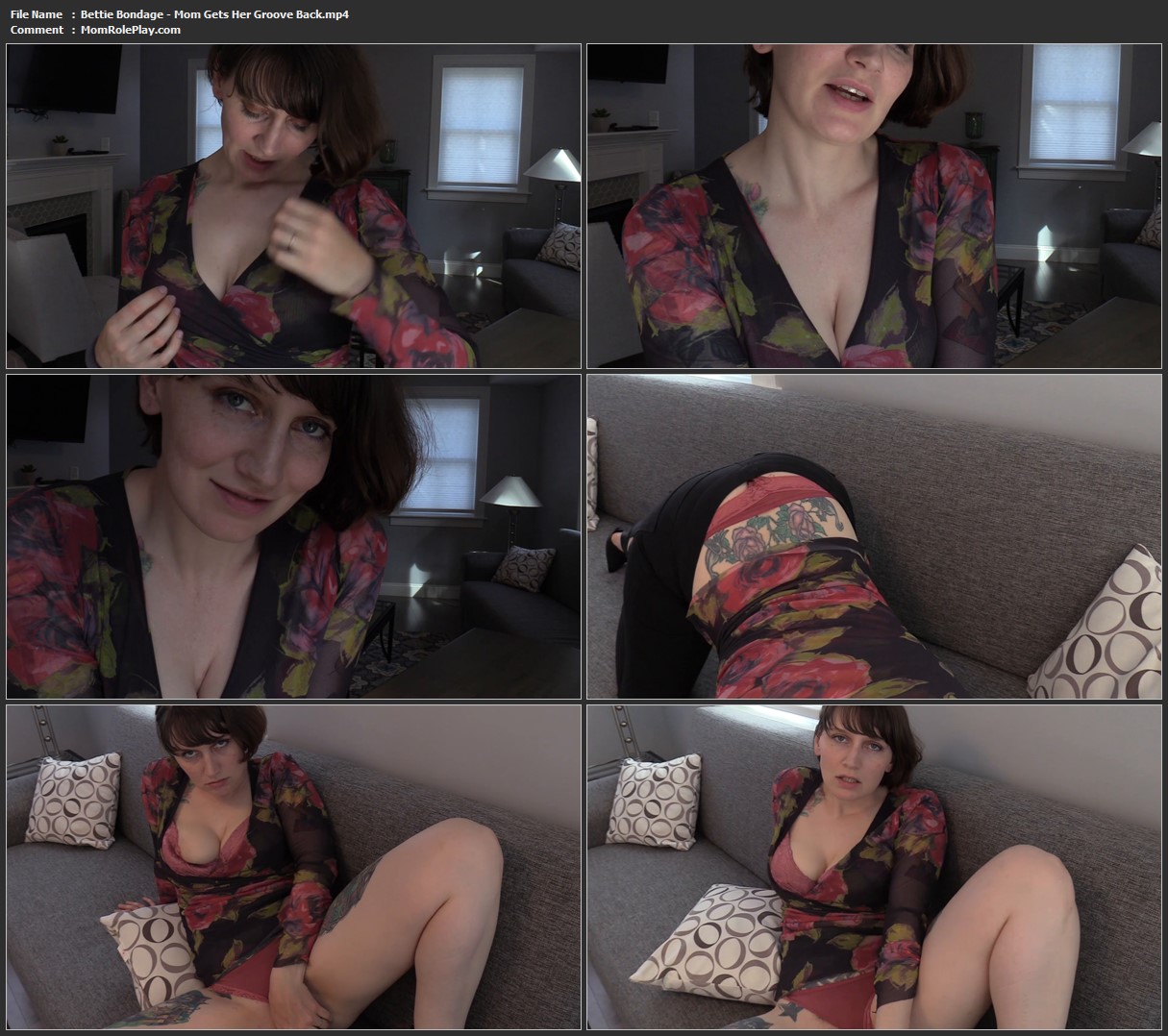 Download Files :
Bettie Bondage – Mom Gets Her Groove Back.mp4