Your girlfriend shows up, in hand. You're not huge stoners, but you were recently talking about how ganja makes you both feel horny and relaxed. And she says that'll be a good mindset to be in, since she has something she wants to talk about.
Lazily, she lights up, smirking as she inhales, exhales, plays with the smoke, holding it loosely to your lips as you drag. She tells you she had to use your computer and while trying to find something she downloaded, she stumbled onto your porn folders. Your taboo porn folders. She laughs when your face betrays your attempt to stay cool, reassuring you that she's not upset. She just wants to discuss it.
She tells you she found the folder of all the mother-son stuff, saying again that she's not upset. Quite the contrary. She thinks fantasy is important. Sexy. Healthy. Even the stuff you fantasize.
"But," she says, "I did notice that all those women looked a lot like your mother. A lot…is there maybe something to that?" You freeze. She's cool, but is she that cool, that open? You don't need to respond, though, before she's smiling again, opening her sweater, telling you that its ok. She wants to explore it. She wants to talk. For both of you to touch yourselves while you explore. While she encourages you. Encourages you to stroke and think about all the naughty, taboo scenarios that were in those videos. Stroke and think…about your mother. Is this really happening?
As you bring yourselves closer and closer to orgasm, dirty talking and encouraging, she tells you to wait. She's going to get something…
She leaves, and when she returns, she's carrying something. A picture. Framed. A framed picture of your mother! You can't believe this. Really? Yes, really. Yes, really, your girlfriend is holding a framed photo of your mother between her legs, against her naked, smooth, wet pussy, stroking your cock and telling you to cum all over your mother's face. Telling you that its just what she wants. It's just what you want. And she's right.
TABOO, POV, VIRTUAL SEX, DIRTY TALK, MASTURBATION ENCOURAGEMENT, JERK OFF INSTRUCTION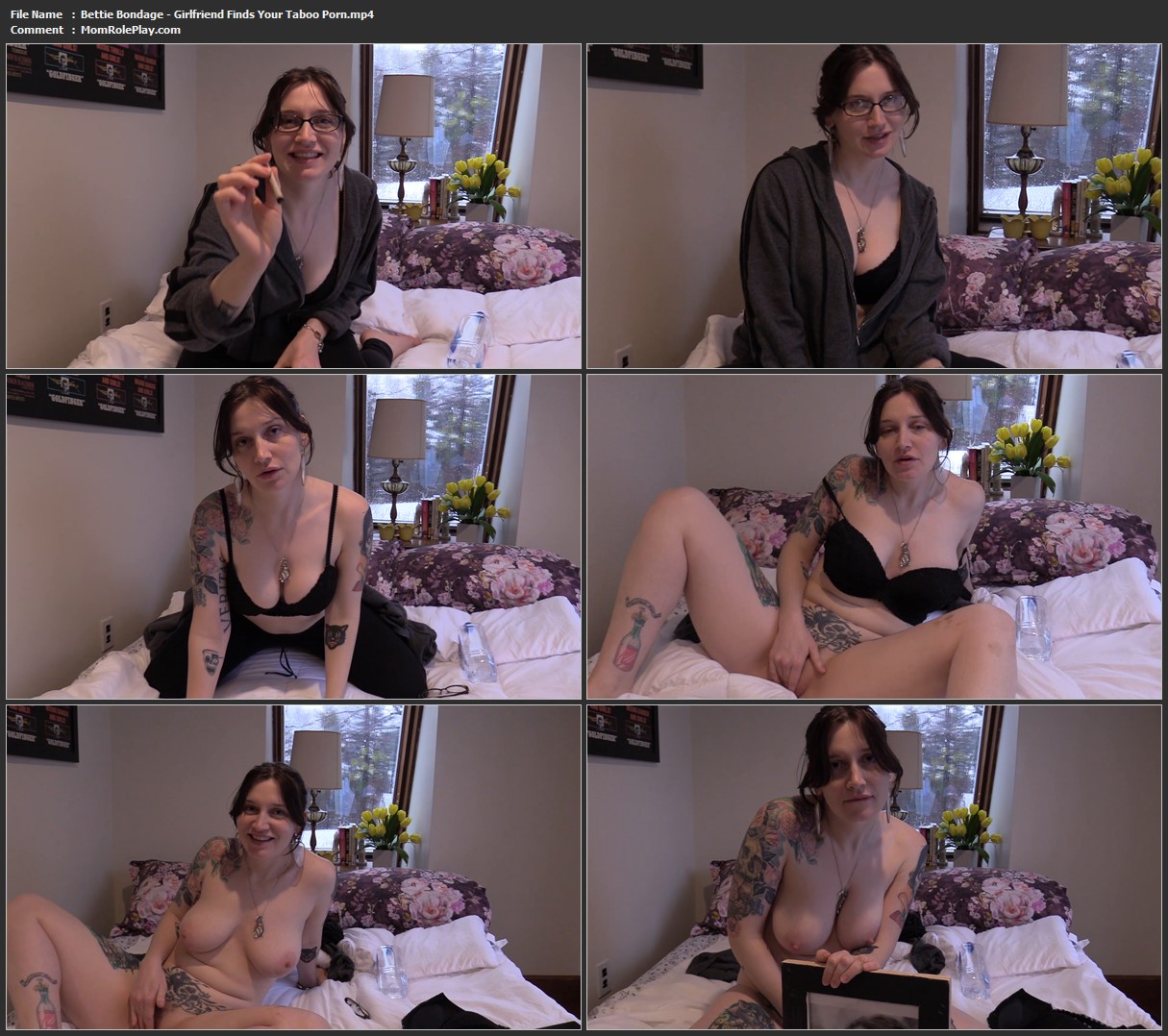 Download Files :
Bettie Bondage – Girlfriend Finds Your Taboo Porn.mp4