You seeing your mother is being strange, and sad. But you didn't had chance to bring up the conversation about it until now.
You look at your mom and she is so stunning, so beautiful and you love her so much! You want her to be happy. And it's been long time since your father left so you are now the man in the house, so you have to take care of your mommy too!
So you ask, what is going on with her. ,, Nothing my baby boy, everything is fine. You don't have to worry about your mommy. ,, She try to protect you and not making you worry about her but you decided, you will find out and make your mom feel better!
And finally! Your mom starts to share her feelings with you! She feels lonely? ,, Listen son, don't misunderstand what mommy means, of course I have you and you are always around…but mommy missing….well this not something I should talk about with my son…it's so weird! ,,
,, It's just…your mommy is still quite young and attractive woman, don't you think? And there are the situation, when I miss a man. The touches, the sensual heat, kissing,….yeah…sex!!! It is so embarrassing to discuss this with you my baby boy! ,,
BUT THAT'S IT!!! You moment to comforting your mom and finally…have her for your self and your self only, make love to her!!! Go ON!!!
You come close to your mom and give her a nice long hug…just to make her feel you are there for her! She finds it very sweet of you but she don'T know yet, what your plan is! So you softly slide with your hands on mommy's boobs…and that's surprise her! ,, That's no the thing I mean my son…is no…you are my son and you shouldn't!!! Aha…no it feels real nice…real good! Oh my God…no…mommy wants you to continue my baby boy!
And mommy is yours NOW!!! You rubbing her pussy and find out she is not wearing any panties under her pantyhose…so hot…make you rock hard! You kissing her neck and make her nice juicy…you can feel how her pantyhose getting wet…her pussy juice is all over them! You want…you want to eat her beautiful pussy! Mommy take off her pantyhose and spread her legs for her son…to lick and eat her pussy! Delicious!!! And she is fucking juicy and ready for her son take take her like a man…like her lover!!! You stick your hard cock inside her…it's so easy…you just slide in her! Feel amazing fucking your mom's pussy!!!
She loves it, adores her son's cock! Now she sit over you and ride your cock. You grab and kiss her beautiful boobs. You cock is hard like never in your life! Yes, yes…you fucking your mother!!! And it's so great!!! Even better then in your dreams!!! You need to make her cum, make her scream and goading with her son!!! So you go harder and more intense. Deeper in your mother pussy and…more, more, more! Yes…there…your mother is cumming!!! She is so beautiful, her face during the orgasm and fuck…squirt her pussy juice all over your cock…make you explode all, all your seed inside her pussy!!!
She hold your face, look at you so full of love…yes…your mother…is now yours and only yours FOREVER!!!
Category: MOMMAS BOY
Related Categories: TABOO, MILF, POV, VIRTUAL SEX, PANTYHOSE/STOCKINGS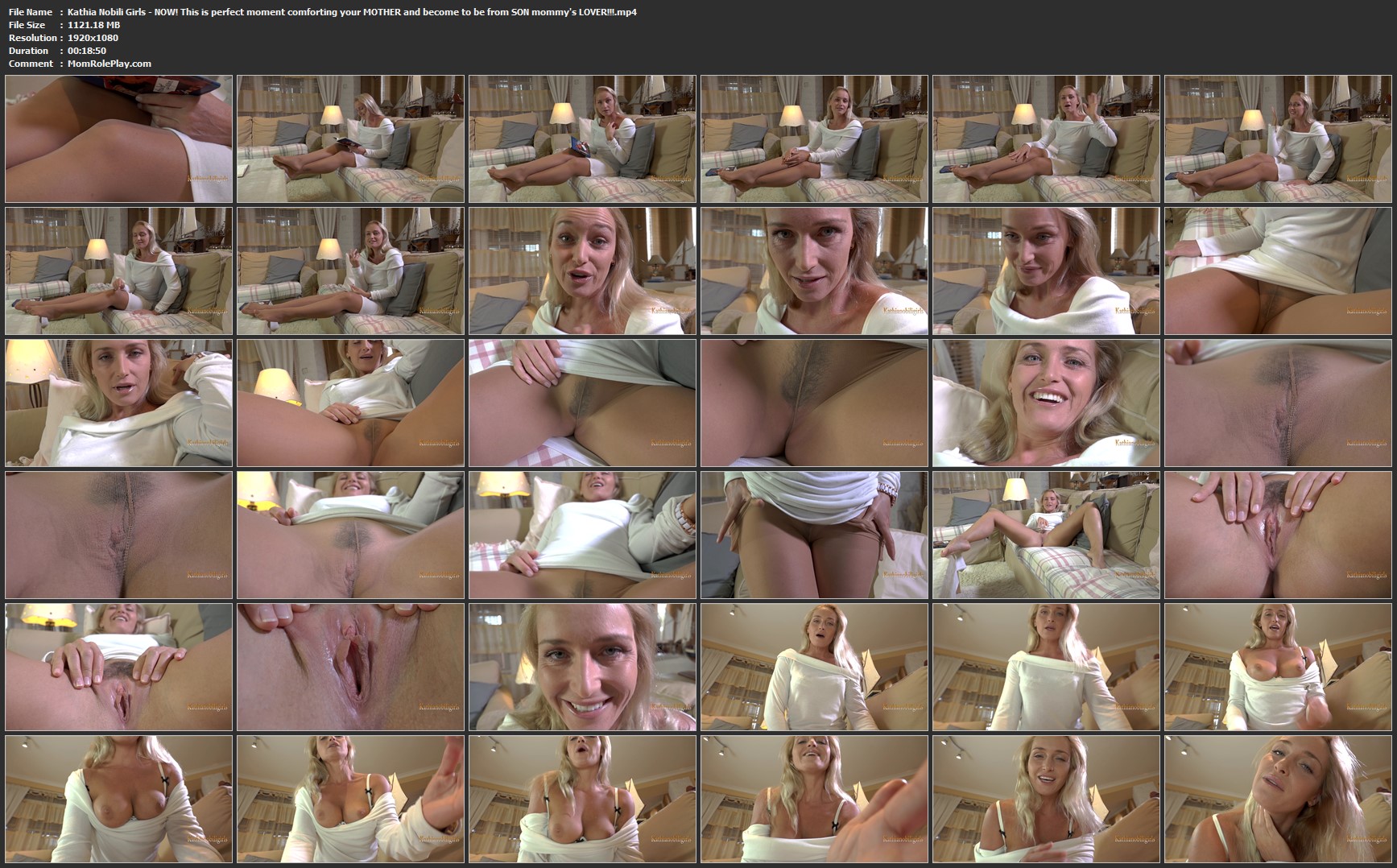 Download Files :
Kathia_Nobili_Girls_-_NOW_This_is_perfect_moment_comforting_your_MOTHER_and_become_to_be_from_SON_mommy_s_LOVER.mp4