Mom and son are very close. Son is an introverted, shy boy. An honor roll student but hardly has friends and still a virgin. Always behaves. Never even says a curse word. Lately he's depressed about this situation. Something needs to change. But he doesn't have the balls to be anybody different. He's been wanting to confide in mom, ask her advice.
So scene starts where mom is in son's room folding towels or something. Son is sitting across the bed. He suddenly blurts out to mom "What's wrong with me?" Mom looks up, confused. She inquires. Mom is very caring and loving but when she wants her boy to do something she becomes assertive. Mom and son talk. Son unloads his feelings. Mom feels sad for him but immediately seeks a solution. Since mom knows her boy doesn't even curse, she encourages him to blurt out swear words. Mom first and then has her son repeat. At first he feels awkward. Mom convinces him. They go off on a swearing tangent.
Mom gives her son a loving lecture on being confident, saying what's on his mind, going after what he wants in life, etc. Suddenly son's cursing tirade turns into a sexually charged confession of desires for his mom. He basically confesses his sexual attraction towards mom. Mom's in shock at first. But like a good mom, she acknowledges it's her duty to follow through on this little confidence boosting lesson. Mom plays along. She uses very explicit terms for her female body parts. Things like "What do you wanna do to mommy's wet pussy? Fuck it real hard with your cock, right? Yeah, that's my boy. Tell mommy what you want and come get it." Stuff like that. Very vulgar dirty talk and cursing between mom and son. Also while son is fucking mom say "Mmmmm you like fucking mommy's pussy raw ?" Talk about how son is tearing mommy's pussy up. All those years of pent up feelings and sexual desire is coming out now while mom gets pounded. Lots of moaning and eye contact. Son basically goes from shy boy to an aggressive, horny beast boy, all thanks to mom's help.
Category: POV
Related Categories: MILF, TABOO, DIRTY TALK, VIRTUAL SEX, TRANSFORMATION FANTASIES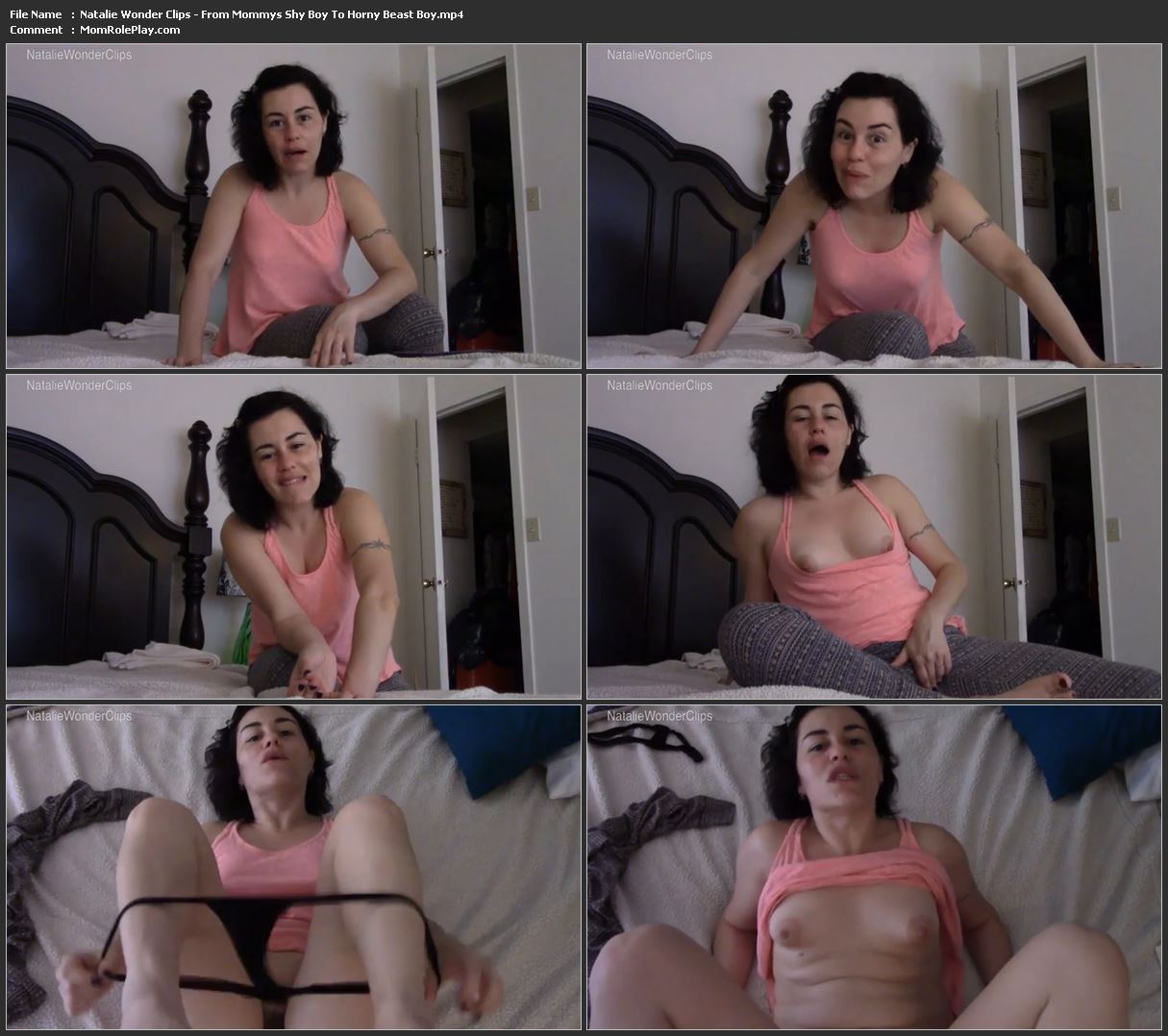 Download Files :
Natalie Wonder Clips – From Mommys Shy Boy To Horny Beast Boy.mp4