You get home early from work and hear a noise from your mom's bedroom. It sounds like she's crying so you go check. The door is open just a little bit and what you see is not what you expected! You can see your mom on all fours on her bed, getting fucked from behind. She's talking to what seems like several guys, telling them how much she loves their cocks and wants their cum. You feel your cock begin to harden as you watch your mom take cock after cock, begging for cum as you imagine yourself emptying your swollen balls onto her ass.
Later that night, your in bed trying to sleep but you just can't stop thinking about your mom, bent over like that. You finally decide you need to do something about it. You creep to your mother's bedroom door. She's in bed, still wearing some of the lingerie from her gangbang – crotchless panties and hot thigh high stockings. You stand and watch her for a minute, not sure what to do but finally, you enter, standing by her bed and trying to hide your rock hard erection as you call out to her.
She wakes with a start – sweetie, what's wrong, are you ok – you assure her you're fine, just can't sleep. She tells you to turn around while she puts on a nightie and says you can sleep in her bed tonight. You pretend to look away as you watch her change in front of you, her full tits on display, her pussy visible through her crotchless panties.
You lay wide awake, facing her with your cock throbbing. She starts to gyrate her hips, rubbing her pussy on the pillow between her legs. You take that as an invitation and slide up against her, grinding your cock against her ass as she starts to grind back. Every once in a while she makes some comment, about you being hard, about your determination to get to sleep…each time you pretend to be asleep and wait til she turns over again before you start to grind against her again. She finally starts really pushing back, moaning as she rubs her pussy and dry humps her son's cock! She finally tells you she needs it, sitting up and riding your cock reverse cowgirl before begging for your cum all over her ass!
Category: TABOO
Related Categories: MILF, VIRTUAL SEX, POV, ROLE PLAY, PILLOW HUMPING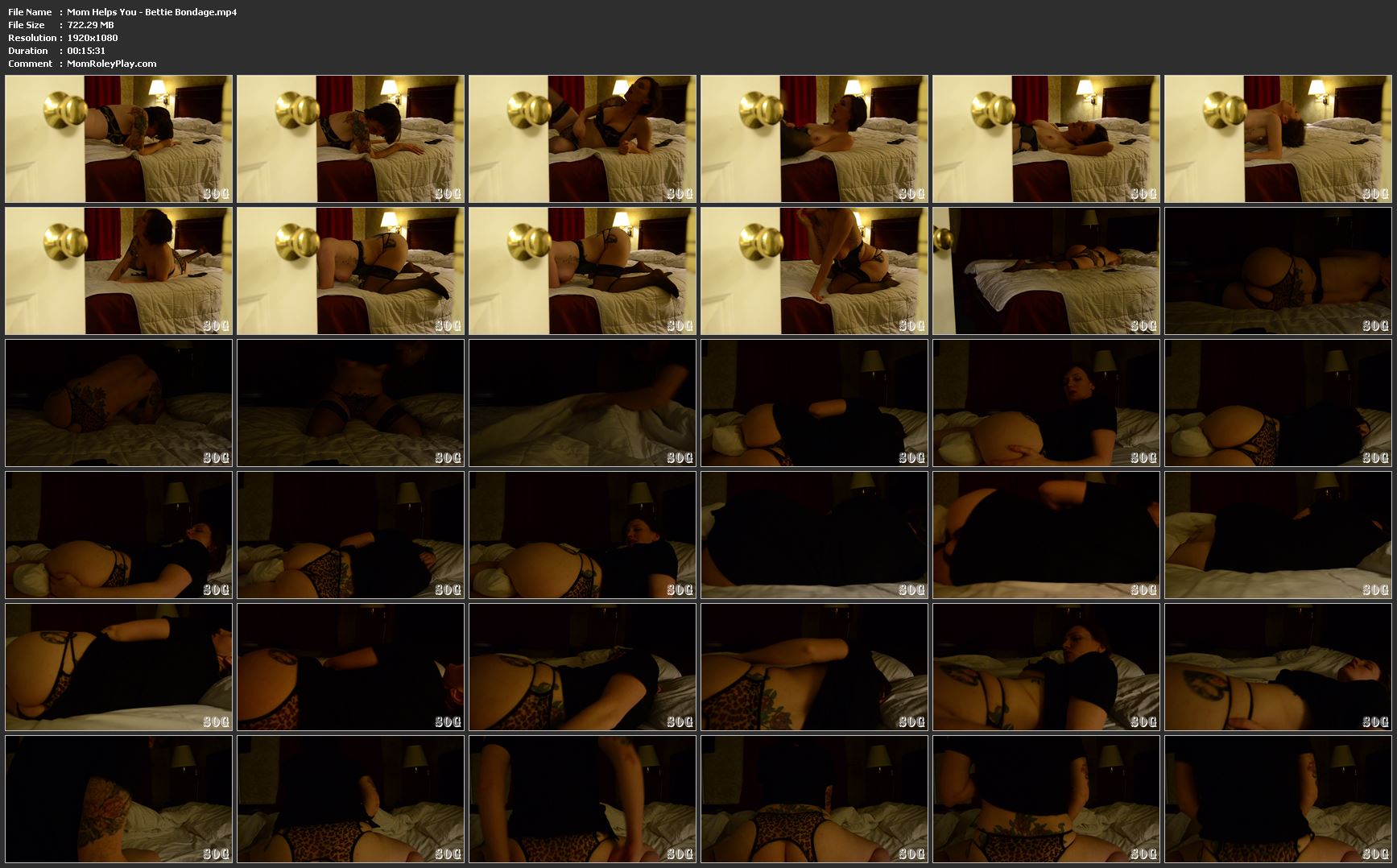 Download Files :
Mom_Helps_You_-_Bettie_Bondage.mp4