You and your friend made this stupid bet about jerking off: No jerking off for a whole month – loser has to cough up $500. You really don't want to loose but it's so hard! You've never even gone a week without jerking it. You're finding that even being around your mom is turning you on! Granted, she is a total MILF but you're normally able to stave off the attraction, jerk it to some porn and forget about it but now…she's all you can think about. The other day you barged in on her in the bathroom just to catch a glimpse. You rub up against her in the kitchen…you can tell she feels your cock against her ass. You think she even wiggled back yesterday. Today, you offer to give her a footrub. With her feet in your lap, you can't help it. You start to rub and grind yourself against her feet! She acts all offended, demanding an answer for your outlandish behavior.
You tell her about the bet, about how hard it is for you. You offer to pay her $300 of the $500 if she'll help you get off without masturbating. Of course, she says no – she's your mother, for goodness sake. But you push it. Beg for it. You even take your cock out so she can see how your cock is throbbing from lack of release. You can see her start to soften. She feels bad. Seeing her poor boy so desperate. You keep begging, pushing her, pleading, offering her money…
Finally, she relents. She agrees, telling you that you have an hour before Dad gets home. You watch as she grabs the lotion you used for her feet and drips some onto your already exposed cock. It doesn't take long before she's stroking and teasing you, brushing your cock against her lips and making you groan. You need to feel her mouth. No, she says, not for $300…
$500! You offer her the whole $500, if she'll just take your cock into her mouth. She smiles, sliding you down her throat. My god, your mom's mouth feels so good! You have to feel her pussy! You offer her $1000 – the whole $500 you'd pay out plus what you win! What if you both abstain? You'll figure out the other $500, you need to fuck your mom! She grins. Ok, but because I want this! She says. Sure, you think, whatever gets her pussy on my cock…
You watch as she slides down her jeans and straddles you on the couch. Your rock hard cock slides against her pussy. She's facing away, riding you cowgirl, sliding up and down your cock. You can't believe how good she feels…you can't believe you're fucking your mother!!
Category: TABOO
Related Categories: MILF, OLDER WOMAN / YOUNGER MAN, POV SEX, DIRTY TALK, HANDJOBS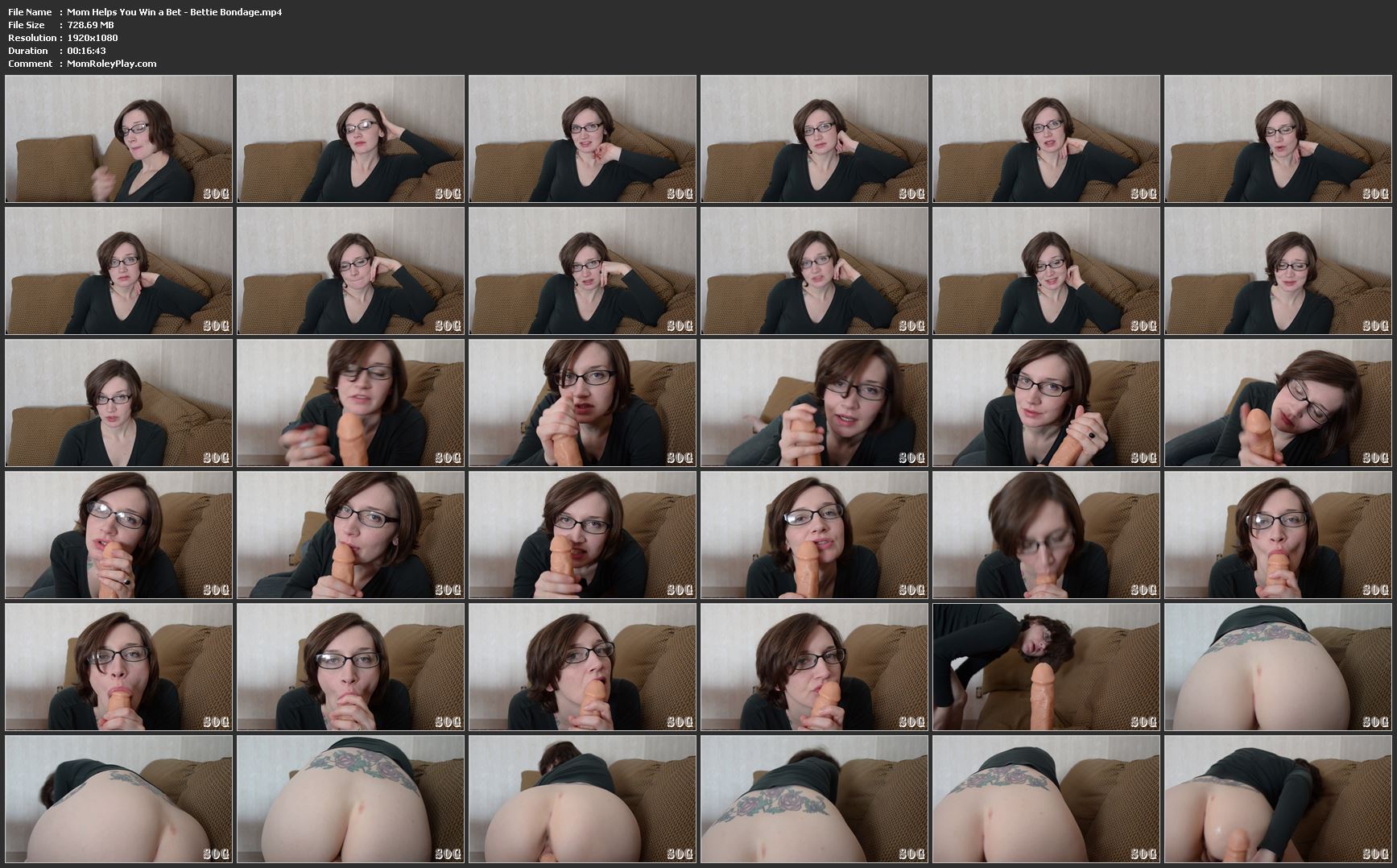 Download Files :
Mom_Helps_You_Win_a_Bet_-_Bettie_Bondage.mp4