Scene One: Neighbor Affair
Son learns Mom is having an affair with the neighbor Cory Chase. Son sees them walking into Cory's house, kissing and touching. He walks around to the back window and records Mom and Cory in various positions of sex, licking nipples and pussies…ect…
He plans to use this recording to later blackmail his slutty Mom for sex and more…
Scene Two: Initial Encounter
Later on, Son comes out to the living room to talk with Mom. She's sick of his lazy ass, just like his father, and it's time that he moves out. He's out of school and doing nothing but partying and sleeping all day. Son says I have video of you and the neighbor, etc. Son says he's not leaving unless she wants to explain to dad why she was sucking on the neighbors tits. Nikki gets enraged. Son says she belongs to him now and will do what he says or her cushy little suburban housewife life goes bye-bye. Son says now that you're mine, take out your tits. Take off your dress, come give me a handjob. Better be quick before Dad finds out. Which she does. Mom complains the entire time while she strokes his cock.
Scene Three: Erasing Evidence
Next day – Mom tries to sweet talk him into erasing the tape. Says she knows what he wants and she will do it if he erases it. She slowly takes off her top and starts to blow him. Halfway through she says erase the tape and I will swallow everything. Son erases a video from the phone. She finishes him off. Afterwards he says that was fantastic but since he made a dozen copies of the video, tomorrow he wants her to come to his room in a skirt and no panties since he's always wondered what she tastes like.
Scene Four: Tasting Mommy
Mom shows up dressed how he wants. Says she can't keep doing this. She doesn't want to hurt his father and she doesn't want to ruin the relationship with him (her son). She says please just erase them and they will talk about continuing this for a few more weeks. Son says that's an option but it will only work if she gives him the best blowjob of his life. She does reluctantly and he again erases a few more videos then assures her there are no more copies. She starts saying what a dumb little he is and his ass is gone from the house tomorrow. He shows her a new video of her blowing him while saying he knew she was trying to manipulate him and says dad gets it tomorrow unless she is in his room naked when he wakes up. He says that her ass belongs to him and he's going to enjoy every bit of it tomorrow.
Scene Five: Evicting Mommy
Son wakes up and Nikki is naked in the room. She says let's get this over with. She proceeds to basically hate-fuck him. When it's over, Dad opens the door and asks his son if he's done with her? Son nods yes, Luke says great. Looks at Nikki and says pack your and get out. You can go live with the neighbor you love so much.
Category: MILF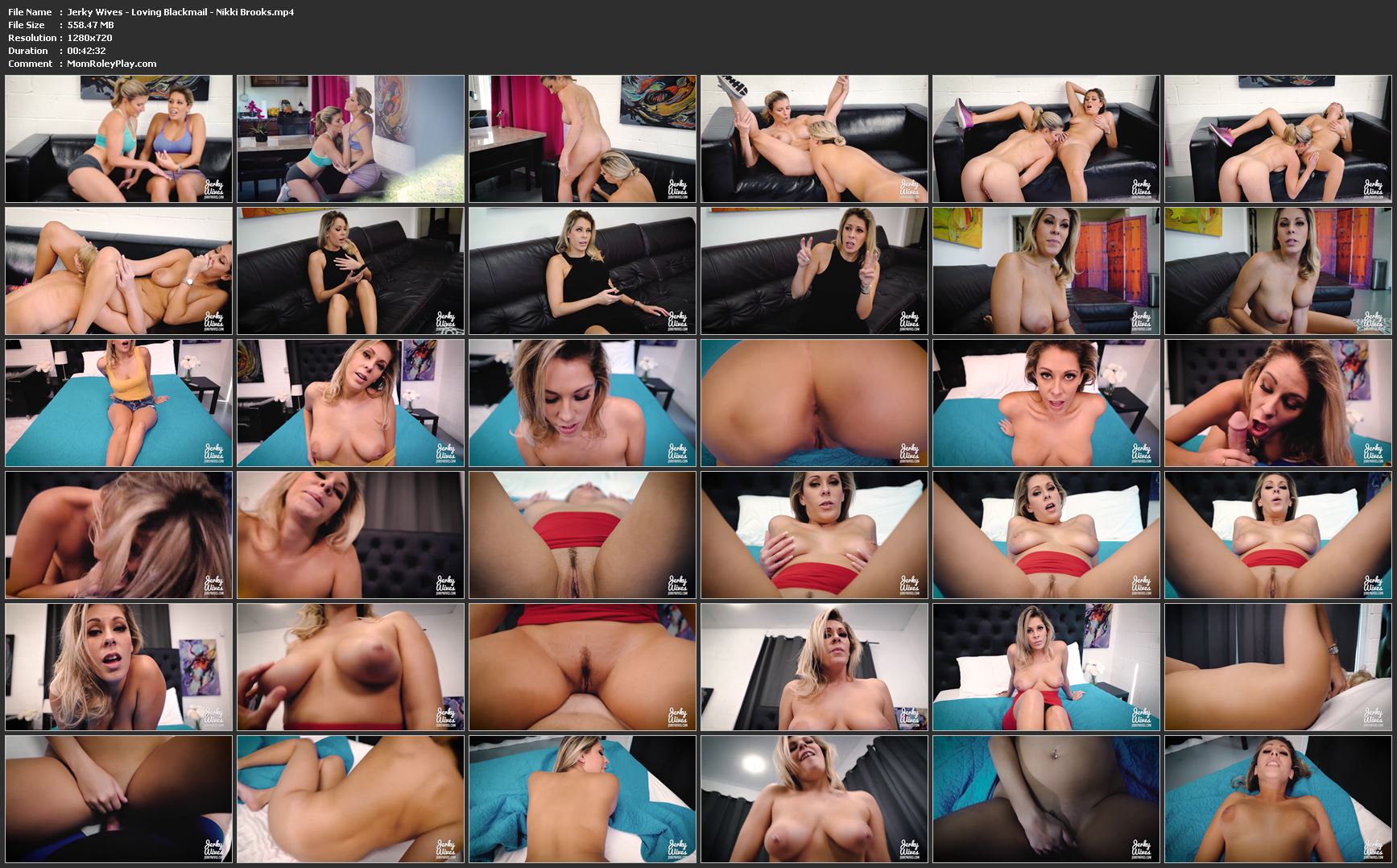 Download Files :
Jerky_Wives_-_Loving_Blackmail_-_Nikki_Brooks.mp4