Oh, sorry, dear… oh… oh, my! Wow! THAT… THAT IS… WOW! Very small. Much smaller than I'd have imagined. I'm not saying this to be mean, honey. I actually think it's cute. You know what it reminds me of? When you were a little baby.
It's okay to have a little pee-pee, but with that baby dick, it would be more suitable if you were actually a little baby. Don't you think? My little baby? Hey, little pee-pee. Just relax. Let this happen. You're going to become my little baby again. Look how small that little winky is! Awww. So sweet. So tiny. So small.
Oh! Are you doing the pee dance? Do you have to tinkle? Let's get you on the potty then. I'm going to hold your little dinky down so you don't make a mess. My little baby. You look so cute! You're getting so little, aren't you? You're even sucking your thumb, just as you used to… what a good boy you are! While we're in the bathroom, I think it's a good time for a bath. Let's get you clean.
Let's get those little baby bits clean. My sweet baby! And his little pee-pee! Oh, but little pee-pee is getting hard. Are you having fun being Mommy's little helpless baby again? Yes, you are. I'm so happy, I love being Mommy to my little helpless baby. Let's dry off the little baby and his cute little pee-pee. And oh my, wouldn't you be so cute in some little panties? Look at that, they fit your just perfectly. No bulge, so they're so nice and cozy, huh?
Now then, come to bed and suck Mommy's breasts… I'll stroke your little bits over your panties to help you relax, my little baby. You're nice and hard again, hm? Look at that little baby precum spot on the panties! You've made a mess though, right after bath time. Aww. It's so cute though! My little baby making a little mess in my panties. I'll have to put you in diapers for those wet spots when I play with your winkie.
Aw, falling asleep? You're such a good little baby… I'm so happy. You're so sweet. You'll be my little baby forever.
AGE REGRESSION, TABOO, MOMMAS BOY, BATHTUB FETISH, SMALL PENIS ENCOURAGEMENT, TIT SUCKING/NIPPLE FETISH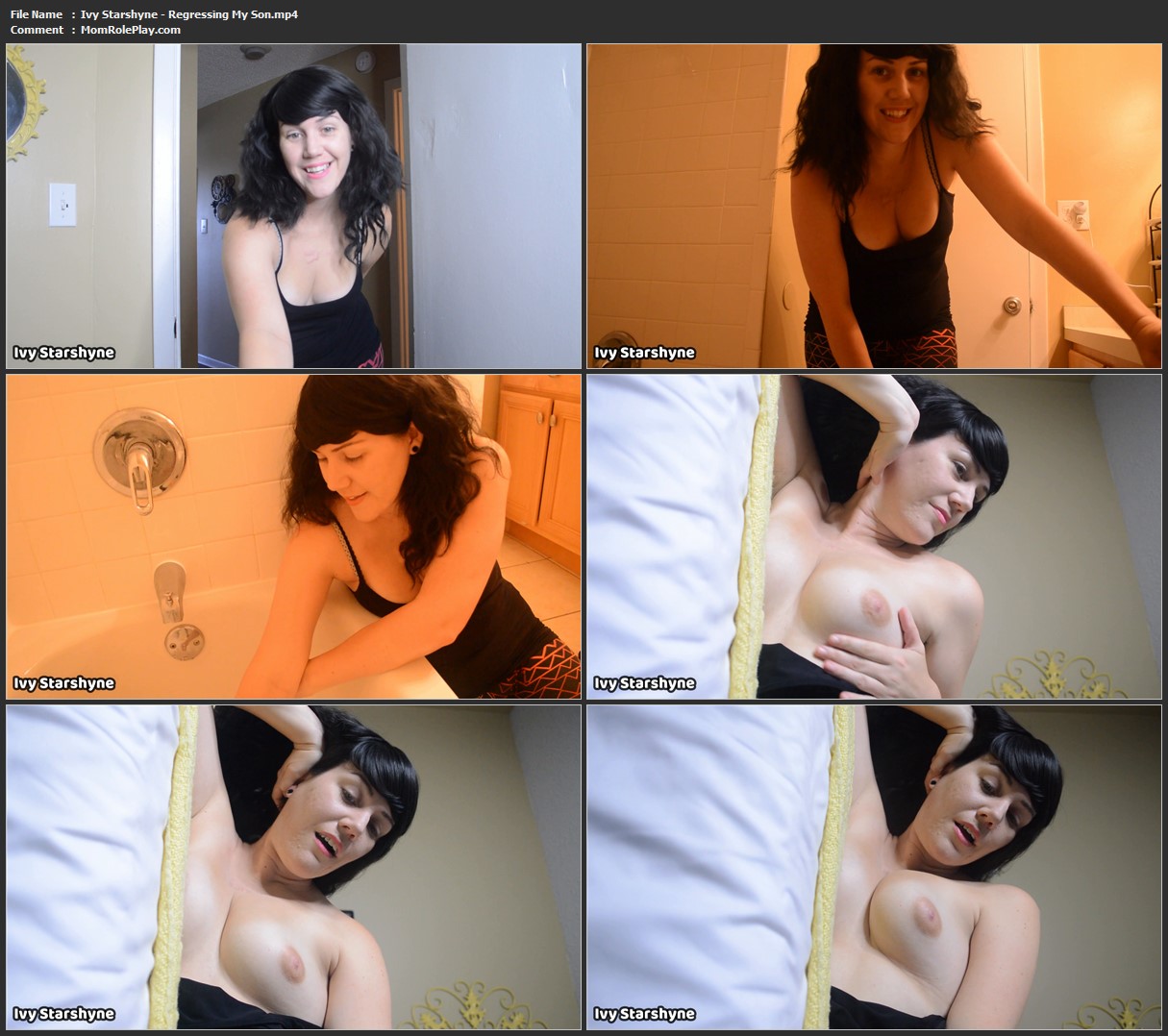 Download Files :
Ivy Starshyne – Regressing My Son.mp4