A taboo experience where mommy & auntie are heavily inebriated…
"Cheers!" Mom smiled, her glass clinking against her sister's. "I'm glad we stopped by the store and got some more wine." The two were still dolled up after a night of heavy drinking and dancing.
"That guy was so cute and now I'm horny," Aunt Carmen slurred, her legs spread and her bare pussy exposed. That's when you walked in. "Oh! Oh honey," Mom was startled, but let out an embarrassed laugh.
"You didn't see your Auntie's pussy," Carmen blurted out. "I'm sorry, should Mommy offer you a drink?" Mom shook her glass at you. "It's only wine – it's like grape juice but with a little bit of a bigger kick." As the two rambled on, Mom caressed Auntie's skin with her fingers.
"Oh, that feels good," Carmen told her, then saw the surprised look on your face. "Oh don't worry, your mommy touches me like this all the time." Mommy agreed it was okay because you guys were "family."
But things progressed right in front of you. They started making out and you felt your face grow hot. "Did you want to give Auntie a kiss? Cause you look jealous! You want to give her a kissie kissie? You don't want to give her one? Maybe you want to give Mommy a kiss?" Mom said coming up and pressing her lips against yours, then plunging her tongue inside your mouth.
"Why don't you give Auntie a kiss right here?" Carmen said spreading her legs and pointing to her pussy. "What's the matter?" Mom slurred, then began joking around. "When a man and a woman love each other in a very fun way, they give each other kisses in their downstairs area."
"Give me kissies, show me you love me. I couldn't find any man to give me kisses down here tonight," Auntie told you. "I love my nephew!" Mom instructed you on how to do it better as she watched you pleasure Auntie. "You gotta put your tongue in it, like you're french kissing!" Mom told you.
"Do…do you want to suck on Mommy's tits?" Mom asked, then struggled to get her tight, white dress off. You went back and forth between the two wasted women. Aunt Carmen shared Mommy's tits with you, and the both of you sucked and flicked your tongue against her nipples.
Next, you shared Aunt Carmen's tits with Mommy. You were throbbing hard, and Mom and Auntie noticed. They shared your cock, stroking it together, then took turns sucking it. "I don't even go down on Daddy anymore, but you, baby boy, I could suck that cock all day and all night…" Mom confessed.
"Have you ever been inside a pussy?" Auntie asked. "Or is he still a virgin?" Mom had no idea. "I bet he's been fucking cute girls left and right – have you?!" Mom blurted out.
"Why don't you come over here and give Auntie what she wants…" Carmen told you, "what she's been craving all night long. I've been trying to find a man all night to fuck me and your mommy, and we just didn't have any luck tonight…until you came in!"
The two rushed to get their clothes off, then laid back. You started off with Aunt Carmen, making her orgasm, then switched over to Mom. "Good boy," Mommy moaned, "right there. Cum with me, my baby boy." Mommy was wild as you fucked her, and eventually, you came inside of her.
Mom and Auntie asked for more kisses, then slid their tongues against one another's. They were so wasted, but wanted even more wine to share with you. As you left the room to get them some more drinks, you saw them caressing and kissing one another.
TABOO, MOMMAS BOY, DRINKING, OLDER WOMAN / YOUNGER MAN, VIRTUAL SEX, MILF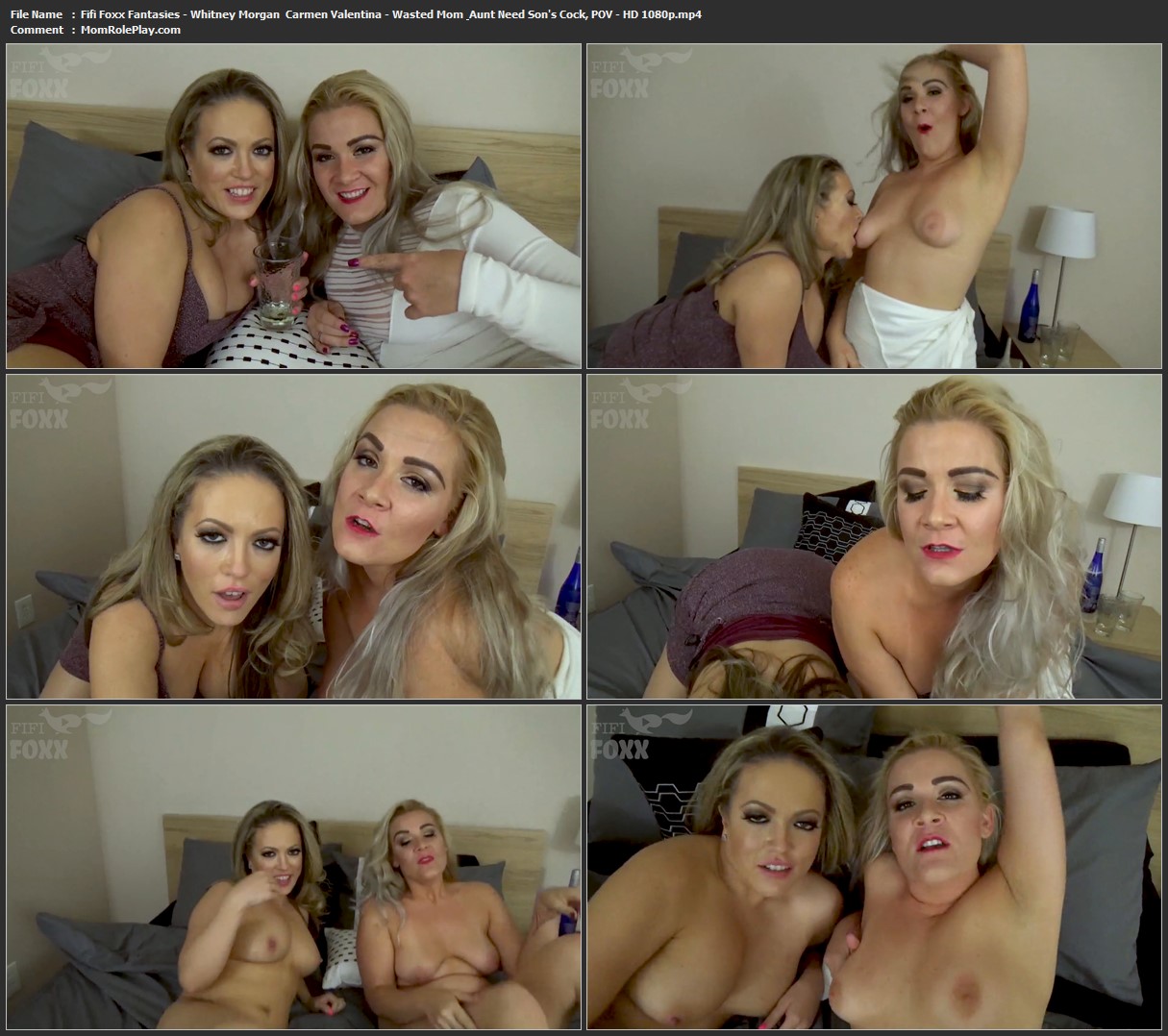 Download Files :
Fifi Foxx Fantasies – Whitney Morgan & Carmen Valentina – Wasted Mom & Aunt Need Son's Cock, POV – HD 1080p.mp4