"I know you've been having insomnia lately, honey," Mom began to say, "so I got this prescription from the doctor – it's sleeping pills. It should help you sleep better, so when you go to school, you're much more rested, and you can get your homework done and get better grades." She handed you the bottle of tablets, then told you to take one and head off to bed.
"It might cause sleepwalking, but I don't think you'll do that," she said in a comforting tone. "I'm pretty sure you'll just sleep through the night – let me know if you need anything." So, you did exactly as she told you, and after that, you didn't remember a thing.
Mom was on the phone when you started sleepwalking into her room. She heard you slam into the closet door, "Hold on, I think that's my son. Honey, are you okay?" Her face had a concerned, serious look, and she told her friend on the phone about the new medication for your insomnia. "He's kind of bouncing everywhere – should I wake him up? Yeah, that's what I thought, that you weren't supposed to wake up someone sleepwalking."
She giggled and found it to be cute as your arm ran up her leg on the bed, then against her hand and wavy hair. "Go back to bed, honey," she smiled pointing in the direction where it was at, then went back to her phone call, "or should I just kinda lead him back to his bedroom, or will he find his way back?" She wasn't too sure how to handle the situation, and as you become more handsy with her, she decided she better get off the phone to deal with it.
"No, don't touch me there, no…get off," Mom said sternly as you groped her tits. "Go back to bed, sweetheart." She wasn't sure how to get you to stop, or if it was even possible to. "Do I let him touch me?" she asked herself. "Maybe he'll go back to bed if he gets what he wants. This is weird, I don't think he'll remember anything."
You continued to pull down the straps to her purple lingerie, and she scolded you for it. "Alright, if this makes you go to bed quicker. I don't think you even understand me, you're so asleep," she said examining you. "Your eyes just look dazed and confused. Come here, Mommy will give you what you want."
In a desperate attempt to have you go back to bed, Mom stripped down and encouraged you to touch her perky, beautiful tits. "Do like how they feel?" she whispered. "Come suck on them." After touching her bare body, you pushed her down and pulled on her panties. Mom realized that you wanted them off, so she took them off and spread her legs. "Do you like Mommy's pussy? Do you want a closer look? Do you like it when Mommy touches herself? It looks like the sleeping pills are giving you a little boner," she said as she rubbed her clit in front of you.
"You gonna finger Mommy, huh?" she moaned softly. "Come on, touch Mommy. Doesn't it feel nice and warm on your hand? Does it make you wanna go to sleep?" She encouraged you to put your fingers inside of her, and to enjoy yourself using her body.
Mom knew that you would want more eventually, so she laid back, and told you to put your hard, little penis inside of her. You fucked her hard and fast, completely unaware, and she moaned loudly, her eyes rolling in pleasure, until you came. You patted her head gently, as if telling her she did a good job, then attempted to head back to your room to go to sleep.
TABOO, MOMMAS BOY, OLDER WOMAN / YOUNGER MAN, MILF, VIRTUAL SEX, POV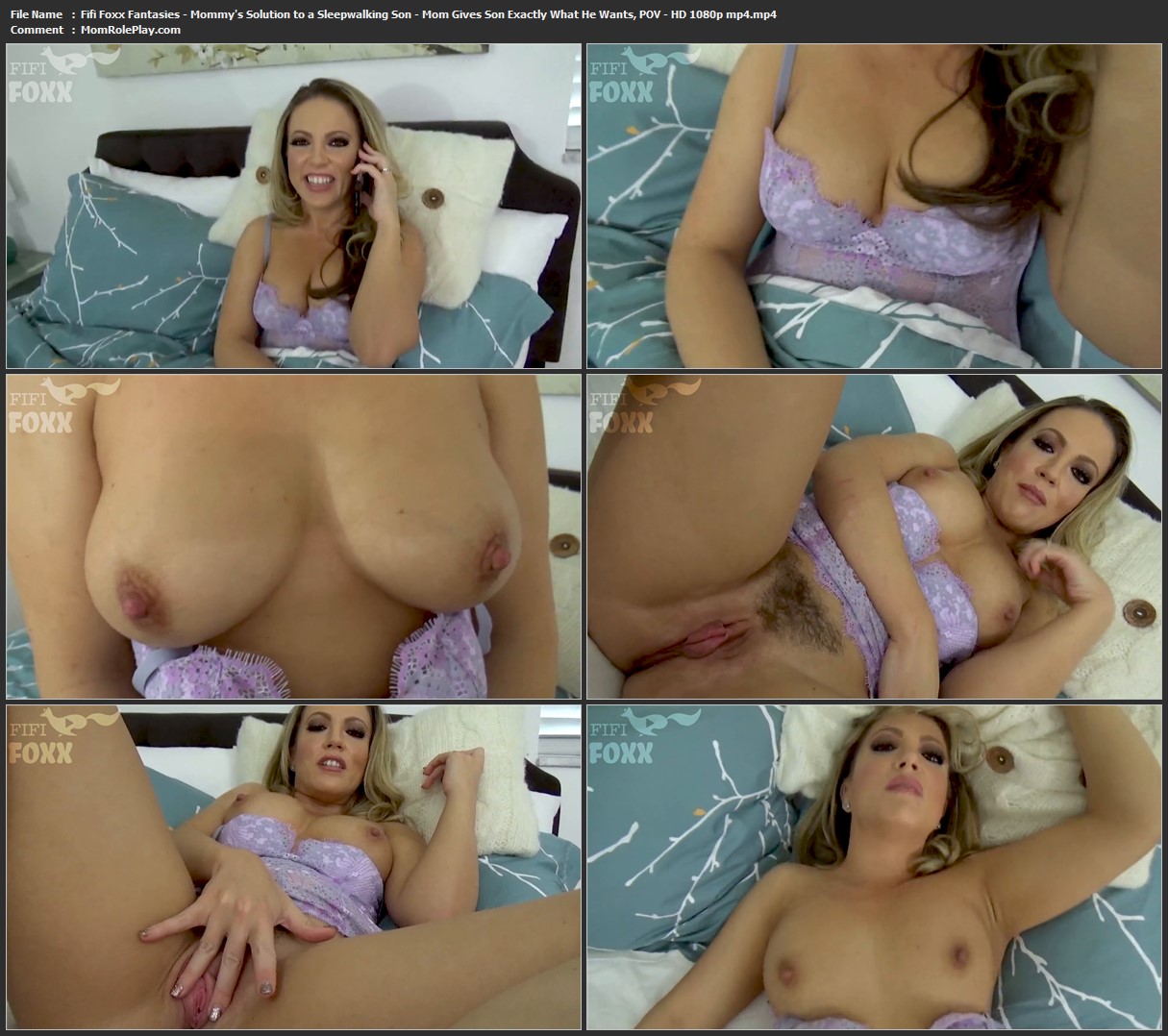 Download Files :
Fifi Foxx Fantasies – Mommy's Solution to a Sleepwalking Son – Mom Gives Son Exactly What He Wants, POV – HD 1080p.mp4