Hi sweetie, I thought we'd have breakfast this morning together before you head off to camp.
It's time for another one of our chats again. Yes, we need to talk about sex. I know I've reacted badly in the past, but I'm doing my best to change my attitude and understand what it's like to be a boy. You shouldn't feel bad about having any of these urges.
So before you go away, I'd like to go over a few things. I was going through your room and preparing your stuff and I came across your diary. I couldn't help myself, don't be mad at me. I just wanted to have a peak. Please don't be mad, I'm your stepmom but we are good friends now right? I just found some of your fantasies so adorable. I also noticed you find me sexy, and that's so flattering!
I didn't read it all, I promise. I got to a couple nights ago and read a fantasy of yours, that I'm your hot step-mom, that you end up having sex with! That's so naughty! I won't tell your father, don't worry. I just want you to go off to camp feeling good…
I'm wearing the dressing gown you described in your fantasy now, am I a nice step-mom or what? You also said, in your little fantasy, that you saw me as your own personal porn star! That made me laugh so much, you are too sweet! Look at the way the silky dressing gown covers my boobs. You imagined touching them didn't you? You also liked the way my bum looks in this gown. It does wobble a bit when I move, doesn't it? The silk really accentuates all of my curves doesn't it? I bet your school friends moms aren't as hot as me are they? You're lucky, and so am I sweetie. You make me feel so sexy and so hot, I'm quite turned on. You like my little outfit? I tried to match what you describe in your fantasy… You like when I wear purple, don't you?
Do you want to suck my nipples sweetie? You love my nice mommy boobs don't you? Are you enjoying this sweetheart? Yes go ahead and touch yourself, I've caught you before, it's ok, touch yourself with me. We can masturbate together a little bit. Does it feel good? Your real life fantasy is playing out!
I did read the last page, I know you want to fuck me in your fantasy. From behind? Oh mummy is getting very wet now darling! We are getting carried away! You did say you wanted to cum inside me, that is really naughty! You like watching me touch my pussy and ass don't you baby? You have made mummy so wet! Are you ready for the next part of the fantasy?
That's it sweetie, let mummy give you a nice hand job. For such a young boy, you've got such a big dick! Does that feel nice? I bet it does! I bet your friends moms do not do this! You like it when mummy touches your dick like this? Ok, mummy is going to rub her pussy for you and get ready to fuck you. Don't cum too quickly, remember what we talked about! Oh my god baby you've got such a big dick! WOW! Love watching mummy ride you? Is this just like your fantasy? I'm moaning and aching for your hard dick! You'd better not tell your friends about this! Oh I'm so turned on!
You did say in the fantasy, you want to fuck me from behind, so lets do that more. Do you want to give mummy a nice cream pie? Sweetie you're fucking me so nice! Ok, baby, cum inside mummy! I'm cumming too, cum inside me baby! Wow baby, you really filled me up! That was fantastic!
Oh I can't believe the time! We're going to be late, I need to get you off to the bus stop for camp!!!
TABOO, POV, VIRTUAL SEX, MILF, CREAMPIE, REGIONAL ACCENTS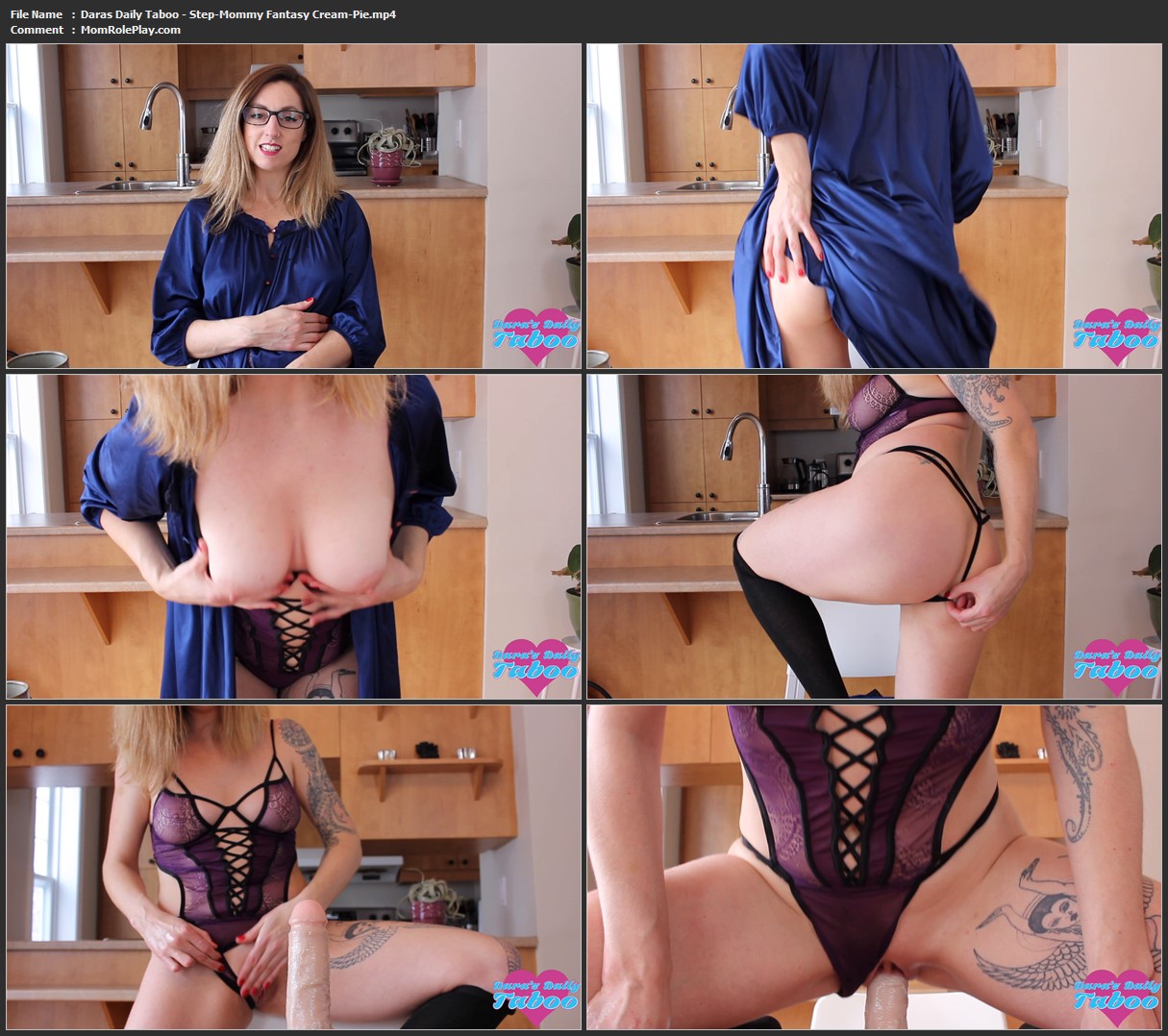 Download Files :
Daras Daily Taboo – Step-Mommy Fantasy Cream-Pie.mp4