Ugh here I am arguing with Tommy AGAIN about going to school.
It's the same thing every morning. He wants to stay home and sleep. He doesn't see why he should have to go. What's the point of going to school anyway?
And yet I can't be too mad at him this morning. To tell the truth I wouldn't mind if he stayed home with me today. I can't help but notice what a handsome young man he's grown to be and well, I did catch a glimpse of him changing last night through his half open bedroom door…
Is it bad that later I touched myself thinking about his lean young body and delicious looking cock? I guess a Mommy's love is a very strange and powerful thing. I came so hard just imagining what it would be like…
So this morning instead of my usual threats to get him out the door I try something new. To be honest, sitting on his bed, being so close to him, my hand can't help but wander to his cock, still half hard from his morning wood. Of course he's surprised and unsure for a moment but his raging hormones means he doesn't protest too much as I pull down the sheets and then his boxers.
His cock springs free and I can't help but run my hands over it. "Does that feel good, baby boy?" I ask as I stroke it and he moans in response. "Oh yes, mama." My hand strokes him over and over, coaxing him closer to the edge.
I tell him if he's a good boy and goes to school without arguing, Mommy will start every day like this for him, a milking from mommy. I stroke his cock as he writhes and moans for me. "Oh mama, that feels so good."
I know it does baby boy and Mommy loves when you finally jerk and shake and shoot your huge milky load for me. I'll send you off to school now but little do you know how wet and aching mommy's pussy is for you.
Category: TABOO
Related Categories: HANDJOBS, MILF, MOMMAS BOY, OLDER WOMAN / YOUNGER MAN, BIG LOADS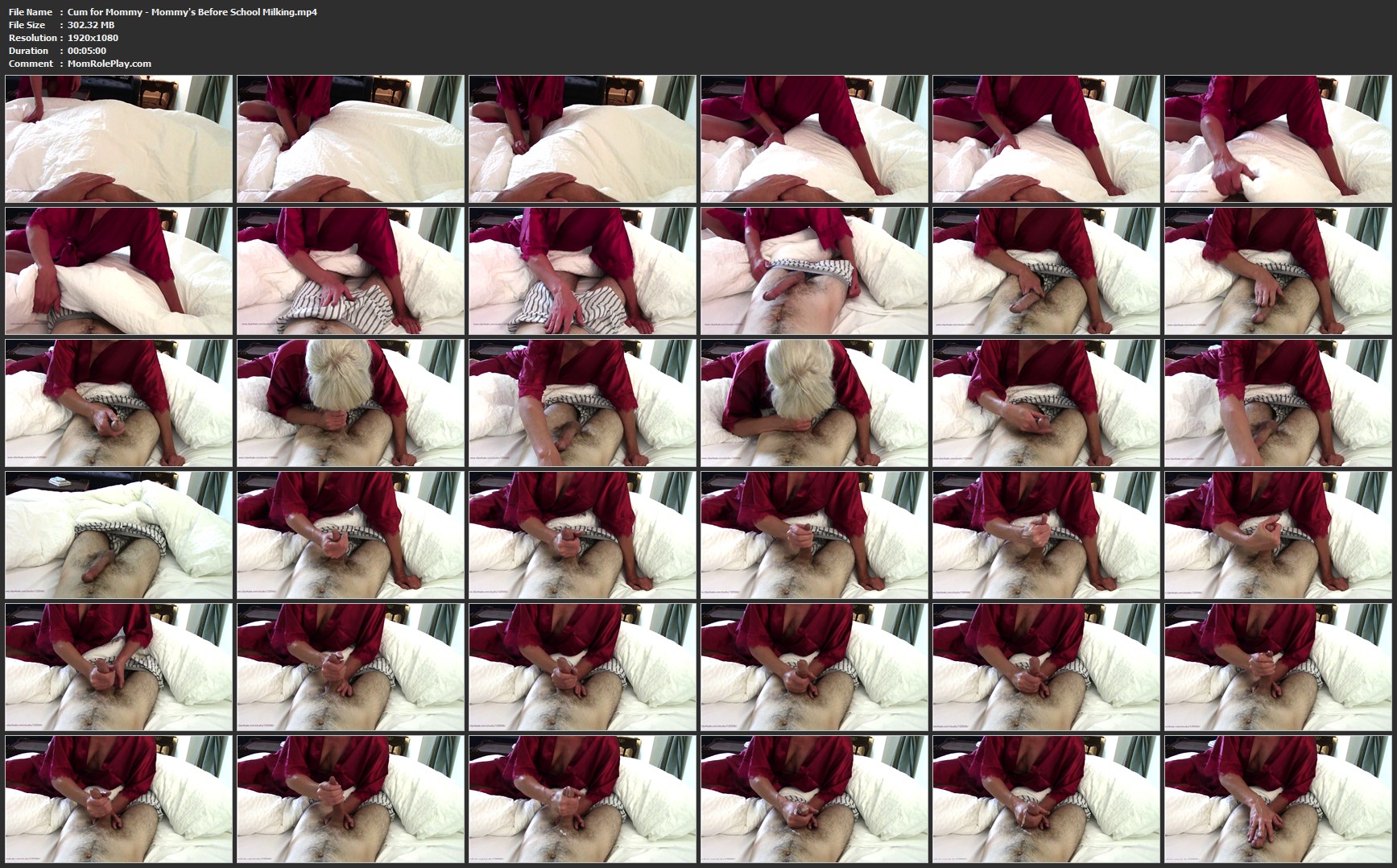 Download Files :
Cum_for_Mommy_-_Mommy_s_Before_School_Milking.mp4