"Thank you so much for inviting me in. I never do stuff like this, but…well, this is a big deal. Huge, really. All my son wants is some time on the field! He's good, too! I know you don't think so, and you have to think of the team as a whole, but I would do just about anything to get him more time. Anything. Really."
You're not a stranger to parents who beg for their brats to get special treatment, but normally they aren't so…well, hot. And dressed like this. Timmy's mom is a total MILF in her strapless sundress, which just barely contains her big, round tits. You never thought you'd be jealous of that twerp but if he got to suck on those big tits, well…anyways. You tell her that you can't do anything to help her and she starts to toy with the top of her dress, pulling it down just a bit as she tells you just what lengths she would go to. You really don't care either way but you push back, knowing that this lady is truly willing to do anything, that she will, in fact, take that dress down and let you do practically anything if you just act like you can't be made to put Timmy in. She's smirking, pulling her dress, scooting towards you, then leaning in to kiss you. You act surprised and she just goes in again, her soft lips pressing against you as she finally lets her big tits free. Your cock is straining against your pants and she leans forward, pressing her hand against you, pulling your cock out before telling you to lie back. She mounts you hungrily, her tits in your face, bouncing on your dick and starting to dirty talk like an absolute pro. Something tells you this isn't the first time Mommy dearest has gone to bat for her son, so to speak.
Looking up at her bouncing breasts and her soft lips parted in an ecstatic oh, you watch as she cums on your cock, clearly hungry for a good lay. This isn't just a favor for her son – she needs this dick. You tell her to get on her back and dutifully, she reclines across the couch, spreading her legs for you. You push into her wet, hungry pussy, bringing yourself to the edge of a huge orgasm. You ask her where you can cum and, like a truly dedicated mother, she tells you anywhere. You're tempted to unload inside her but instead, you tell her you want to cover her face in cum. Smiling, she gets on her knees, looking up at you and stroking your cock against her face, draining your balls all over her lips and cheeks!
VIRTUAL SEX, DIRTY TALK, POV, MILF, FANTASIES, FACIALS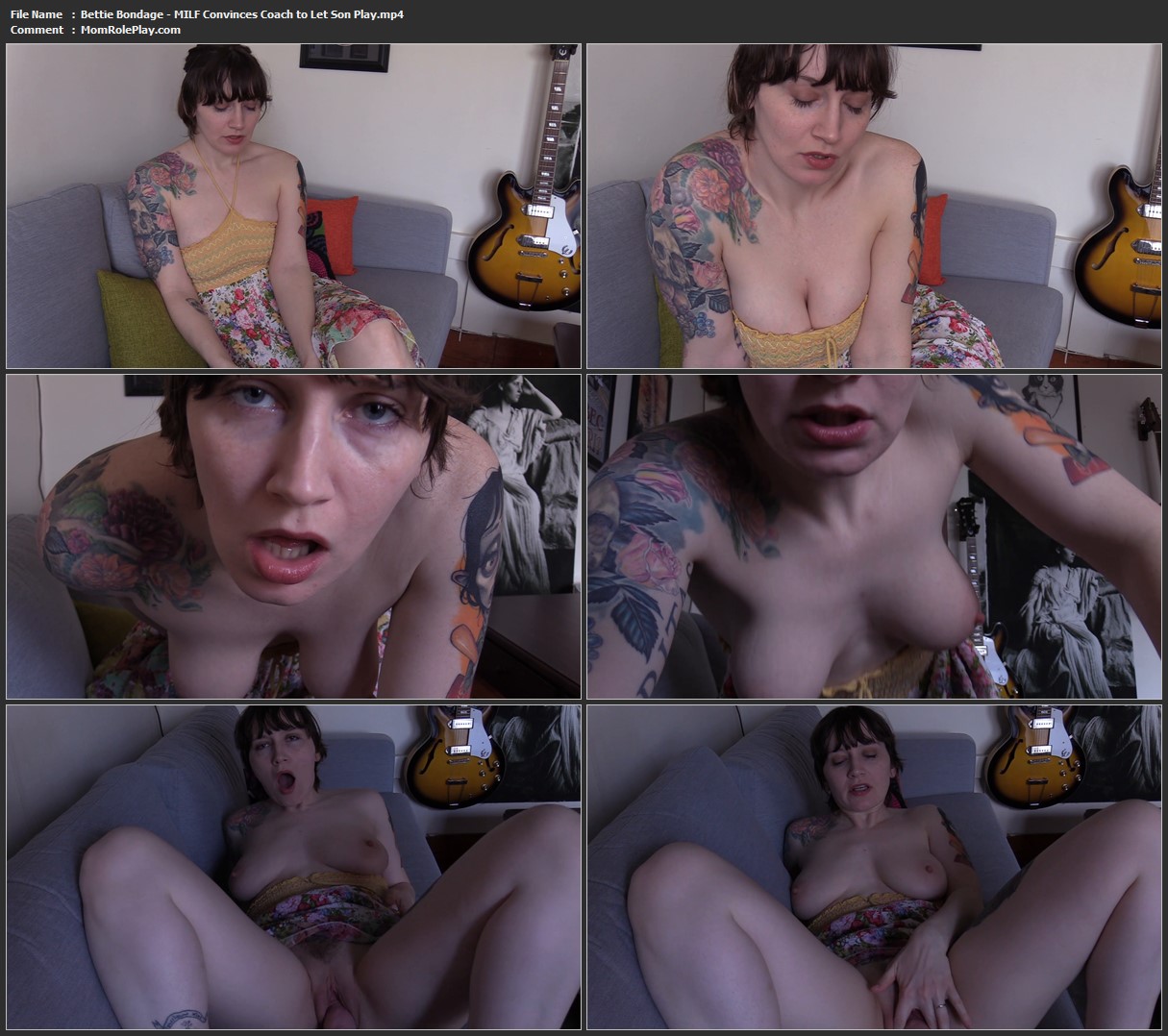 Download Files :
Bettie Bondage – MILF Convinces Coach to Let Son Play.mp4