I had sex with my mother, it was everything I could have imagined and then some, passionate, aggressive, and affectionate, all at the same time. I guess you'd have to understand my relationship with my mother to understand how it happened, and why I allowed it to happen, knowing full well that having sex with a relative is wrong (so society says). I think my mother groomed me for this day, for a long time, before it actually happened. I could never admit to anyone, except you anonymously, that my mother had taken a sexual interest in me every since I became a man. I could never say it out loud, hell– I wouldn't confess to anyone in real life that I had sex with my mother, but this is my story, judge me, see the story as unusually erotic, or just watch with interest that you'd have in an unusual experiment or sideshow curiosity.
How many of you reading this "just give in" to their mothers? You could easily be in my place, that is.. if your mom is as tempting as mine is: a petite beauty with natural red hair, full breasts, little waist, sapphire blue eyes, and a wicked hot mind that wants to please me, but also has her own needs that demand to be filled.
My mom raised me and my older brother by working two jobs, and then somehow finding the time to attend all of our hockey games. My mom was admired by all my friends, and all of my friends' fathers whenever she'd show up in her four inch heels and pencil dresses. My mom has the face of an angel, her hair tied tightly in a bun, but the slit in her skirt, and her low cut blouses never made her look like the frumpy sort. They'd gawk at her and say crude things about her. I got into a few fights, in my youthful days, when guys on my team would joke about how they'd like to fuck her; my mom was a lady, and in a way, I felt like she was my lady.
"A mother had needs," she'd tell me after she came home from work, kicking off her heels and setting her stocking covered feet in my lap. She'd sit in her favorite tufted chair, throw her head back in relief and pain as I massaged her feet. I would complain about the chore at first, but I soon saw how happy my massage made my mom, and I was happy to help in some way, after all, she does so much for us. There were times when she would instruct me to massage her in ways that were a little questionable by society's standards, but she always kept clothed, so I saw nothing wrong about it. I'd massage her feet and she'd softly moan, "higher," until I was massaging her calves, "higher, her thighs, and she'd moan when I hit the spot between her thighs. I knew it was wrong so I pretended to not realize that I was massaging my mother's pussy, but I would still do it, my cock aching and hard as I'd rub her and listen to her cum.
Fast forward to when I married Sabine, a foreign exchange student from France. We went to school together and fell in love fast. I always thought she was a little dirty and a little classy, just like my mother, but even though the two looked alike they didn't get along. Sabine would try to keep me away from her, "your relationship with your mom is creepy, let her hire a masseur if she wants a massage," she'd tell me. I made the mistake of telling Sabine how much massaging a woman's feet in stocking turned me on, especially when the toes cracked, as my mother's used to do, when I'd massage hers. I told Sabine she was crazy to think I had any sort of sexual attraction to my mom, or that I thought of my mother when I massaged her! Sabine demanded that I move to France with her to prove that there is nothing sexual going on with me and my mom. I agreed to follow my wife to this foreign land, even though it pained me to be separated from my beloved mother. My marriage to my wife lasted for six years, six long years away from my mother with only a few conversations with her on our birthdays and Holidays. Sabine and I still loved each other but were never madly in love, and that was the problem, when you love someone, you should burn for each other, the type of love that's written in love stories, the passion that you hear in a good love song, and we were more like roommates. The years would go by and my mother's advice, "never settle" would haunt me. I was relieved when Sabine brought divorce papers home before I had to. It's better this way, but yeah– it hurts, oh.. I really need my mother.
I took the first flight home to the States, I barely had time to pack, and no time to warn her of my arrival. I was hoping she'd be free when I rang her in the rental car, "Mom?" I heard her sweet voice answer mine, she gave me that dreaded "I told you so" about Sabine not being the right woman for me, and sweetly demanded that I come to stay with her.
Category: TABOO
Related Categories: MOMMAS BOY, MILF, BLOW JOBS, FOOT FETISH, CREAMPIE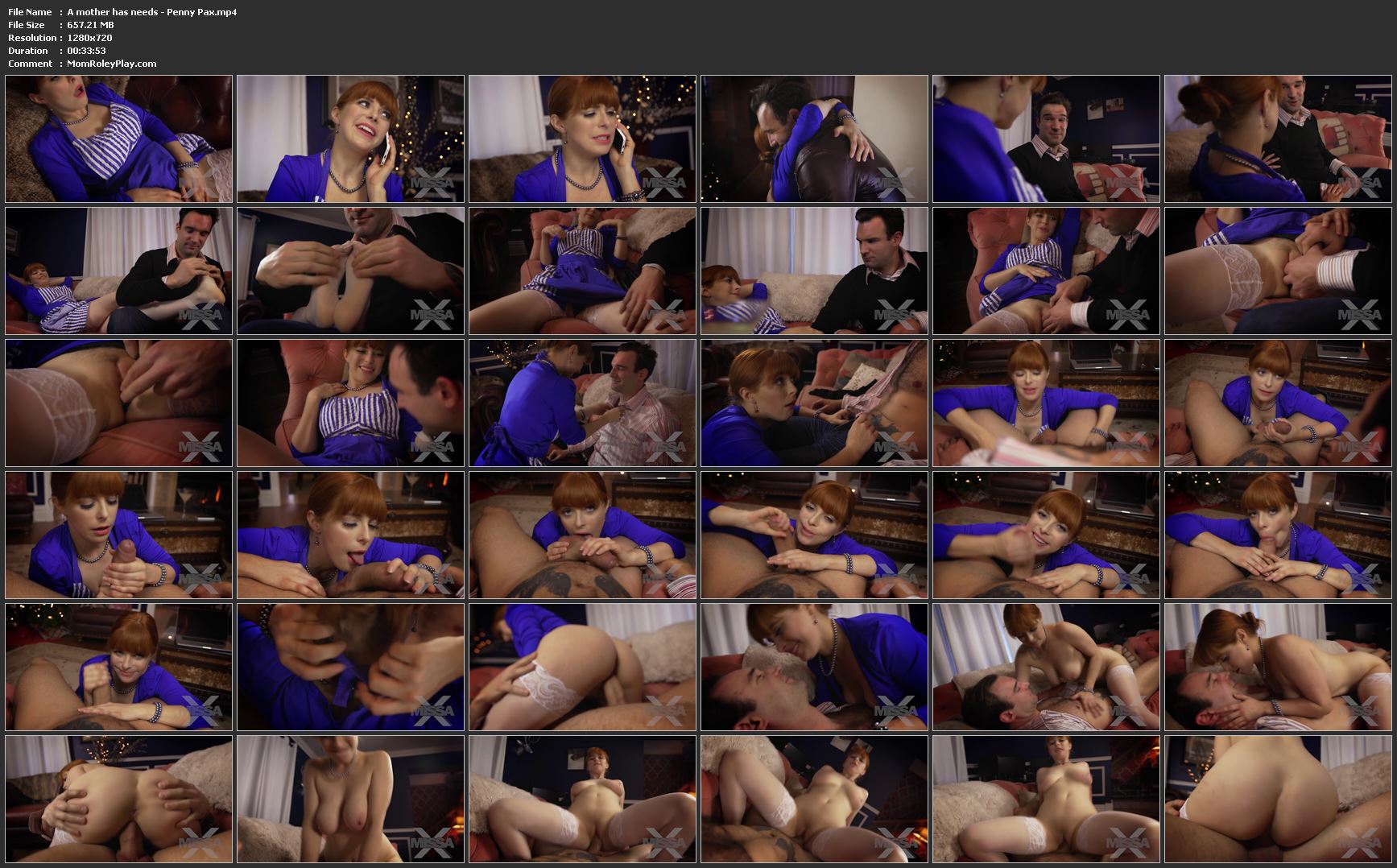 Download Files :
A_mother_has_needs_-_Penny_Pax.mp4