Stuck Making My Bed
My step-mom, Cory, walks into my bedroom and she notices my unmade bed. Cory is wearing a red skirt and a green crop top as she climbs on top of my bed to make my bed for me. She shoves her hands under the mattress and she ends up getting her ring stuck in the mattress! She tries to get herself unstuck, but she soon realizes that she is unable to. She cries out for help and I hear her calling my name from a distance. I come running towards the sound of my step-mother's voice! I climb onto the bed and I get right behind her. I take my hard cock out and I shove my cock inside of her pussy, to try and suction her out! Her ass hole looks very inviting, so I decide to fuck her ass hole and her pussy, back and forth, while she is still stuck! I finally get her hands to break free from the mattress, and then she flips over on to her back.I start to fuck her ass and her pussy back and forth, in the missionary position next. I end up cumming inside of her ass hole, just in time for me to hop in the car and go to class!
Stuck Under The Bed
Cory is walking around my guest bedroom which has bunk beds and a ladder in it. She sticks her head underneath the bottom bunk bed, and then she calls out my name by yelling that she is stuck! I come in the room and I decide to take advantage of this situation again, by fucking my step-mom's ass and pussy again! I go back and forth between her ass and her pussy, while she is in the doggystyle position, under the bed. Every time I take my cock out of her ass, I watch her ass hole gape nice and wide! I finally fuck her out from under the bed, and she climbs on top of the bottom bunk bed. She sits down on the bed in the missionary position first, and I fuck her ass and pussy back and forth. Then she flips over into the doggystyle position and she puts her ass up in the air for me. When I am ready to cum, I have my step-mom get down on her knees in front of me and open her mouth wide. I jerk my cock off all over her face and in her mouth. I soak her with my cum and she looks so hot!
Stuck in the Bathroom
I hear my step-mom calling 'Luke! I need some help here!' and it sounds like her voice is coming from the bathroom. I follow the sound of her voice and I find her stuck in the bathroom again! She is stuck in one of my smaller bathrooms, and I accidentally close the door behind us. This bathroom is not finished being remodeled yet, so the door doesn't have a proper doorknob yet! We are both officially stuck in the bathroom, and Cory's hands are stuck behind the toilet. I pull down her black lingerie, and I stick my hard cock in her tight ass hole. I keep fucking her ass because I figure I can suction her holes and pull her out! I get her hands free, and then she shows me the secret way to unlock the bathroom door! She is ready for me to finish fucking her holes on the bed now. She lies down on her back and I start to fuck her pussy and her ass back and forth, in no particular order. She licks my cock clean, and then she hops on top of my cock and begins to ride me in the cowgirl position. I love that she is still wearing her black, thigh high stockings while she rides my cock with her ass and her pussy. I stick my cock in and out of both of her holes, until I am ready to cum! Then I jerk my cock off into my step-mom's mouth, and I watch her swallow all of my cum!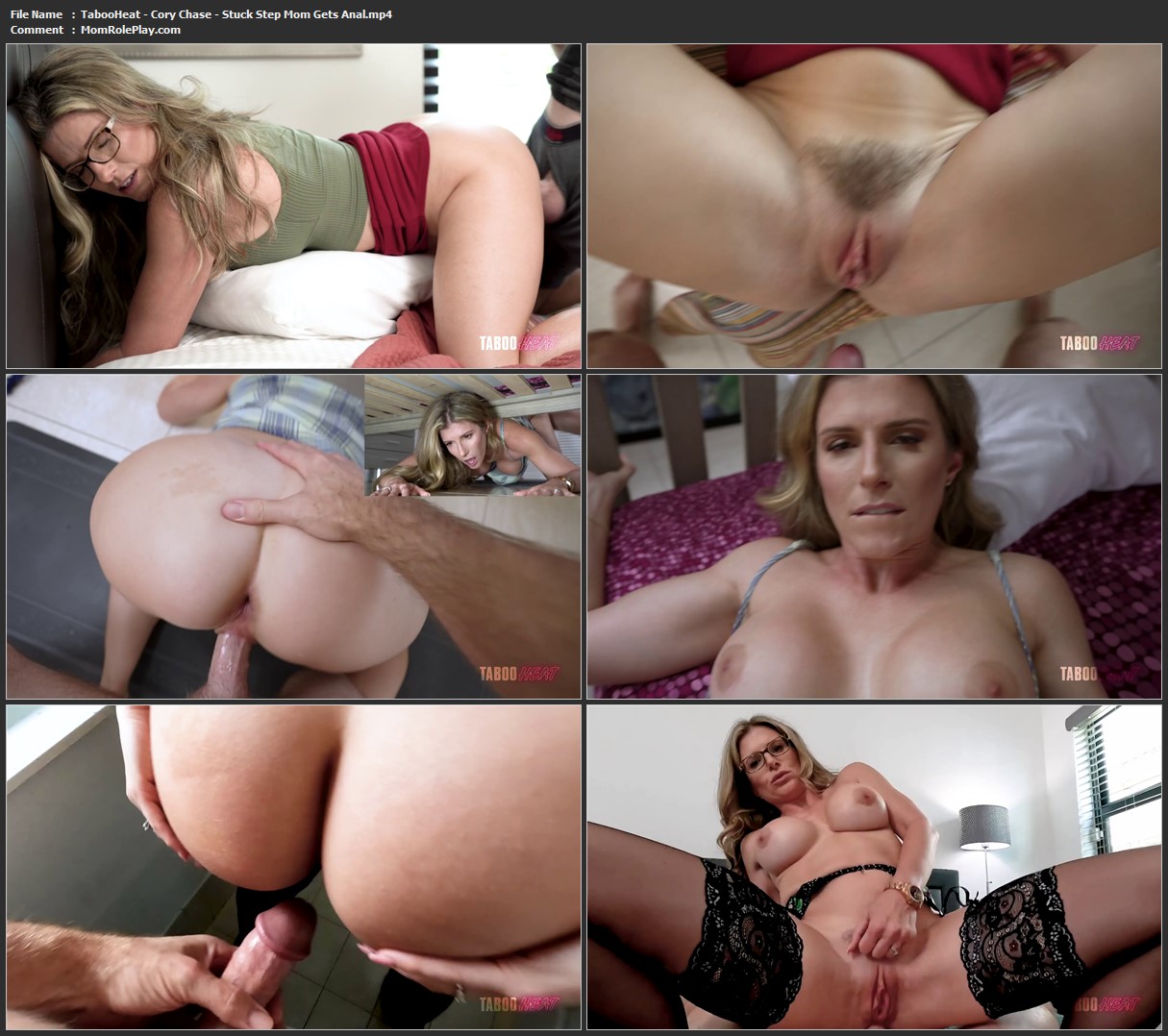 Download Files :
TabooHeat_-_Cory_Chase_-_Stuck_Step_Mom_Gets_Anal.mp4 – 2.37 GB