Scene One: Masturbating to Mom
My step-mom is sitting in the kitchen wearing a bathrobe and drinking a glass of wine. She is waiting for me to get home, when her sister starts sending her some naughty photo's. Since I am not home yet, my mom decides to send some dirty photo's back! She takes a few pictures of her big tits and then she asks my aunt to send some upskirt shots next. "God, her pussy looks so good!" my mom moans, while she rubs her own pussy. She decides to take a short video of her rubbing her pussy and she sends it back to her sister. Then my mom stands up and takes some butt shots to send next. "I'm being a little slut for my sister!" she giggles. While my mom is masturbating, I walk in to the house because I left the party early. My mom doesn't notice that I am home so I watch her masturbating and I start to jerk my cock while watching her. As she is cumming, she looks up and she finally notices that I am home! "Luke!! Oh my God! I told you to call me when the party ended!" she exclaims. I tell her that my phone died, and I ask her what she was just doing. She lies to me and she tells me that she was just online shopping, and she tells me to go take a shower. When I leave the room, my mom ponders whether or not I was just jerking off to her… and she decides that she wants to find out if I am going to finish…
Scene Two: Mom Wants a New Lover
My step-mom is standing in the kitchen and she is wearing a see-through black onesie that is also a thong! She starts to ask herself about how she should talk to me about what happened the night before. I walk in to the kitchen a few minutes later and she starts telling me "sometime it is better to keep things in the family." With the outfit she has on, I can barely keep my focus on what she is saying to me! "Sweetie, are you starting to get excited?" she asks me, as I can feel my cock getting hard in my pants. "Well, look at what you're wearing!!" I tell her. She tells me that she is flattered, especially since my dad has been too busy for her lately. She takes advantage of the situation and she gets down on her knees and pulls my cock out from under my shorts. She licks the tip of my cock before shoving my hard cock in her mouth. "I'll keep you satisfied if you keep me satisfied," she tells me. She pulls her onesie down, exposing her big tits to me. "You can squeeze them all you want!" she tells me. Then she bends over the kitchen counter and lets me grab her ass cheeks and rub her pussy with my hand. "Do you want to be a really good boy? Your father hasn't fucked me in weeks! Big boys fuck their step-mommy's… so be a big boy and fuck me!" she exclaims. She bends over the kitchen counter and I stick my cock in her pussy. She starts moaning really loud as I fuck her. "Let mommy fuck your cock," she insists. She backs her ass up on to my cock and she starts to cum pretty fast. Right after she cums, I cum inside of her pussy. "Oh sweetie! Did you cum already?" she asks me. I am a little embarrassed at first, but my step-mom tells me that she's really proud of me and that I did a good job… "By the way, call me mommy! Don't call me Nikki anymore!" she tells me.
Scene Three: Mom Cures My Porn Addiction
I am in my bedroom looking for some porn to watch and jerk off to, when my mom walks in on me! My mom tells me that I don't need porn anymore , because I have her now! She strips out of all her clothes and she tells me to jerk off while staring at her naked body. I do what mommy tells me to do! Then, she gets down on her knees and she starts to lick and suck my cock. "If you ever want some dirty pictures when I'm not home, you can just tell me and I will send you some!" she tells me. I tell her that I want to put my cock inside of her, so she lies down on the bed in the missionary position. I slap her clit with my cock before I put my cock inside of her pussy. "I was thinking of bringing my sister over to watch us!" she tells me, while I fuck her. I tell her that she can bring my Aunt Cory over to watch if she wants to. Then my mom flips over in to the doggystyle position and I fuck her pussy from behind. "I'm your mommy and your girlfriend!" she tells me. Her big ass bounces up and down on my cock and she reminds me that I am allowed to cum wherever I want! "You should cum all over my face and then I will kiss your father with my cummy lips!" she giggles. I pull my cock out of her pussy and I jerk my cock off on to her face and in her mouth. I cover her face with my cum, just like she asked me to…
Scene Four: Step Mom Shares Aunt Cory
My mom and my aunt are making out with each other in bed, when my mom decides to tell my aunt all about what we've been doing lately! She admits to my aunt that I caught her masturbating the other day and that she saw me jerking off to her as well! She also tells my aunt that I found out that she secretly does porn and that I even jerk off to her porn sometimes! My mom gently pushes my aunt down on the bed and my mom starts to lick my aunt's pussy. "I'll teach him how to eat pussy! And I want you to watch him as he fucks me!" my mom tells my aunt. I walk in to the room and my mom tells me that I get to fuck my fantasy girl and my mom at the same time! I stick my cock down my Aunt Cory's throat while my mom is still eating my aunt's pussy. Then I shove my cock in Aunt Cory's pussy while my mom sits on my aunt's face and has her pussy eaten. "Aunt Cory normally gets paid for this, but she's doing it to you for free because you're family!" my mom tells me. My aunt sucks my cock so she can lick her pussy juice off of it! Then my aunt flips over in to the doggystyle position and I fuck my aunt while she eats my mom's pussy out some more. "Do you want to see me cum in Aunt Cory's mouth!?" my mom asks me. "Yeah!!" I tell her. I stick my thumb in my aunt's ass while I am fucking her pussy with my cock! My aunt cleans my cock off with her mouth before I shove my cock in my mom's pussy next. I tell my aunt and my mom to kiss each other while I fuck my mom's pussy. When I get close to cumming, I pull my cock out of my mom's pussy and I cum all over her face! Then she kisses my aunt again so the 2 of them can share my cum… I hope we can do this again soon!
MILF, TABOO, POV SEX, FACIALS, POV, THREESOMES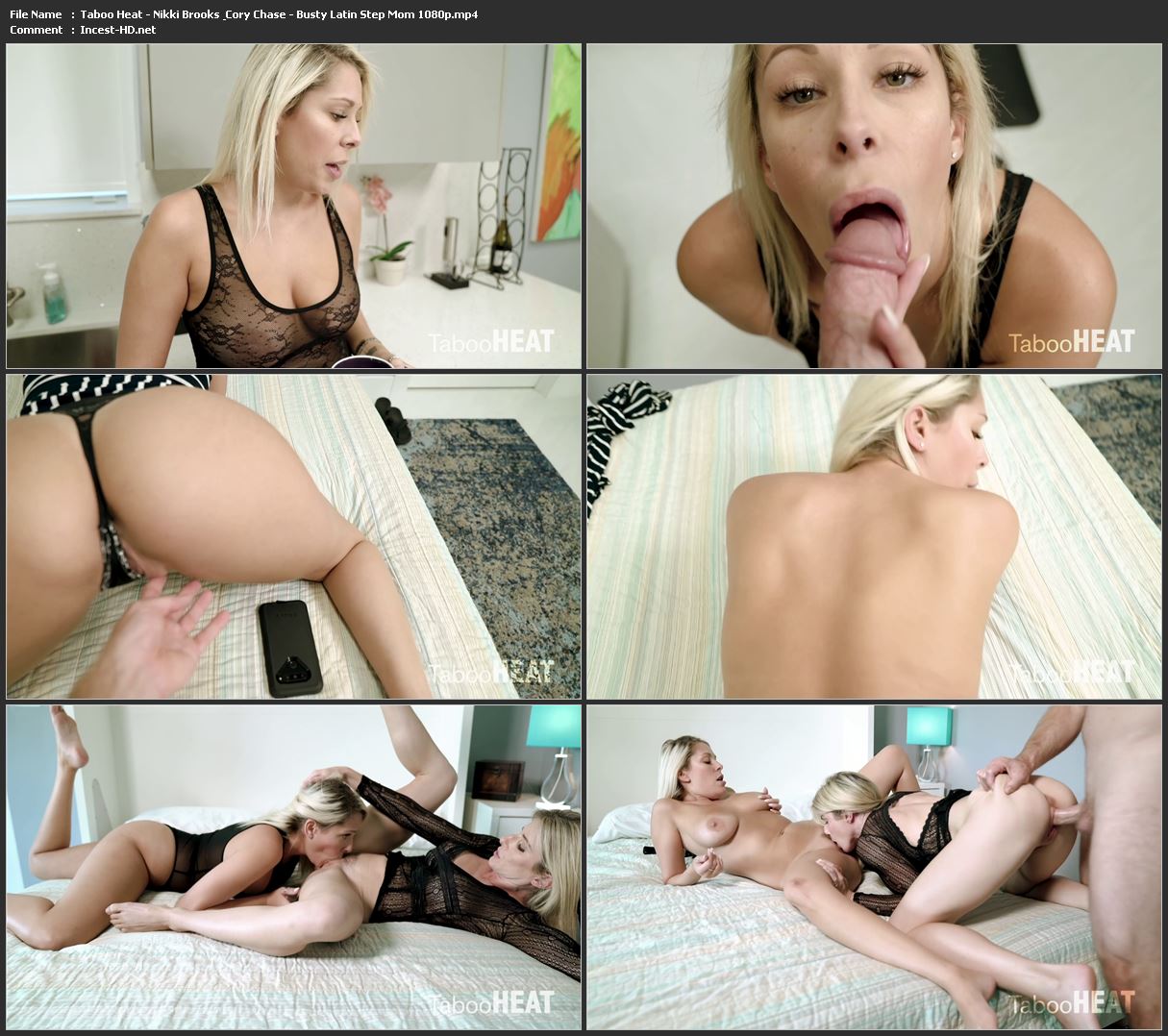 Download Files :
Taboo Heat – Nikki Brooks _ Cory Chase – Busty Latin Step Mom 1080p.mp4