Scene 1: Hot For Mom Syndrome
When your mom is Sofia Kiss….chances are….you are going to develop "feelings" for her….even if you are her son!! Poor Josh is a horny teenager….with raging hormones….and he has developed the Hots for his mom. Sofia calls Josh into her bedroom, to confront him about the fact she has caught him masturbating to her several times recently. Josh shows her a website her has found called "Hot For Mom Syndrome". Sofia looks at the site, and sees all kinds of graphic images of Family Sex. She figures that since it seems to be an acceptable thing in some cultures….she agrees to have sex with her horny teenage son!!. Josh takes off his pants, and the two Family members do exactly what they saw on the website!!! Josh ends up fucking his mom's brains out!!! What a caring Family.
Scene 2: Living With Mom
Josh has had a terrible fight with his Dad. Apparently, Dad's strict rules and especially Dad's curfew have driven Josh away. Josh goes to his Mom's house, and asks if he can live with her. Mom, of course, is happy to have her young Son come and live with her…but she tells him he will have to do some "chores" while he is living there. Mom explains some of the chores….lawn mowing…taking the garbage out etc….but her last "chore" blows Josh away!! Mom wants Josh to have sex with her!! Josh is shocked by the unusual request…but Mom explains that she has certain physical needs…and she otherwise would have to seek strangers in bars. Josh reluctantly agrees to his Mom's request….and after unpacking….he goes to his Mom's bedroom. Mom seduces her young boy, and starts to suck on his cock. Mom gets Josh to fuck her hard Doggystyle, before letting him climb on top of her. Josh winds up cumming all over his Mom's tits….soaking them. Welcome home Josh!!!
Scene 3: Mommy Cheered Me Up
Josh has just broken up with his girlfriend, Lisa….and he is very bummed out. Mom is trying to Cheer him up. Mom asks him if he wants to go out for ice cream….and Josh says no. Mom asks if he wants to go to the comic book store….and he isn't interested in that either. Mom used to always be able to cheer up her little boy with those offers….but Mom realizes Josh is getting older now. Understanding that ALL guys are pretty much the same….Mom figures there is one sure fire way to Cheer him up!! Mom starts playing with his cock!! Josh is startled by his Mom's actions….but he admits that it "feels really good"!!! Mom gives his cock a good sucking…and then Mom asks her little boy if he would like to play with her pussy!! Josh eagerly accepts the invitation and Mom lets him finger her so much….Mom cums!!! Then Mom rides her Son's hard, young cock!! Josh really gives it to his Mother good….even cumming in her mouth. After he has ejaculated….Josh asks his Mom if the comic book offer still stands!!!
Scene 4: Sex-Ed With My Mom
Josh has big test tomorrow in Sex-Ed. He is way behind in this class…because he missed 4 classes due to a soccer tournament. His Mom offers to help him study. Josh explains that one of the chapters he is struggling with, is the one on oral sex. Mom says that it might make more sense…if she "shows" him. "A picture is worth a thousand words" Mom says. Josh is shocked…but, nonetheless….he takes off his pants, and lets Mom do her thing. While reading the textbook, as she sucks…Mom goes over things like…licking and sucking the testicles while administering oral sex….licking the shaft up and down etc. Mom asks Josh if he has ever actually seen a naked woman…and when he says no….Mom strip naked…and continues to give oral sex. After Josh is rock hard….Mom…while still consulting the textbook…tells Josh to insert his erect penis inside her….and one by one….Mom tutors Josh in all the major positions for intercourse!! Missionary….Doggystyle….Cowgirl…reverse cowgirl….Mom fucks her teenage son every which way!! As a final lesson….in "safe sex"….She jerks him off to an explosive orgasm!! She is hopeful that he has learned enough to pass the test!!
FAUXCEST, INCEST ROLEPLAY, MILF, MOM, MOMMAS BOY, MOMMY, MOMMY ROLEPLAY, MOTHER, MOTHER SON, TABOO, TABOO FANTASY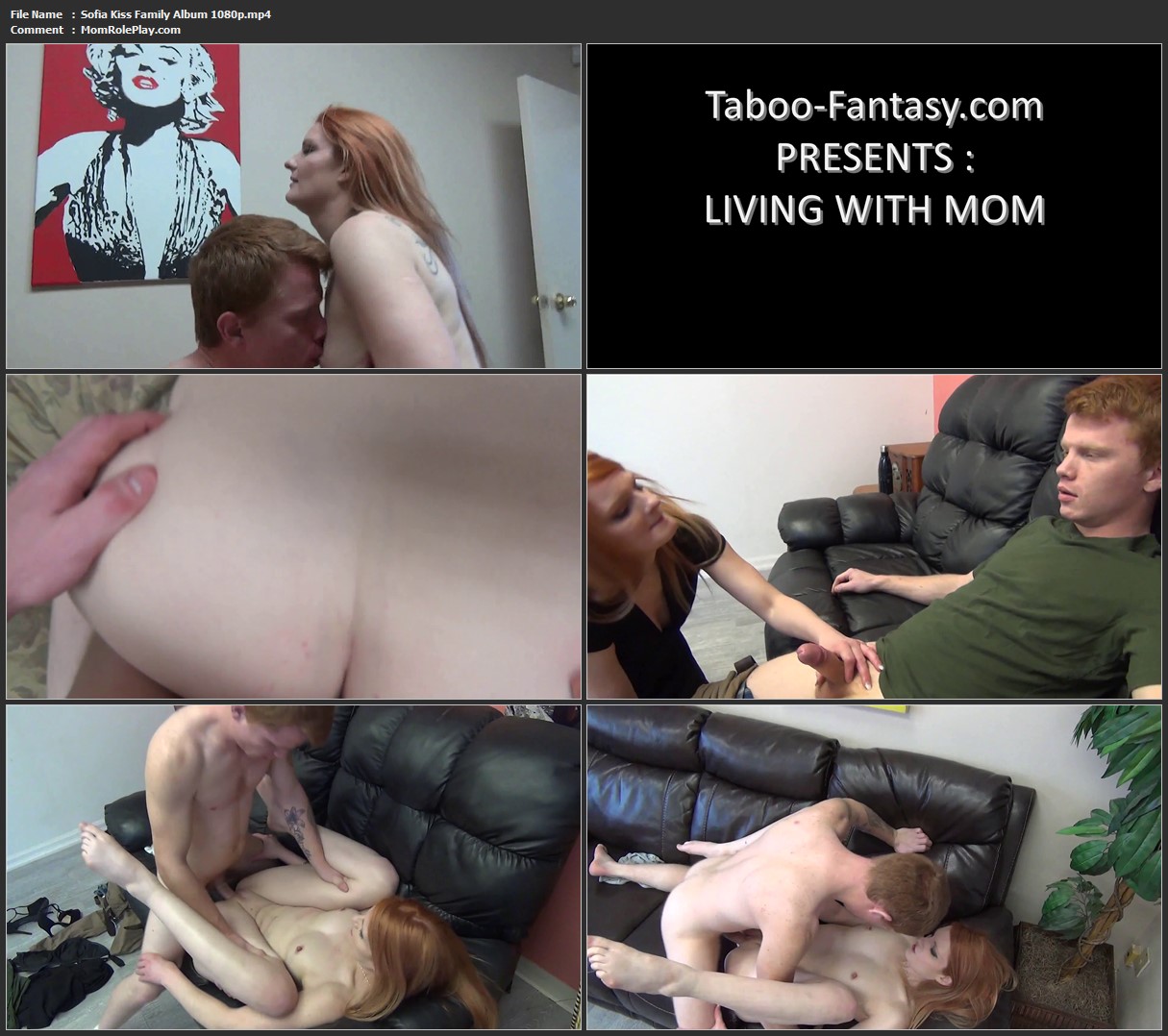 Download Files :
Sofia Kiss Family Album 1080p.mp4