You gasp as you wake up from a terrible nightmare you were having. Your body is cold sweating, you're scared, and instead of staying in a dark room by yourself, you seek comfort from your mom.
"Come in," she says half asleep when you knock on her bedroom door. Mom always had a way of making you feel better, whether it was her presence or the fact that she always knew exactly what to do or say.
"Honey, what's wrong?" she says still groggy. "Still having that same nightmare?" She can tell that you're scared, so she moves over and offers to share her bed with you. "You can sleep with me," she says, and as you slide in beside her, she pulls the blanket over the both of you.
"Don't put the TV on too loud, okay?" she says turning her back towards you. Still shaky from your nightmare, you scoot really close to her, now feeling more comfortable and safe than before. "There's an entire bed," she says sweetly. "Scoot over."
Happy being next to her, you snuggle in closer, and as your body rubs up against hers, your cock accidentally stiffens. You nudge in closer, and honestly, that small friction of your bodies rubbing together feels pretty good. "Oh! Is that your knee…or your hand?" she says turning back around and pushing you back a little bit.
You're embarrassed, so you don't respond, but when she turns back around to get some sleep, you move in closer. Maybe she didn't know you had a hard-on, so you could rub up against her again, and she wouldn't notice.
But she did. "Sweetie, whatever that is, can you just scoot over a little bit?" But you didn't budge – it felt too good to move, and your erection wasn't going away. Irritated and unable to go to sleep, she looks down to see your massive erection, sighs, and in an exhausted tone says, "Honey, Mommy's trying to sleep, and that's…you gotta put that away, okay?"
But you can't just "put it away." Feeling Mommy's soft body against yours has your mind racing. When she turns back around, your body is already against hers. "The rubbing has got to stop," she says now aggravated. "You're not going to let me sleep, are you?"
Mom mutters to myself, "Oh my god, I can't believe I'm gonna do this. Let's just relieve you, and go back to bed, okay?" She moves her hand down to your cock and begins stroking it. Not too pleased with the action, she faces the other way, disgusted with what she is doing.
After a couple of minutes, she gets frustrated, "Okay, really? You must really do that a lot for it not to work. I have to get up in like three hours. I need to get rid of this thing." She sits up, explaining that this is the only time this will ever happen, and then begins sucking your cock.
However, when her tongue tricks and deepthroat don't work, she has one last resort that she really doesn't want to do…sex.
Category: TABOO
Related Categories: MILF, OLDER WOMAN / YOUNGER MAN, POV, MOMMAS BOY, VIRTUAL SEX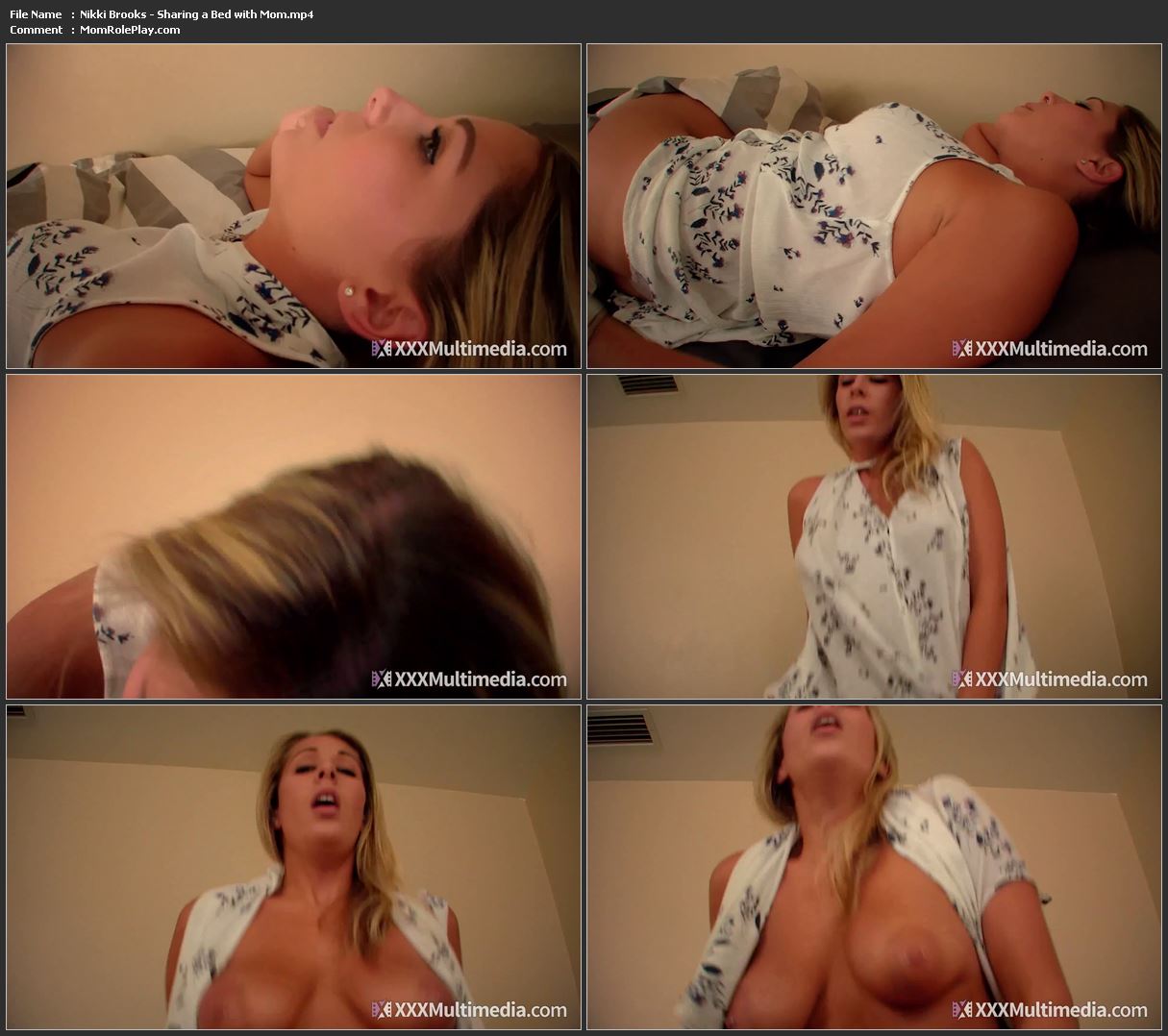 Download Files :
Nikki Brooks – Sharing a Bed with Mom.mp4